Chris Gunter may have to skip his brother's wedding to pursue Wales' Euro 2016 dream as the squad continue preparations for Friday's quarter-final with Belgium.
Chris Coleman's side will renew rivalries with Belgium on Lille – they also met during the qualification journey on the European Championships - but the Euro experience is causing a Gunter family headache.
The Reading defender's brother Marc, a huge Wales fan, set off for Mexico on Tuesday ahead of his wedding next week.
It is a ceremony the Gunter clan will miss if Wales beat Belgium and make it to the semi-final, with parents Gerald and Sarah choosing to stay in France rather than travel to Central America.
"It's caused chaos - you wouldn't begin to imagine the trouble it's caused," said Gunter.
"But it's his own fault. He'd been to every game and he hasn't been in work for a month.
"You speak to my parents and they're fuming.
"The day of the wedding is the seventh, so I'm not sure what he'd do if we got to the final (on July 10). He might be divorced by then!"
Wales, however, hope their Euro 2016 party goes on for some time yet.
Familiar foes Belgium are now standing in their way with Wales unbeaten in three games against Marc Wilmots' side.
Wales won the last meeting 1-0 in Cardiff to make a nation believe they could reach Euro 2016 and end a 58-year wait for a major tournament.
"I've played in stadiums with bigger attendances, but that night at the Cardiff City Stadium, the atmosphere for the last 10-15 minutes was amazing," said Taylor.
"We put in a hell of a shift, the fans lifted us, singing the national anthem.
"It made us realise not only do we believe but the fans do too.
"It was a good result on the back of picking up two draws from Belgium.
"The games against them have been real turning points for us and we know we can go into these games and enjoy it."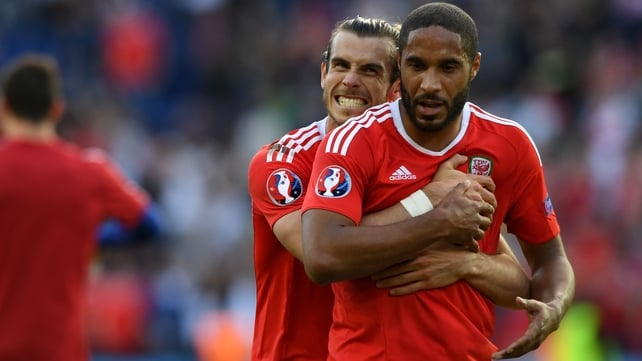 The tournament has been a triumph for the smaller nations with both Iceland and Wales reaching the quarter-final and Northern Ireland reaching the last 16.
And Taylor said it was proof that the decision to expand the finals to 24 teams had been a correct one.
"It's strange because the ones who have been criticised are the ones who would have qualified anyway under the old rules," said Taylor.
"But I think it's made it better and in the last three or four years the smaller teams no longer lose 7-0 or 8-0 like they used to.
"We had Andorra in our group and it has changed.
"The Iceland manager has organised his team very well and the gap is no longer as big as it used to be.
"It's like the Premier League, everything is coming a lot closer together."