It's all or nothing now for Martin O'Neill's side as they need to beat Group E winners Italy in Lille and hope a few other results go their way to make the knockout stages.
A point could get them third place in the group if Belgium beat Sweden, but it's almost certainly not going to be enough to take one of the four places on offer for teams who finish third.
Will a simple 1-0 win be enough?
If the Republic of Ireland are to produce something special on Wednesday night, then the odds are that it will be a 1-0 win.
Excluding the penalty shootout victory over Romania at Italia 90, the four most famous wins in competitive matches have been by that scoreline - Germany 2015, Netherlands 2001, Italy 1994, England 1988.
The Group E games will be the last to kick-off so they will know what margin of victory they need to avoid going out of the tournament and flying back to Dublin on Thursday.
A 1-0 win may be sufficient despite their -3 goal difference. Ireland would need at least two of the third place teams to finish on three points or less to pick up one of those spots if they win.
The main games to look out for here are England-Slovakia, Russia-Wales, Germany-Northern Ireland, and Turkey-Czech Republic.
Albania beating Romania last night for their first win in the tournament means they take third place on just three points.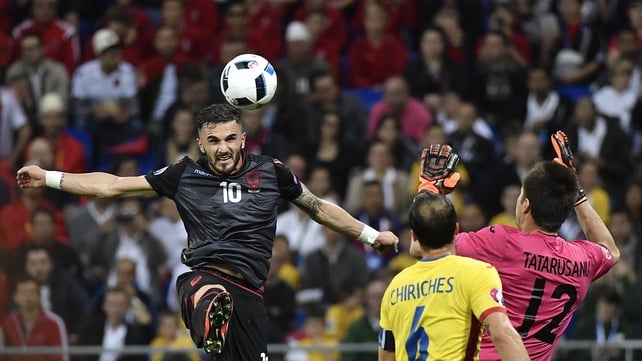 If Ireland need more than a one-goal win then it does not augur well as they have only scored more than once in a tournament game in their history, in the 3-0 win over Saudi Arabia at the 2002 World Cup.
Is the Italian plan to rest players a good thing for Ireland?
Italian manager Antonio Conte has indicated that he may rest a several players ahead of the knockout stages, including some of those on yellow cards.
But is that really helpful for Ireland? Who would they rather face: The first XI minding themselves or the fringe players raring to go and looking to prove a point to their manager?
In a game of small margins, that hesitation before going into a tackle, playing the easy ball or deciding not to make that run forward or back could well be to Ireland's advantage.
The second-string Italian side is hardly going to be Ragball Rovers, although Bufffon, Barzagli, Bonucci and Chiellini are world class players and a very solid unit.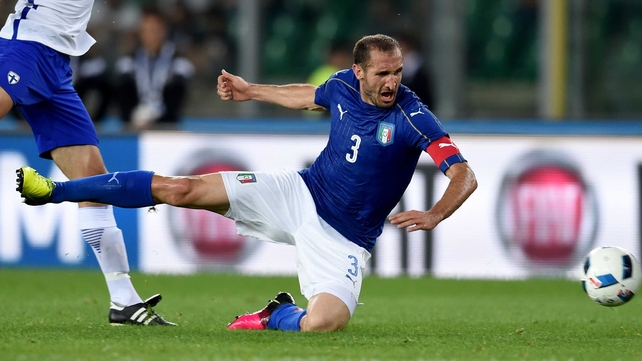 Would Ireland rather play against technically gifted Italian players with something to fight for or technically gifted Italian players who might be just going through the motions?
It's something Robbie Brady addressed with journalists after the Belgium game.
"People are saying 'do you think it will be a tough a game because they are already qualified?'. I think it's going to be a tough game regardless," said Brady.
"If people come in and they do chop and change, then they are going to want to play well. We have in our mindset that we have to go and win that game and that's what we'll be there to do.
"I'm not too sure what way they're thinking, but they are great at these tournaments. We need to go and do our part and show our worth in qualifying.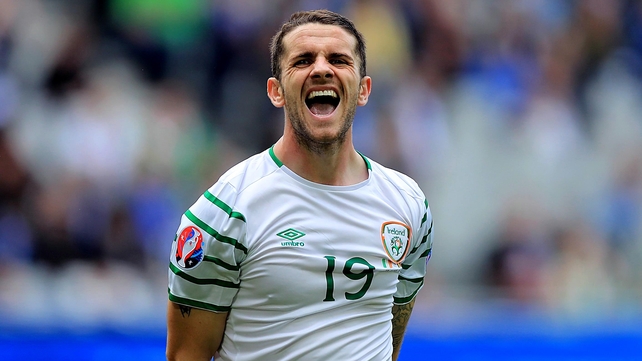 "We fought hard and we've had some unbelievable shock results and late results. We haven't done things the easy way up to this point so, why start now?"
Will O'Neill change the team?
It is likely that James McCarthy and Ciarán Clark will drop to the bench. Both have played well in patches across both games, particularly Clark, but their mistakes have contributed to all four goals Ireland have conceded.
In McCarthy's case, he missed a tackle on Kevin de Bruyne in the lead-up to the first goal and then didn't spot the simple run from Axel Witsel for his goal, although he wasn't solely responsible in failing to disrupt a 28-pass Belgian move in the build-up.
Clark, meanwhile, has endured a torrid season at Aston Villa, and the own goal against Sweden and the unsuccessful wild lunge on Hazard for the third Belgian goal will have further dented his confidence.
Stephen Quinn said last week that he didn't want to come here just to make up the numbers and he could be one to slot in for McCarthy, if O'Neill chooses to change the holding midfielders. Richard Keogh and Shane Duffy are pushing for that starting place at centre-back.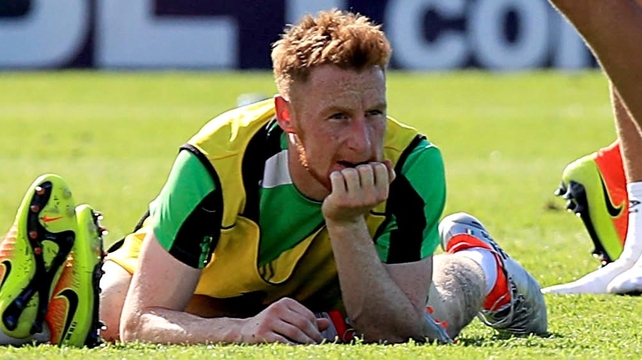 We still don't know if Jonathan Walters will be fit. He warmed up on the pitch before the game in Bordeaux in his runners, but was non-committal about his chances when walking through the mixed zone afterwards.
Then there's Wes Hoolahan. He left Bordeaux wearing compression socks for the return trip back to Paris and we don't yet know if he can take three games in ten days.
Can they keep more of the ball?
It's easier said than done and O'Neill will be hoping that Hoolahan is fully fit as he is their best chance of knitting the play together.
The game plan on Saturday had been to sit in and try to play the ball forward to Long when they got the chance in the hope that he would be able to bring Hoolahan, Brady and Hendrick into the game.
Too often Ireland's attacks were snuffed out before they got going because of a number of issues – poor decision-making on the ball, too hasty to get forward with limited support options or excellent defensive cover from Belgium's holding midfielders Witsel and Mousse Dembele.
Jeff Hendrick said it's something they tried to fix at half-time and the statistics show that they had more of the ball after the break (65%-35% possession in favour of Belgium v 54%-46% in favour of Ireland).
He said: "We take confidence even though we went 3-0 down. We kept the ball well and that's what we have got to do for 90 minutes against Italy.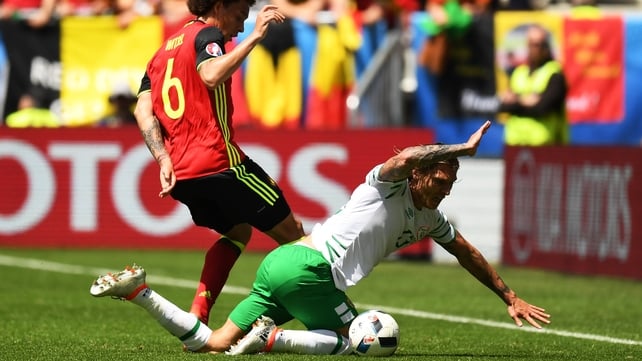 "At half-time, we were told to keep the ball a bit better. When you've worked so hard to get it back we needed a few passes to then just settle the game a little bit and we didn't do that in first half.
"In the second half, we tried to do it and it felt like it was working and then for them to get the goal it hurt us."
The advantages of having more of the ball are obvious, especially in the opposition's half.
In the second half on Saturday, Hendrick and Brady both saw more of the ball in Belgian territory, while Seamus Coleman was freed from his defensive duties to push into attacking areas and therefore better crossing positions.
Will confidence be low in the squad after the 3-0 defeat to Belgium?
Not according to Shane Long.
Ireland may have been torn apart in the second half in Bordeaux, but Long said it wouldn't knock their confidence or their belief that they can beat Italy.
The bulk of this squad already have their place in Irish football history by beating Germany, now less than a year later they have to shock the game's aristocracy again.
"I think we can beat them. We've got a good record against the big teams," said Long, the goalscorer on that famous night last October.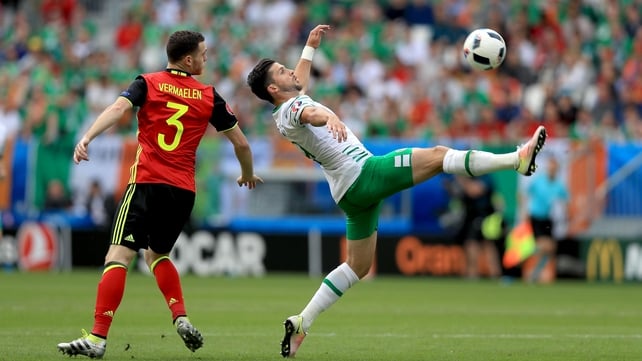 "We've got a good history against Italy as well and hopefully they rest a few players. We will go out and try cause an upset.
"It would be amazing to go through after beating Italy on four points. That's what we have to aim for. Nothing less will do."