A team on the decline, they said. Low expectations, they said. Bereft of star quality, they said. Despite all of this Italy have emerged as real contenders at Euro 2016.
48-years after winning their first European Championship, could a second be secured on 10 July?

With Italy's place in the last 16 already assured as Group E winners, and six players one booking away from suspension, Antonio Conte will make wholesale changes. Encouragement perhaps for Martin O'Neill, although Conte will be keen to build on the momentum gained from the back-to-back wins over Belgium and Sweden.
All 24 squads have been together for a considerable period. Any player on the fringes afforded an opportunity will relish it.
For the Republic of Ireland the objective is clear. Only a second-ever competitive win over Italy will suffice if their stay in France is to be extended.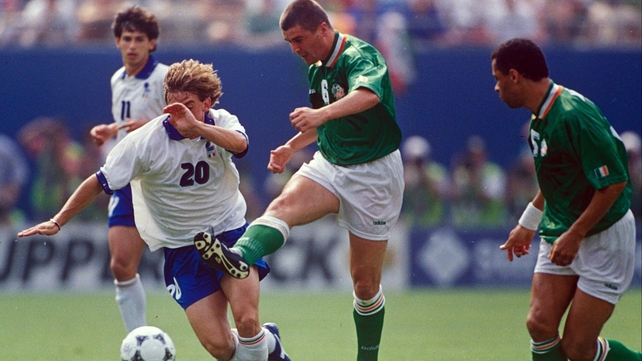 Northern Ireland manager Michael O'Neill encouraged his team to 'embrace the situation don't fear it', and his Republic of Ireland counterpart will surely do the same.
Italy, we are told, are a 'tournament team', with nous in abundance on the big stage. To put it another way, they know how to get the job done. It's an attribute perfectly illustrated by their 1982 World Cup win. Clearly it was a different era and Italy had a number of exceptional players, but it demonstrates what can be achieved. 
After three uninspiring draws in the group stage, Italy progressed only by virtue of having scored more goals than Cameroon. In what was the first 24-team World Cup, the 12 second-round qualifiers were split into four groups of three.
Enzo Bearzot's side were given little hope of eliminating both Argentina, the defending world champions, and a wonderfully gifted Brazillian team, which included Zico, Socrates, Eder, Junior, and Falcao.
However, the imposing Claudio Gentile ensured Diego Maradona had a torrid afternoon in Italy's 2-1 win over Argentina. Brazil beat Argentina 3-1, leaving Italy needing a win when the sides met in the group decider.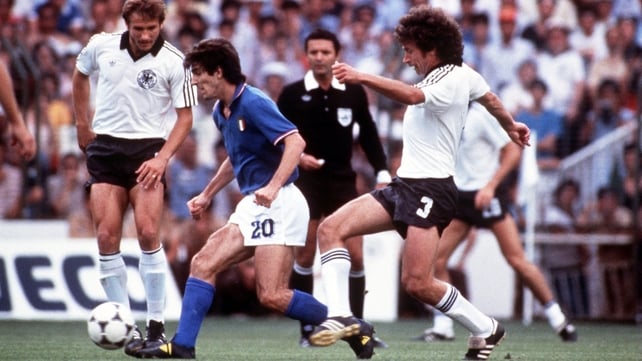 Paulo Rossi had recently returned to the national team after serving a ban arising from 'Totonero', a match-fixing affair involving a number of Serie A and Serie B clubs in 1980. Rossi had always maintained his innocence and his initial three-year ban was reduced to two.
Bearzot resisted the increasingly loud calls from the Italian media to drop Rossi, who had yet to score in Spain, and the manager was vindicated in spectacular fashion as the striker's hat-trick secured a 3-2 win over the Brazilians in one of the World Cup's greatest games.
Poland were dispatched in the semi-final, Rossi scoring both goals in a 2-0 win. 

Another goal in the final against West Germany took Rossi's tally for the tournament to six. Marco Tardelli's goal, and in particular the celebration which followed, provided the final's iconic image.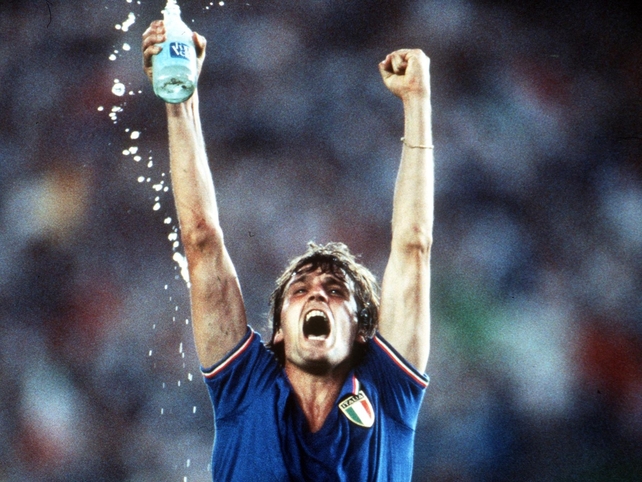 Somehow, Italy were World Champions. No doubt Dino Zoff remains a figure of inspiration for Italy's current numero uno, 38-year-old Gianluigi Buffon.
Zoff was 40 when he captained Italy in 1982, and remains the oldest ever World Cup winner. 
 
For the second successive European Championships, the Republic of Ireland and Italy meet in the final group game.
Defeats to Croatia and Spain had already ended Irish hopes of making the quarter-finals at Euro 2012 before a disappointing campaign ended with a 2-0 defeat.

'Dov'e la vittoria?'- translates to 'where is victory?'. We're asked that question during the always uplifting Italian national anthem and that's the question this Irish team must now answer.