There will be plenty of time for a comprehensive post mortem of today's performance once Ireland's Euro 2016 Odyssey is completed, but for now, the journey continues.
It's on to Lille on Wednesday for a clash with Italy, where Ireland know that victory can send them through to the knock-out stages of this tournament.
And that is the tough task that is now handed to Ireland manager Martin O'Neill who needs to rally his troops following the footballing massacre and remain positive for the Italy game.
Of course, the manager has to analyse today's match, re-examine the game-plan and work out why it went so wrong.
The opening exchanges suggested it was going to be a long afternoon in the Bordeaux summer sunshine and so it would prove.
Inside the first 10 minutes, Belgium had attacked down each flank and caused endless problems through the centre of the Ireland's midfield.
The defensive side of things were working, it seemed, but when the ball kept coming back in such rapid succession, the danger signs were there that the barricade would eventually be breached.
Ireland's only outlet was Shane Long.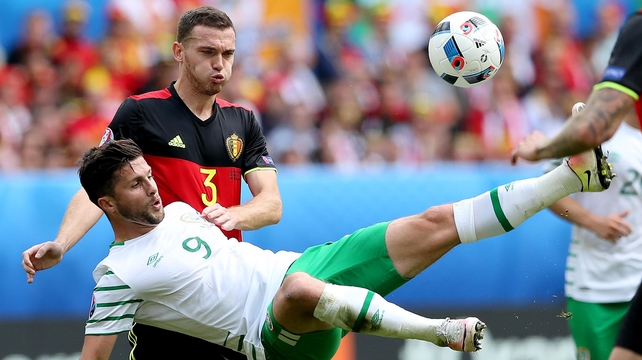 The Southampton striker was already a marked man, taking a couple of heavy hits from the rough and tumble-style Belgian defenders; so to keep his composure and maintain possession under such constant attention proved nigh on impossible.
Italy obviously played Belgium in a similar way last Monday, but proved far more adept at handling this star-studded Belgian attack.
Italy's defensive banks appeared to take a broader approach, which pushed Belgium back out to the halfway line.
Ireland's equivalent shrank by comparison, resulting in a swarm of green jerseys, essentially, sitting on the edge of the penalty area, which allowed Belgium to exert real pressure and alternate the attacks through the middle and down either flank, something that they could not manage against Italy.
"O'Neill will certainly be looking for positives to take from that performance...And there were some"
Roy Keane commented during the week that the Italians were masters of that style of play, although he did also say that Ireland had the players to copy such a system.
Well in this particular occasion, imitation proved that it most certainly was not the highest form of flattery.
But that deep defending was the main reason why Long was the only option when Ireland attempted to clear their lines. And so it proved in the second half, when Ireland had to come out and play, having gone a goal behind.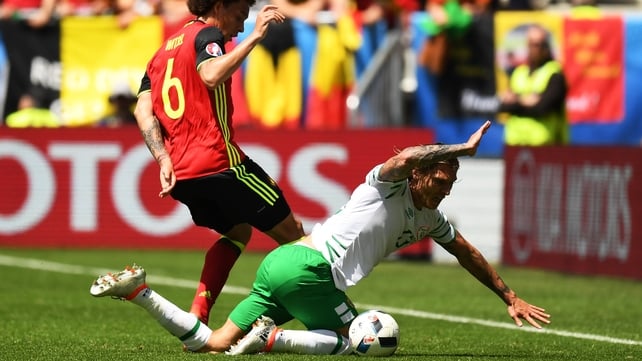 Suddenly, Seamus Coleman, Robbie Brady, Jeff Hendrick and Stephen Ward were all taking the ball out of defence.
The Belgian game had not altered that much, but it just showed that Ireland need more belief in the ability that has existed in this squad for some time and the emerging talents like Hendrick and Brady who are truly blossoming on the international stage.
O'Neill will certainly be looking for positives to take from that performance for the dual role of lifting his dejected players, as well as plotting for this must-win game against the Azzurri.
And there were some. A few, at least.
That period of 13 minutes between the first and second goals showed that Ireland could mix it at this level.
Belgium were perhaps still the dominant side, yet O'Neill's men enjoyed combinations and passages of play that caused Marc Wilmots' side a fair share of problems.
One in particular sticks in the mind as the ever-improving Hendrick strode into the Belgium half with real intent and then had belief in his passing ability and his team-mate as he slid an exquisite pass between centre-half and full-back.
Coleman, looking back to his brilliant best on occasions at this tournament, sped around the back of the defender to arrive at the by-line in perfect harmony with the pass, before clipping a deft cross to Brady, arriving at the back post.
Had Brady pulled the trigger without taking a touch, perhaps the score would have been 1-1 with 30 minutes to play. One minute later it was 2-0.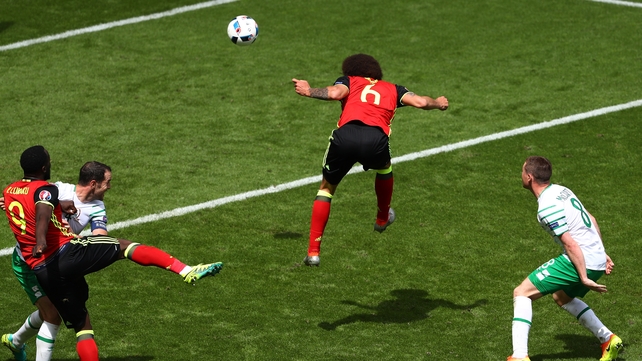 But one area which rightly disappointed the manager was the fact that Ireland conceded off the back of their own attacks in the opposing final third.
It happened twice.
Again to compare with the Italians, there is no way that Belgium would have got out of their own half in either scenario as they showed last Monday when the Azzurri players took a few yellow cards for the team to prevent promising counterattacks gaining momentum.
We are forever hearing that Ireland are not a cynical team, and that of course, is a very noble trait in modern football.
But tripping someone up is not the same as trying to break someone up.
And professional fouling is part of the game of football, and providing it takes place in the right part of the pitch, is punishable by just a yellow card.
These tactical fouls can break momentum, slow down play and relieve that building pressure from an entire team.
So looking ahead to Wednesday in Lille, maybe Ireland just need to take more of a professional approach to this must-win encounter.
In the Italian sense, of course.