On a chastening afternoon for Ireland, Robbie Brady admitted Belgium picked the Boys in Green off far too easily as Irish hopes at Euro 2016 hang perilously in the balance.
Martin O'Neill's side were very much second best at Stade de Bordeaux as a Romelu Lukaku brace and an Axel Witsel header got the Belgian challenge back up and running after an opening game defeat Italy.
While Irish hopes were high after the 1-1 draw with Sweden, they struggled to make an impact on Belgian goalkeeper Thibaut Courtois with the limited possession they enjoyed.
Lukaku opened the scoring after plenty of huffing and puffing, a low effort into the corner of the net and Brady, moved into a more advanced role with Stephen Ward in at left back, believes tactically they let themselves down after conceding the opening goal of the game.
"It's disappointing to concede the three goals," he told RTÉ Sport.
"When we concede the first one on the breakaway, it was maybe a little bit naive going chasing goals and got opened up a little bit.
"Like I said, disappointing and a tough afternoon."
Brady admitted that Marc Wilmots' side were the better team throughout as they failed to build upon the Swedish result, but felt they should have managed to keep things tighter after the break.
"We weren't moving the ball like we were in the first half the other night but like I said, different circumstances.
"Belgium moved the ball well.
"We've never done things the easy way. We'll keep on fighting and we'll go for a win"
"We went in 0-0 at half-time and if we had kept it the same in the first half and hadn't touched the ball, we would have been happy with the result.
"I think the game opened up a little bit in the second half. We managed to get on it a little bit more but like I said, maybe a little bit naive and we got caught late with a couple of goals."
Ireland will have to defeat Italy next Wednesday in Lille to stand any chance of qualifying for the knock-out stages, a tall order with the Azzurri winning both of their group games to date.
Italian manager Antonio Conte has indicated he will make changes to his team with qualification already secured and the Norwich City full-back says that the players will have to put today's disappointment to one side to have any chance of victory next week.
"Obviously it's fresh in our minds now," he said.
"It's disappointing but we have another opportunity in a massive game against Italy and we prepare as well as we can this week and hopefully we can go and do the job."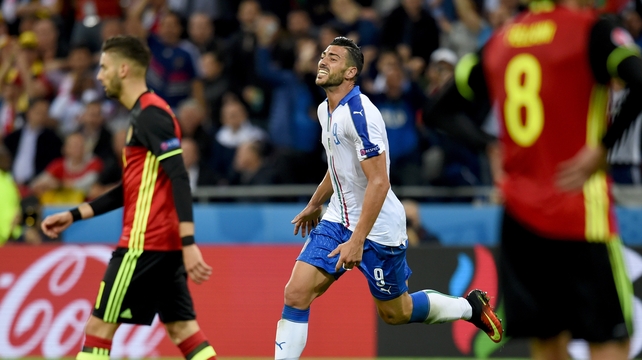 "They have had two good wins, a good late win last night, I don't think it'll take anything away from the game.
"It'll be a tough game and we need to do our part to give ourselves the best opportunity to go through.
"We'll give it one more push. Even getting here, we've never done things the easy way. We'll keep on fighting and we'll go for a win."