Belgium v Rep of Ireland: The Opposition
Belgium will be looking to restore some much needed pride in the Red Devils jersey following Monday's defeat to Italy. Marc Wilmots' side will be hoping to take their revenge on Martin O'Neill's side, but they will need to up their game considerably to dominate the ever-improving Irish.
So here's a look at the starting XI that will more than likely be sent out by coach Wilmots to take on the Boys in Green.
Thibaut Courtois Deemed one of the best goalkeeper's in the world, Courtois's stock dropped slightly throughout the season, playing in a poor Chelsea side, while also missing a large chunk through injury. The former Atletico Madrid player is a fine shot-stopper and can be enjoy a real commanding presence when in top form. He could do little for either of Italy's goals on Monday but could have gelled his defence together better perhaps.
Thibaut Courtois played down any tension in the Belgium camp after his comments following Italy game, via @corktod.https://t.co/0Jb2vZTYkN

— RTÉ Soccer (@RTEsoccer) June 17, 2016
Laurent Ciman Standing out slightly in a team full of football's current aristocrats, Ciman plies his trade in the MLS, playing with Montreal. The right back is lively in attack and is happy to get forward as often as possible. Like the rest of the back four, Ciman looked out of sorts on Monday night and could be a real target for Robbie Brady to attack in the Bordeaux clash.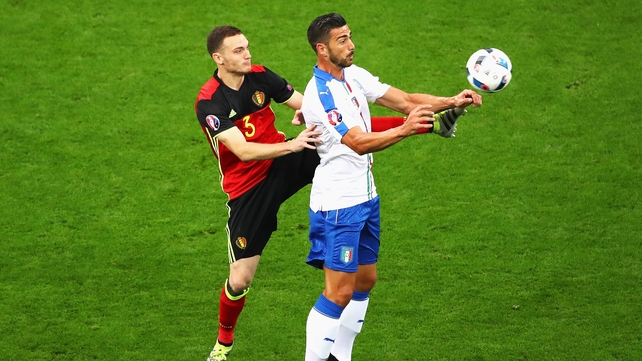 Thomas Vermaelen The former Arsenal defender is a player who benefited from injuries within the squad to make the starting XI for Belgium's Group opener. And while not wanting to be too critical on the back of one poor performance against Italy, Vermaelen looks to have deteriorated since his Arsenal days. Such an experienced head, the big centre-half should be commanding his back four but that aspect of his game was lacking on Monday.
Toby Alderweireld Belgium's regular right back, the Tottenham defender will play in the middle of the defence during this tournament due to late squad injuries. Playing alongside a very experienced player in Thomas Vermaelen, yet there was no real chemistry between the pair on Monday and brought many problems on themselves. Alderweireld is a solid defender, however, and his own performance should make up for any misunderstandings with his partner.
Jan Vertonghen One of the few bright sparks in a very poor Belgium performance on Monday, the Tottenham defender made a lot of vital interceptions while also inspiring a mini-revival in the second half. Vertonghen plays at centre-half for his club but sits in at left back for Belgium. A real threat with his pace bombing down the left flank, however, the Spurs man does not appear to have full licence to attack in this Belgium side, which is to their own determinant.
Radja Nainggolan The Roma midfielder certainly does not garner the same attention as his midfield compatriots but Nainggolan is very close to being the complete central midfielder and has a lot to offer this Belgium side. Tough in the tackle, the mohawked man is also adept at bursting forward with a real eye for goal from distance.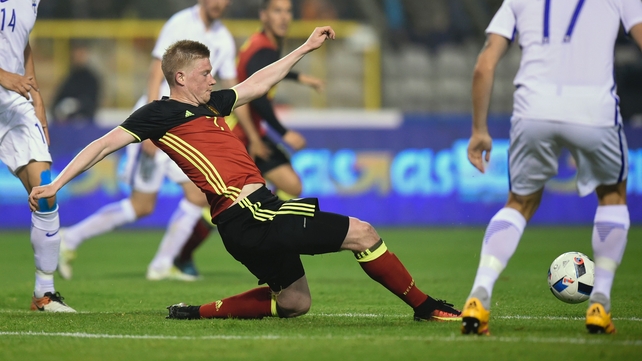 Kevin De Bruyne The Manchester City midfielder really had an off night against Italy and spent much of his time loitering on the right flank with no drive to take on the full back. The uncharacteristic poor passing and overall mediocre display might indicate that there is something not quite right the extremely capable and talented player, whether a recurrence of a recent injury or discontent with direction within the squad. If Wilmots is looking for a reason to start Yannick Carrasco, perhaps De Bruyne's role against Ireland will be that of scapegoat.
Axel Witsel Very much part of the Wilmots way, Witsel will sit in front of the back four, sweep up play and then move forward with intent, bringing the rest of the midfield into action. Witsel, however, proved to be largely redundant against Italy such was the way that the Azzurri played and the coach could have easily done without him, and perhaps added a player to the attack, to help out the isolated Romelu Lukaku.
Marouane Fellaini A real favourite of the coach, the Manchester United midfielder is meant to embody everything that is good about this Belgium side. Fellaini is a real handful in all areas of the pitch and is most effective when he is playing on the edge, getting in players' faces and being a real nuisance. A real option to turn Belgium's free-flowing style into direct attack when in search of a spark, but could do little against the mighty Juventus defence that kept Belgium scoreless on Monday.
Eden Hazard The team captain in the absence of injured Vincent Kompany and perhaps that responsibility affected his performance on Monday against Italy, which really was well below what he is capable of. Hazard had a very quiet season at club level but really looked to have rediscovered his form by the end of the league campaign. Huge things are expected of Hazard at this tournament, however, if his side cannot up their levels, he may not even make the knock-out phase to showcase that potential.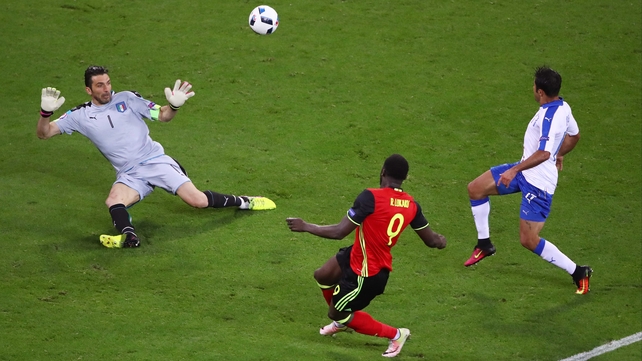 Romelu Lukaku One of the toughest strikers in European football to handle when he is at the top of his game, but his excellent club season sort of petered out for the final two months, playing in an awful Everton side. Monday night's game will have done little for his confidence either as he was barely given a look-in by the Italy defence, while the supply from his own side was atrocious. The one chance that he did get, from a fast-paced Belgium counterattack, was clipped over the bar with the goal at his mercy.
Marc Wilmots (coach) His tactics received a huge amount of criticism from all angles – including from his own players – after the defeat to Italy on Monday and he will be under serious pressure if his side cannot beat Ireland in Bordeaux. In fact, Wilmots' side will need to win with style to get any sort of support back in his corner for the final group game. Continuously criticised for not getting enough out of his players, even when winning matches, Wilmots will never be forgiven if he cannot get this 'golden generation' into, at least, the latter stages of this competition.