"It was always the dream, but a lot of people have dreams. And people don't always get their dreams."
Republic of Ireland winger James McClean could be the man entrusted with replacing Jon Walters against Belgium in Bordeaux in tomorrow's Euro 2016 Group E clash, and with it would come the opportunity to write another chapter in an unlikely tale. 
The Derry man has "enjoyed every minute" of his career so far, and hopes he will continue to do so on an upward trajectory.
The West Brom winger carved out his career with his native Derry City in the League of Ireland.
He is one of eight members of Martin O'Neill's squad to establish themselves on home ground before moving across the water and quickly adapting to life on a bigger stage. 
In what may be a guarded dig at a former manager Giovanni Trapattoni, McClean says "considering that to a few people say we haven't got a league, I think it's not bad at all".
While he says it is a nice advertisement for the league itself, McClean's success should also serve as inspiration for players who find themselves playing in Ireland when their ambitions may lie overseas.
"It shows to the players in the league that it's not a write-off. If you do well, there's a chance.
"I didn't go across until I was 22, so there's plenty of time. It's not a write off and clubs are taking note."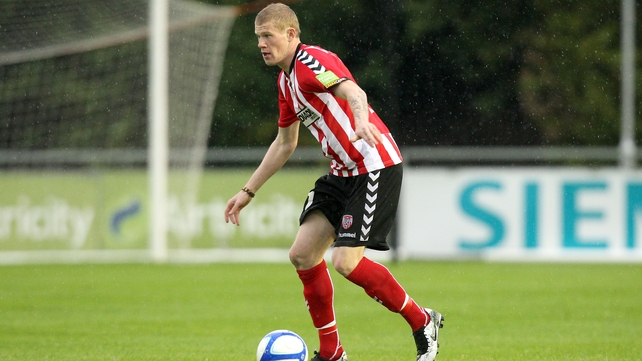 McClean made his debut at a major international tournament under Trapattoni in Poland in 2012, but felt the experience, and atmosphere, in the Stade de France on Monday against Sweden was a world apart.
"I was there four years ago, I played 15 minutes when we were 3-0 down against Spain so it was more of a token gesture.
"This time around, to come on and play half an hour and play my part was something that'll be with me forever. Hopefully I can play more."
With Walters ruled out through injury, McClean's wish to play on the right may well be granted.
Much has been made of the Stoke's man importance to the team during the qualifying campaign for France, but McClean relishes the opportunity to put his own stamp on it.
"If I get called upon I'll give my all and I might even get a goal"
"It's something I've enjoyed - I played there a lot the season before with Wigan. It was a nice experience.
"If I get called upon I'll give my all and I might even get a goal," he says, pausing before he understatedly adds: "It'd be nice."
McClean's ambitious nature is obvious, and he is looking forward to testing himself against a very talented Belgian side.
"That's why you're here - you want to play against the best at the major tournaments. It's something I'm going to relish and hopefully I can give them a game they'll remember."
Belgium are undoubtedly very talented, and O'Neill has admitted they are individually as good as any side in the competition.
However, true to form, McClean believes there are players in the Ireland squad who can trouble them.
"In my opinion we have the best right back in Europe playing, so as good as [Eden] Hazard is, I'm confident Seamie [Coleman] can look after him."
Never satisfied, he adds that the man from Killybegs may be able to cause Hazard a few problems going the other way.
And so to the topic that features in almost every conversation about Ireland and major tournaments - the fans.
A veteran of Poland in 2012, McClean says the support this time around is even better.
"You look at the English, the Russians and all the negative publicity they've had. Not a bad word has been said about the Irish.
"I thought this can't be topped and then the national anthem, that topped it. It was scarily good"
"They're here, they're enjoying themselves, they're mixing with everyone. It's tremendous. You just have to look at it, and it just makes you proud to be Irish."
The Irish support in the cavernous Stade de France made the experience akin to the Aviva Stadium, something that wasn't lost on the players.
"It was amazing, even in the warm-up. We were gathered around in a circle doing our stretches and the Fields of Athenry came on. That was something special. It gave me goosebumps.
"I thought this can't be topped and then the national anthem - that topped it. It was scarily good."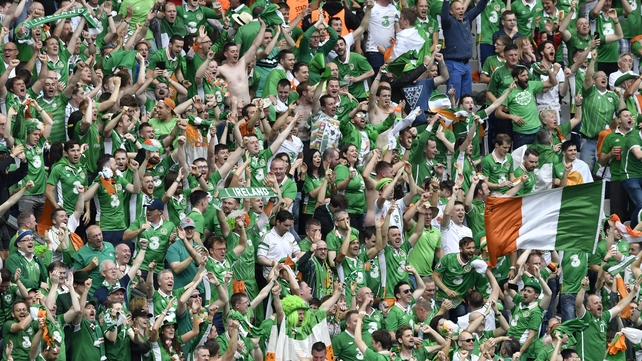 Widely praised for their good humoured antics around Paris, Irish fans received special praise for their tribute to the late Darren Rodgers.
The Northern Ireland fan died following a fall in Nice after his side's opening game last Sunday.
In the 24th minute, Irish fans around the Stade stood up for the Ulsterman.
A Catholic from Derry, McClean understands the significance of such a moment.
"It just shows you football unites. I think times have moved on, and hopefully for the better. Bitterness and all that goes to the side because it's just about a footballing family."
Having spent the early part of his career haring around the Brandywell, McClean now looks forward to facing the second-highest ranked team in the world in a major championships.
The significance is not lost on him. 
"It's been an incredible journey. I've enjoyed every minute of it and I'll continue to enjoy every minute of it."