Martin O'Neill and Roy Keane sat down at team headquarters on Wednesday night to analyse Belgium's performance against Italy.
On first inspection, very little would have appeared out of the ordinary.
Chelsea's Thibaut Courtois started in goal behind a central defensive partnership with north London connections, as former Gunner Thomas Vermaelen lined up alongside Spurs' Toby Alderweireld.
Another of the Lane's inhabitants, Jan Vertonghen slotted in at left back, with MLS-based Laurent Ciman filling in at right back – injuries in the Euro 2016 build-up had handed the Montreal–based defender a place in the starting XI.
The superstar midfield five consisted of Eden Hazard (below), Radja Nainggolan, Kevin de Bruyne, Axel Witsel and Marouane Fellaini, while Everton's Romelu Lukaku would plough a lone furrow up front.
No place in the starting team for Champions League final goal-scorer Yannick Carrasco, such is the embarrassment of riches at the disposal of Belgium coach Marc Wilmots.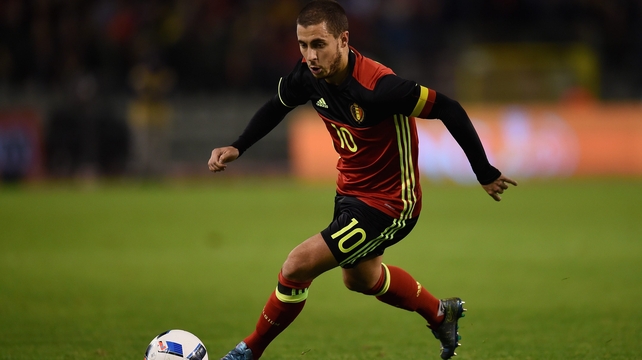 And Belgium looked neat and tidy knocking the ball around in the opening stages; the Italians happy to sit back in numbers, propped up by the central defence trio from Juventus protecting clubmate Gianluigi Buffon's goal.
Then some Belgian pressure resulted with the ball rolling perfectly into the path of the onrushing Nainggolan.
The Roma midfielder smashed a goal-bound effort along the slick surface, but the ever-reliable Buffon got down low to his left, and with a strong hand, turned the ball around the post.
O'Neill and Keane could have easily turned off at that stage, thinking that they were not going to learn anything that that they didn't already know and continue with their own plans for tomorrow's clash in Bordeaux.
But then Italy went on an attack – nothing major, just a brief foray into the opposition half.
Belgium suddenly looked decidedly average.
Their new-look back four were immediately out of sorts, showing no cohesion, proving very slow to clear their lines and unable to move as one unit.
That malaise quickly spread to the rest of the team with renowned midfielders Hazard and De Bruyne in particular looking decidedly average.
Lukaku (below) remained isolated up front, closely guarded by the three pillars of the Italian defence.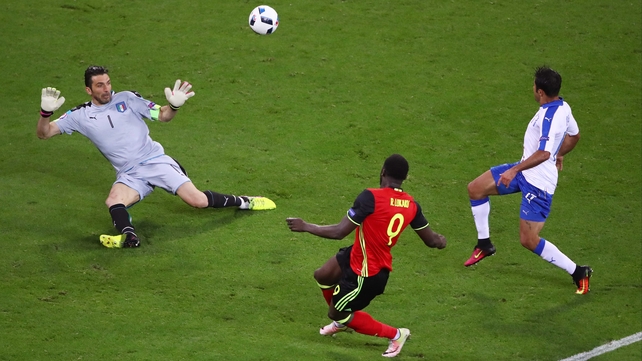 Granted, Italy were producing a defensive masterclass as they sat behind the ball, covering every channel leading to their penalty box, moving as one unit with near-military precision.
In the absence of injured Vincent Kompany, Hazard was named Belgium captain. However, it  was immediately evident that Marc Wilmots' side were clearly missing a leader on the pitch.
The Chelsea midfielder was proving anything other than inspirational, constantly running into trouble and, on the odd occasion when he did look for a pass, there was no team-mate showing, unable to read his intentions.
Manchester City's De Bruyne spent most of the opening exchanges wide on the right with little interest or inclination to get involved; the former Chelsea man's performance gradually worsened throughout.
Then in the 32nd minute, a simple, yet precise, pass was clipped over the top.
Two players were caught ball watching, as Emanuele Giaccherini (below) took one touch to control and another to curl the ball past the sprawling Courtois. Italy took the lead and never looked like relinquishing it.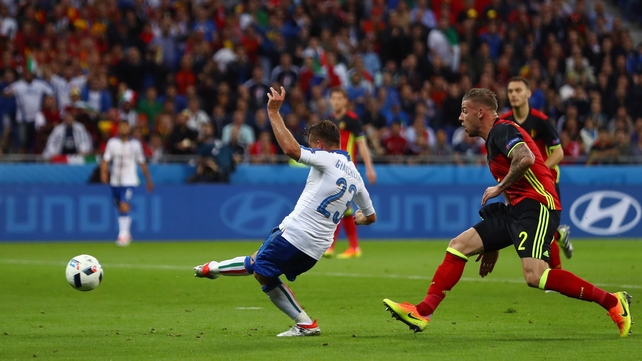 Vertonghen was one of the few Red Devils who showed heart and his clearly visible anguish proved a rallying cry of sorts early in the second half.
But by that stage it was too late for the star players to work their way back into the game and direction from the on-looking coach appeared non-existent, as Wilmots just threw more big names into the attack.
Dries Mertens, Divock Origi and the aforementioned Carrasco entered the fray but were immediately dragged down to their team-mates' mediocre levels.
The coach obviously had full faith in his system and his players to get Belgium back into the game, but it never materialised.
Throwing Fellaini up top to make a nuisance of himself is an option that has worked before when Belgium were looking to get back into games, but the 'man with the deadliest elbows in European football' as he was referred to in commentary never unleashed his nasty streak throughout, possibly with the knowledge that those Turin-based hard men would have relished the challenge.
And perhaps the best of this Belgium side won't be seen until they come up against a team like Spain, France or Germany who will not be afraid to take them on in a footballing sense.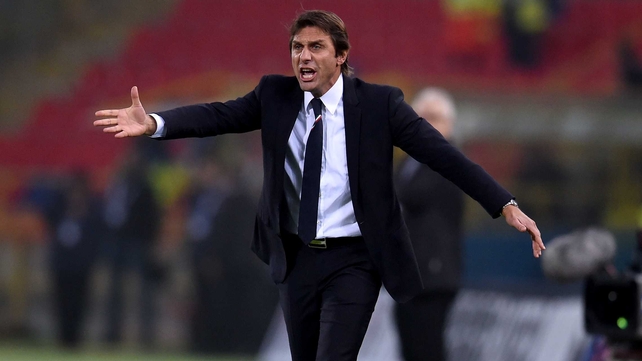 The Irish management will know that Belgium can not possibly play as bad as this on Saturday but they will certainly have learned from the way that Italy set up against them and nullified their world class midfield.
Apart from the excellent defending, Italy showed how to break any Belgium momentum that was building, slowing down the play, taking a moment or two longer with a kick-out or throw-in, giving away a free-kick in a neutral part of the pitch or even making a time-consuming substitution.
And the Italian players took their cautions at the right moments, wiping out dangerous counterattacks long before reaching that red card zone in the final third of the pitch, while also staying firmly on their feet on the rare occasion that Belgium did manage to penetrate the penalty box.
The introduction of Ciro Immobile was the final masterstroke of coach Antonio Conte (above), sending on a player designed to pick the ball up and run at defenders, a real godsend for an under-pressure defence holding onto a slender lead.
As it happened, they doubled it.
Speaking on Thursday after training in Versailles, Keane was being particularly careful not to criticise the Belgium team or performance, very happy to keep Ireland in the perceived role as major underdog.
The Ireland assistant manager also played down the possibility of attempting to replicate the Italian performance, deeming the Azzurri masters of that particular fine art.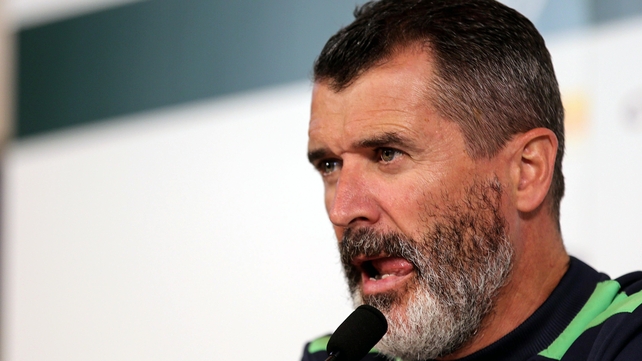 But perhaps Keane (above) did drop the slightest of hints that a similar defensive strategy could be used, as he admitted that Ireland did have the players that could fill that formation, although perhaps without the required time to fine tune it.
"All of a sudden you see a team do well and you think, 'oh we can just copy that'. It doesn't work that way," said Keane.
"They have a lot of experienced players, particularly the three central defenders; they've been playing that for a long, long time.
"So just because it worked for them, doesn't mean it would work for the Irish team.
"But it does give you options. And we do have options to change the system; we have done it previously.
Roy Keane explains exactly why he'd have kicked Eden Hazard up and down the training pitch if they were team mates.https://t.co/AIoLLWKWg0

— RTÉ Soccer (@RTEsoccer) June 16, 2016
"We have players no doubt who are capable of doing it, it's just have we enough time to prepare for that? And that's where the manager has got to make that decision."
That particular defensive dilemma may have already been made, but we will have to wait until an hour before kick-off on Saturday to find it out.