Police in Lille have used teargas on Euro 2016 fans following scuffles in the city centre ahead of Thursday's England-Wales clash in nearby Lens.
Supporters were seen running through the streets before officers attempted to disperse them by firing the gas into the crowds.
Fans from England, Wales, Slovakia and Russia have gathered in the city for Group B matches between the countries. Slovakia beat Russia 2-1 in Lille earlier today.
A large group of fans were congregated at the Place des Reignaux when officers used the spray and let off a canister. A loud bang was also heard.
Supporters held their shirts over their mouths and left the scene rubbing their eyes and spitting.
Hoards of fans were seen walking through the streets chanting "England, England, England."
In footage posted online by ex-England footballer Stan Collymore, one man wearing a green hat is seen smashing wing mirrors off cars parked on the street.
Collymore said: "Somebody threw a, not a grenade, something that went bang towards some England fans and the England fans have just run."
The bang caused the crowd to surge forward and they dispersed as police fired tear gas.
Around 10 men wearing Russian Ultra t-shirts were seen walking away from the area.
Mounted police quickly arrived on the scene as the England fans regrouped and began to chant again.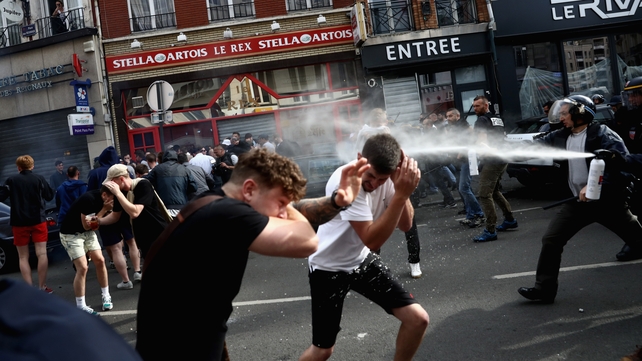 As quickly as the trouble started it went away and the fans returned to chanting and singing.
Away from the main square a group of England fans, who were comparatively quiet, were surrounded by police as they drank outside Cafe Oz.
Either standing outside or sitting on the grass, the officers parked more than 10 vans and a police bus in the square around them.
A large number of fans congregated outside one of the bars near the Lille Flandres station - with dozens of police officers carrying riot shields standing guard.
The crowd chanted God Save The Queen and England Til I Die, as well as singing "Where were you in Marseille?" towards the assembled police. A red flare was lit as fans continued singing.
Elsewhere, a group of England fans outside the train station in Lille were penned in by police when one of them lit a flare and began to wave it as they chanted.
One fan climbed a tall road sign as the crowd continued to chant surrounded by shielded riot police, some with cameras on their helmets.
British police were also present videoing the crowd, that contained a couple of Welsh flags. As the crowd moved down the street the police started moving them off the road and a bottle was thrown.