Northern Ireland manager Michael O'Neill has urged his players to use the disappointment of Sunday's defeat to Poland as motivation for tomorrow's clash with Ukraine.
A second half goal from Arkadiusz Milik gave Poland a 1-0 win in Nice, with O'Neill's side failing to register a single shot on target during the 90 minutes.
With world champions Germany to come in their final game, O'Neill and his players have targeted this encounter as one they have to win if they are to make the knockout stages.
O'Neill, who has a fully fit squad to choose from, said they had not lost all hope following that defeat, instead, he stressed their greatest disappointment came from not matching their own expectations.
"It was disappointing for us to lose the game. We've talked and obviously looked at it closely, but more so, there were aspects of our play that we were disappointed about. The players can then use that as motivation for the second game," O'Neill said.
"As I have said to them, we lost the opening game in the competition 1-0, but there's seven other teams who have lost their opening game. There's only eight teams that have won their opening game, so it's not as if we're cut adrift from the tournament at this point in time.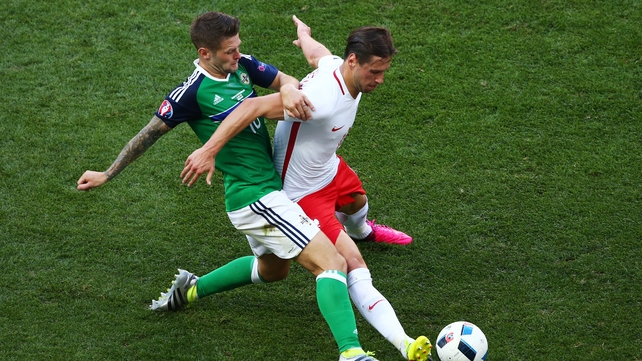 "I think maybe individually players were disappointed as well, but that's part of the game. There's so much time for the starting players which is recovery-based as well.
"Seeing them this morning - we did a short training session - you see quite quickly that their minds are focused and they're determined to do well tomorrow night."
During the pre-match press conference here in Lyon, the performances of Hungary and Iceland in Group F were cited as an example of where minnows had upset the odds in this tournament.
"We recognise where we need to be better. I don't think we needed that reassurance that do we belong here"
However, O'Neill ruled out that the notion that Northern Ireland were fighting above their weight and would look to those sides for inspiration.
O'Neill acknowledged that his team are regarded as underdogs with such illustrious company in their group, but he also pointed to their 12-game unbeaten coming here and the fact that they were the first team from pot 5 to top a qualification group.
"We didn't approach the game with fear. We approached the game with expectation," O'Neill stated.
"You'll always look at reasons for level of performance, but we spent a lot of our time at ways to do things better. The margins between success and failure are so fine.
"You look at Steven's half an inch away from possibly getting an equaliser for us off the free-kick. Suddenly there could have been a whole different slant on everything.
"I think what the tournament has shown us straight away is that all games are tight. There's been a couple of 2-0 scorelines, but everything else has been a goal either way so that's the most important thing for us.
"We recognise where we need to be better. I don't think we needed that reassurance that do we belong here. We felt that all along. Obviously, we have to go and demonstrate that tomorrow night against a strong Ukrainian team."
In the immediate aftermath of Sunday's game in Nice, a number of Northern Irish players had offered very downbeat assessments of their performance and some were not too optimistic about their chances of getting through the group stages.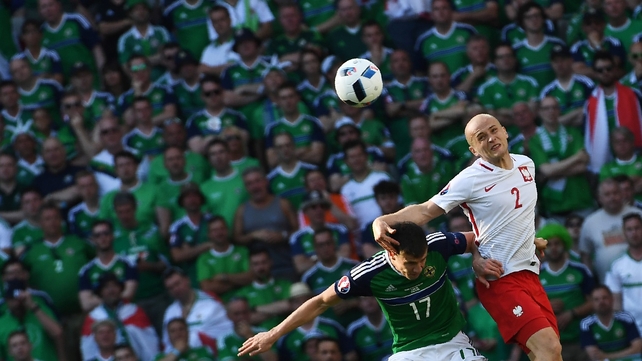 One of those was captain Steven Davis, who had said that they were not good enough, but with proper analysis and hindsight, Davis sought to dwell on some of the positives.
He said: "I think it's very difficult when you come off the pitch. Emotions are high and frustrations come out and you don't analyse the game in the correct way.
"The players spoke from the heart after the game, there was a sense of disappointment and you can't fault anybody for that.
"But when you sit back and analyse the game, we defended very well and we stayed in the game until the very end. Poland are a good side.
"As Michael said the biggest disappointment came from ourselves. We believe we're capable of playing better with the ball and more capable of stamping our own authority on the game.
"That's something we need to find is a better balance in the game tomorrow night."
Davis created a bit of history on Sunday when he became the first player at this tournament to take a one-man kick. The new tactic is part of legislation changes that came into effect at the start of this month.
Both manager and player joked that they hoped it would not be the team's only highlight from this tournament.