Ray Houghton hailed the Republic of Ireland's performance against Sweden last night, but believes a victory is required against Belgium or Italy in order to reach the knockout stages of Euro 2016.
A classy Wes Hoolahan strike early in the second half saw Ireland leading up until Zlatan Ibrahimovic forced an own goal from Ciaran Clarke to see the the Group E opener end 1-1.
"I thought Italy were excellent and gave a master class in how you should defend and they had the right options up front to score the goals"
Former Ireland midfielder Houghton believes Martin O'Neill's team were the better side, but says sitting back after Hoolahan's strike handed the initiative back to Sweden.
Houghton said: "They should be very proud of themselves. I thought it was an excellent performance.
"Going into the game, most people thought it was going to be a draw anyway, they didn't see a lot between the two sides. But there was on the night.
"We played far better than Sweden. Sweden were really disappointing in the first half. We could have easily been one or two goals up by half-time."
Houghton, who famously sunk England with a header at Euro '88 and then Italy at USA '94 with a lob, praised Ireland's goal, but said sitting back after that proved fatal.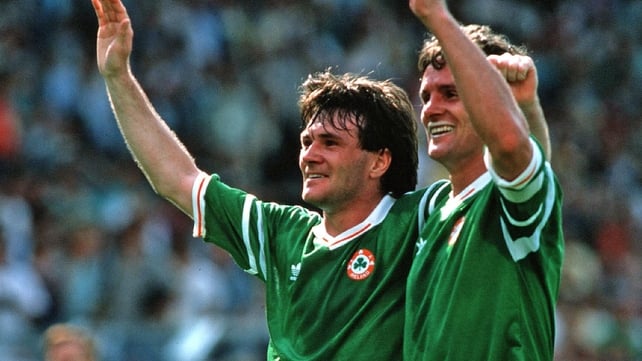 He continued: "We get the goal at the right time, just after the start of the second half – brilliant finish from Wes Hoolahan after great build-up play from Seamus Coleman – and we just couldn't hold on.
"I think John O'Shea summed it up when he said that maybe we sat back a little bit and we gave the ball away too easily and I think that was the case.
"What happens at times when you're 1-0 up, you start protecting what you've got rather that keep doing what got you into the lead in the first place.
"I just thought we sat off a little bit. You knew there was going to be a response from Sweden – they got it.
"They didn't have a shot on target in 90 minutes, Sweden! Not one shot on target! And the goal was very unfortunate from Ciaran Clarke, who I thought played well during the course of the 90 minutes.
"But we should take a lot of positives out of the game, and think of how well we've done and get that momentum going into the next game against Belgium."
Ireland face Belgium on Saturday, followed by Italy on Wednesday, and Houghton believes Ireland must win one of those matches in order to qualify for the knockout stages.
The former Liverpool and Aston Villa midfielder said: "Yeah, I think we do, personally. It's going to be how Belgium react to that defeat last night. Defensively they weren't very good.
"I thought Italy were excellent and gave a masterclass in how you should defend and they had the right options up front to score the goals.
"Going into the game against Belgium, Belgium are going to have to respond. Then we're looking at who's fit. I know Jonathan Walters is the main concern injury-wise.
"So it's just recovery and making sure we go into it and apply ourselves in the manner that we did yesterday.
"I think if we do that we'll give Belgium a good game."