Storm clouds rolled into Saint-Denis as Martin O'Neill and Robbie Keane sat down to face the media at the final press conference before the Republic of Ireland Ireland open their Euro 2016 campaign against Sweden.
The mood inside the windowless room, located in the bowels of Stade de France, was equally sombre as the manager and his trusty captain awaited questioning.
"Victory for O'Neill's side would see them put one foot in the knock-out phase"
The squad have just spent one week training in Dublin, another in Cork and the final week of preparation in the historic town of Versailles on the outskirts of Paris.
Three weeks is a long time to wait for a game of competitive football and it was certainly showing on the face of the Ireland manager as he worked through his last batch of questions before the real work would start tonight at the northern Paris venue.
In fact, O'Neill's demeanour has barely changed throughout this intensive period, building up to the tournament and the Derryman admitted that he would "just like to get on with it", having "waited impatiently" for the opening game.
Just a few hours earlier, Swedish superstar Zlatan Ibrahimovic was sat in those same seats, yet showing none of O'Neill's reticence, in fact the charismatic centre forward was the polar opposite to the Ireland pair who were speaking through gritted teeth.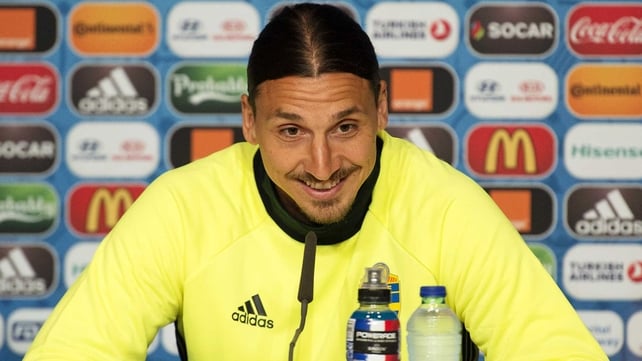 "The legend can still deliver," announced the former Paris Saint-Germain striker, reassuring his national media that their hero had this completely under control, while knowing potential suitors for the out-of-contract forward could well be watching.
"I feel really strong. I'm getting better with every year that passes," added Ibrahimovic.
"I feel really good. It's all about learning and developing new things. I have the hunger to become a better player.
"The legend can still deliver. I have been dominating wherever I go and I feel very confident."
"Perhaps the best approach to Ibrahimovic will be to acknowledge his presence but rather stop the supply to the striker by winning the battles elsewhere on the pitch"
But there was also an element of modesty as the Swedish striker said that the "collective is more important".
"You become the best by having teammates around you. If the collective succeeds, then you can succeed. I have the greatest pressure on my shoulders and I want to take the pressure off the team as much as possible."
So while Ibrahimovic was attempting, albeit slightly, to insist that Sweden were more than just a one-man team, the Ireland manager was more than likely sick to those aforementioned teeth of being asked about how he would cope with the striker's undoubted threat.
O'Neill has certainly got a plan for Ibrahimovic but he has not revealed it over the past three weeks and he certainly wasn't going to oblige on the eve of the encounter.
"I've got a team in mind," said O'Neill, who is renowned for not naming his side until the final hours before the game, and is always likely to throw a surprise into his starting XI.
But despite O'Neill's monotone answers, there was plenty of concealed confidence trickling out in the manager's answers as felt that everyone was "ready to go" and that his side were primed to "make our mark" on the tournament.
Ireland's approach will be interesting tonight as the opening game will really set the tone for the rest of the group stage.
Victory for O'Neill's side would see them put one foot in the knock-out phase, while a defeat could make the remaining task too tough a challenge with Belgium and Italy waiting in the wings.
And while the manager stated that tonight's game was not a must-win encounter, it is certainly a winnable game in his mind, as was stated by his assistant Roy Keane on Saturday who said that Ireland will feel that they can win all three games.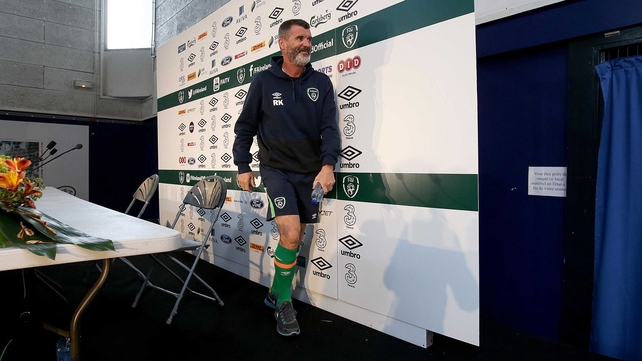 In fact, Roy Keane's attitude and approach to Saturday's press conference exuded real belief in this Ireland squad as he said that the team were ready to go, and that was backed up by Stephen Quinn in the proceeding press briefing who said that the hard work was done and they were now just ready for the fight, as he spoke in boxing parlance.
O'Neill has built a real club mentality within the Ireland squad and it has gone as far as mirroring what the players do back at their employers, from giving them a day off a few days out from the game, down to their match-day itinerary.
And O'Neill explained his thinking behind it as he likened the group stages to club football with games coming thick and fast, with his side set to play three games within ten days.
"Wes Hoolahan is surely set to start with Shane Long and Jonathan Walters playing up top"
So how will the manager deal with that Ibrahimovic threat?
In previous press conferences the manager implied that he would not give the responsibility of marking the Swedish striker to one player as he felt that world class players have a way of extricating themselves from the attentions of a man-marker.
And such a tactic would surely involve a complete reshuffle of the manager's style and system, which he will believe will be what decides this game.
Perhaps the best approach to Ibrahimovic will be to acknowledge his presence but rather stop the supply to the striker by winning the battles elsewhere on the pitch.
Kim Kallstrom is a vital factor for Ibrahimovic to shine for Sweden and with Ireland likely to employ a three-man midfield, O'Neill will be hoping that there is little space for Kallstrom to operate and hopefully frustrating the star forward.
And O'Neill will be conscious of playing his own game and not setting out his side to combat his counterpart Erik Hamren's tactics.
If anything, it will be Sweden that need to change their thinking as their traditional 4-4-2 formation will have to be flexible with one of their wide men needing to play quite centrally to balance the numbers in the middle of the park.
The Ireland manager has a full squad to choose from and while several players have not seen too much game time in recent weeks, O'Neill stated that he cannot look beyond this game, so expect him to name his strongest side.
And that will surely line out in his now preferred formation of 4-3-1-2, which proves a very difficult team to penetrate when defending, while allowing the forward players to take on a much more active role in attack, with support on either flank coming from the full-backs.
The manager has decisions to make in the middle of his defence with Shane Duffy receiving many plaudits in recent months but O'Neill will probably stick with old, experienced heads John O'Shea and Richard Keogh with Robbie Brady and Seamus Coleman certain to start either side of the centre-halves.
O'Neill's three-man midfield also hands the manager a conundrum as to whether he can risk a forward-thinking Jeff Hendrick or rely on a neat-and-tidy defence-minded Stephen Quinn to play in that triangle with James McCarthy and Glenn Whelan.
Wes Hoolahan is surely set to start with Shane Long and Jonathan Walters playing up top.
Stoke City striker, Walters, is the obvious injury concern but the manager appears happy with his "natural fitness" and should send him into attack.
Sweden do have other players who will cause problems with the energetic Sebastian Larsson and highly-rated Emil Forsberg both adding to the attacking options, while Marcus Berg is a proven finisher and will give the centre-halves an extra headache, while keeping one eye on Ibrahimovic.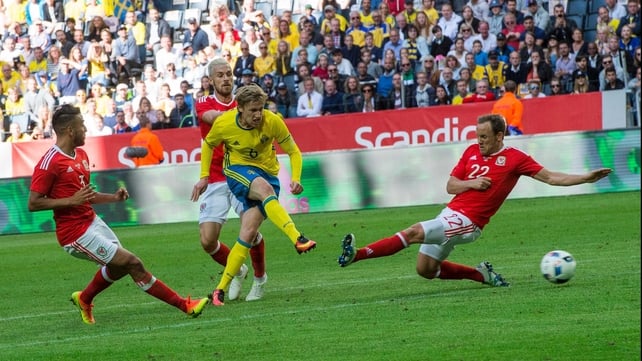 The aforementioned Kallstrom can quickly turn defence into attack with his gifted left foot, while full-backs Mikael Lustig and Martin Olsson both offer something going forward.
Sweden's weakness may well be their central defensive partnership, which has a tendency to play a high line, but surely that would play right into the hands of the pace of Long, so expect the not-so-mobile pairing to sit deeper to prevent any space in behind.
And while the tournament is only in its infancy, there has been no real one-sided affairs with Germany the only team to win by more than one goal in the seven matches so far.
In fact, many games have been decided by one moment of brilliance as shown by France's last-minute Dimitri Payet winner or Luka Modric's superb striker in Croatia's 1-0 win against Turkey.
And should tonight's game come down to a wonder-goal, the chances are that it will be the men in yellow that would be celebrating.
But a brave Irish approach can prevent such a scenario, and while that moment of magic may not be the strike that wins it for Ireland, it could well be a precise Brady set-piece delivery that finds an Irish head to settle this affair.
Verdict: Ireland