The training, the video analysis and the talking are almost done, and after watching France's thrilling opening victory over Romania, Stephen Quinn can't wait for the Republic of Ireland to get their Euro 2016 campaign under way.
Quinn was among the Irish players as they gathered in their team hotel in Versailles to watch Dimitri Payet score a late winner for the host nation at the Stade de France, where Ireland will meet Sweden on Monday night.
"There was a good buzz and we all got together in the snacks room to watch it," Quinn said at the team's training base at the Stade de Montbauron.
"It was exciting because that's going to be the stadium where we're going to be playing, but the pitch cut up a bit. It's starting to build now. Obviously we'll watch a few games today and then we'll look forward to Monday."
Ireland go into the game in a buoyant mood after what Quinn described as a productive build-up in Dublin, Cork and here in France, as well as the return to fitness of Jonathan Walters.
Four years ago there were complaints that the build-up to the European Championships had been too long and the players didn't have enough down time or see enough of their families. Martin O'Neill and Roy Keane listened to the survivors of that squad and implemented a few changes.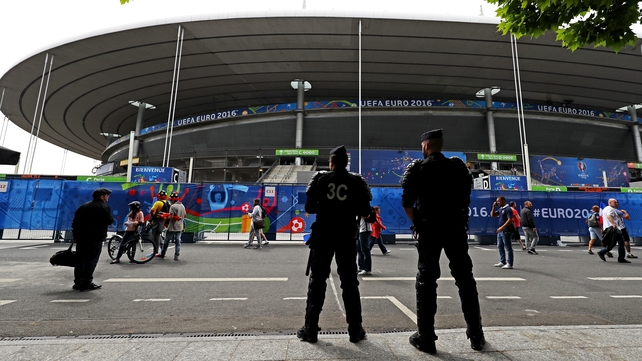 Quinn believes they have got the balance right between serious professional environment and a relaxed atmosphere, with the players entertaining themselves with a games room, including a golf simulator, while still taking account of the increased security, which is required while France remains in a state of emergency following last year's terrorist attacks.
"It's been productive," declared Quinn. "We've had a good couple of weeks with a break down in Fota Island, which broke it up. Since we got to France we've hit the ground running. Everything has been brilliant.
"We feel safe. We have got our own security to add to that. Everything has been perfect. Versailles has been a great place. The hotel is top notch. The training ground is excellent, so we can't have any complaints going into the game on Monday."
Quinn, who started the opening game of the qualifying campaign in Georgia, is desperately hoping to add to his 13 caps on Monday night, even if that means being used from the bench.
He said: "Hopefully all the boys are fit. We need a strong squad going into these games. We're facing some of the best players in the world. Jonny was back training today and was looking sharp. We need our best players available but if needed I'll be more than ready to take my chance.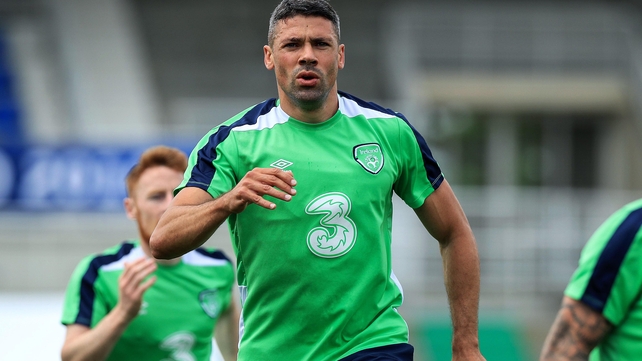 "As Roy [Keane] said, once you're in the 23, you've always got a chance, so I'd like to think that I do have a good chance. I had a decent game against Holland and I'm ready and waiting.
"I don't just want to make up the numbers and I'd like to get some game time and show what I've got."
Much of the focus on Sweden in the build-up has been on their star man and captain Zlatan Ibrahimovic. With 62 international goals to his name and a bucket-load of major club honours it's easy to see why, but Quinn said Ireland have not neglected the other players in their analysis of the Swedish squad.
"We've done a lot of analysing Sweden to be honest," said Quinn. "They're a good side all-round and they showed that against Wales in the last friendly with a comfortable win.
"Obviously we've got to look at Zlatan, but as a side they are a good team and we've got to look out for most of their players.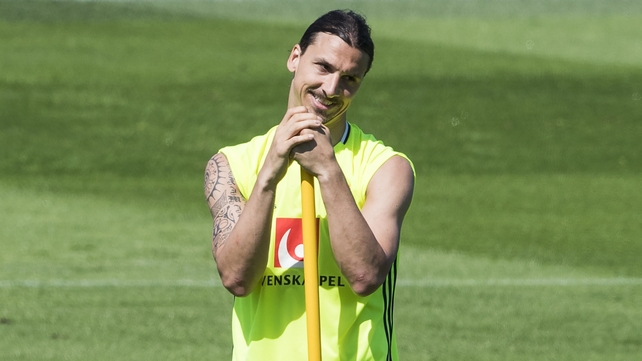 "We've worked on set-pieces but we've got our own quality in the team as well. The big man [Shane Duffy] if he plays is a massive threat in both boxes, so they'll have to have a look at a lot of our players.
"We've done lots [of analysis] over the last few weeks, just small bits at a time. The manager takes it and we have meetings in the hotel in the evenings. Our analysis guy has everything ready so we've left no stone unturned on set-pieces. They're a massive thing in the game now. They can win you or lose you games."
As well as being neat and tidy on the ball in midfield, Quinn also showed a fine line in diplomacy as he cleverly sidestepped a question from a Swedish journalist about whether Ireland's higher world ranking would easily transfer into a win.
"We'll soon find out on Monday," he said with a smile. "We don't consider ourselves better than Sweden. It's difficult to say. It's a major tournament and the pressure's on.
"It's the first game and both teams would like to get off to a good start and maybe get off to a good win before facing what are probably the better sides in the group, Belgium and Italy. It's going to be a massive, massive game."