Robbie Brady will be happy to play wherever he is asked to as the Republic of Ireland launch their Euro 2016 campaign against Sweden on Monday evening.
The 24-year-old Norwich midfielder at times operated at left-back for his country during qualification, but has also been used in a more accustomed role further up the field depending on how manager Martin O'Neill wants to set up his team.
Brady was widely expected to start in the back four against the Swedes, but Jonathan Walters' calf injury has raised the possibility that he could be used in midfield instead with Stephen Ward getting the nod at the back, although the former Manchester United trainee would have no problem with either role.
Asked if O'Neill had spoken to him yet, he said: "We have still got a few days left until the game and everyone is fighting to be fit and ready. I have not spoken to anybody yet.
"We are just trying to get our last bits of preparation in and I'll be ready to play wherever I am asked to play."
Walters completed the warm-up with the rest of his team-mates on Thursday before working separately with physio Dan Horan for the remainder of the session, and the players, who have been in camp for almost three weeks now, were given a rest day on Friday.
He is the only lingering fitness doubt, with midfielder James McCarthy, skipper Robbie Keane and Brady himself now back in business.
Brady had a scare at the weekend when he suffered a back spasm, although the circumstances had nothing to do with football after the squad were given a little down-time.
He said: "I was at home and I went to pick my daughter up out of the bath and just felt a twinge in my lower back. Obviously initially I panicked a little bit, but then within 24 hours, it had settled down."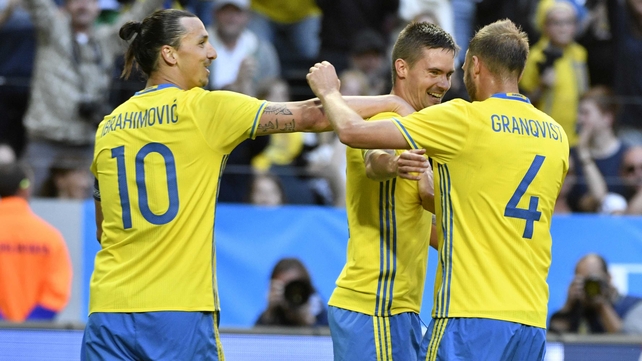 Should Brady be selected in O'Neill's starting line-up in defence, he could come closer than most to Sweden star Zlatan Ibrahimovic, whose name has dominated questions about Ireland's first opponents in the run-up to the game.
But to a man, the players have responded with what has become something of a mantra, suggesting the message has been drummed home repeatedly in team meetings.
Brady said: "He's a world-class player, but like everyone has said, he's not the only one. They have got some great players.
"Obviously if he gets into the game, he can draw other players into the game, so we have a job on keeping 11 men quiet and hopefully we can do that.
"Like I said, they have got some good players, we have got some good players. I think it will be a good game and hopefully we can do enough to come out on top."
Ireland's trip to France is the first to a major tournament for many of O'Neill's younger players, Brady among them, and the experience is one they are determined to enjoy.
However, the focus remains very much on the football and their mission to improve significantly on their showing in Poland four years ago - when they failed to collect a single point - and emerge from Group E.
Brady said: "It's exciting for everyone involved, including ourselves. The lads are trying to soak up as much as we can.
"But we are not getting carried away with ourselves. We have a tough job at hand, but we are really, really looking forward to it."
RTÉ's live coverage of Euro 2016 begins with France v Romania this evening (kick-off 8pm). Watch live on RTÉ One, listen live on Radio 1 and follow our live blog on RTE.ie.