Martin O'Neill may have climbed metaphorical mountains and perhaps even held hands with a devil in his search for new blood, but when those final 23 names were finally fed into the FAI facsimile, you sense that the Ireland manager still hadn't found what he was looking for.
O'Neill will claim to be content with his squad selection, but it appears that there is a tinge of disappointment within the management team that nobody staked a valid claim for a late inclusion.
And as the dust settles on what has been a hectic few days for both players and management, O'Neill might just be starting to ponder whether the answer he was looking for was standing right in front of him.
In the end, loyalty won out over imagination, because if ever there was a time to axe a player or two, it was after that performance in Turner's Cross.
In fact, if assistant manager Roy Keane was performing the final cull, the squad may not have even stretched to 23 names such was his disdain for some of the performances in front of his own people in Cork.
Callum O'Dowda was plucked from League 2 side Oxford United based on a couple of excellent Under-21 performances in what was seen as a very intriguing selection in the manager's initial 35-man provisional squad.
The young midfielder was then paraded in front of the media after his first day training with the senior side, and while everyone could certainly hear what he was saying, perhaps no one was actually listening.
There was certainly no indication that anyone really believed that O'Dowda had even the slightest chance of breaking into the final 23 for France – well, no one but the man himself.
"I'm not here to make up the numbers, I want to be on the plane to France," he said. "I base my game on players like Gareth Bale," he added.
Confident words from the Oxford greenhorn, but the Dutch game came and went with no sign that O'Dowda would be called upon, and again 75 minutes of play at Turner's Cross and still no indication that a first cap was in the offing.
Keane's criticism of O'Dowda's teammates in Wednesday morning's press briefing possibly shone a light on what may have transpired on Tuesday night. And perhaps Roy just nudged Martin and said, "can't be any worse than that lot."
But then the tracksuit top came off and the long legs of O'Dowda strode confidently onto the park. Moments later he was involved; strong, poised, athletic, confident.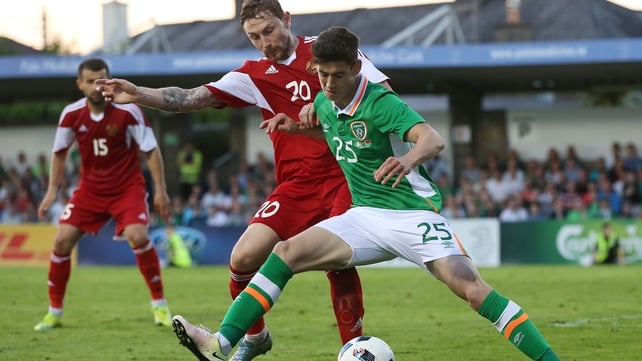 And while the Bale comparisons may be a little premature, the burst of speed is certainly there, as is the composure and quality on the ball, not to mention his willingness to track back and help out defensively.
O'Dowda's 15 minutes of game got the seal of approval from assistant manager Keane who was full of praise for the Oxford midfielder, both as a player and as a person.
"He controlled it. He passed it. And he moved.And that's why I think he did well," was Keane's rather simplistic explanation of why he stood out, which was also a bit of a sideways swipe at some of the more senior players who the former Manchester United midfielder admitted, albeit jokingly, that he wanted to kill after the defeat to lowly Belarus.
"He is a nice kid and has a nice way about him. He's a confident lad, had a good season at club level and it is good to work with young players who have not been brainwashed yet," added Keane.
In fact, the management want to see more of O'Dowda and have asked the Oxford youngster to stay on and train for the rest of the week.
O'Neill may have missed the opportunity to see what O'Dowda can really offer; perhaps a late withdrawal just might allow that wrong to be righted
Keane pointed to a host of reasons as to why none of the other players could break into the squad, whether from lack of game time at club level or returning to full fitness too late.
There was a special mention for David McGoldrick and, of course, Harry Arter with Keane feeling both were unlucky as they were players that the management were watching, while EunanO'Kane was described as a "decent player".
So while O'Neill was paying so much attention to the senior fringe players and the Euro hopefuls over the past ten days, perhaps he did not have the full courage of his convictions when it came to giving O'Dowda ample game time.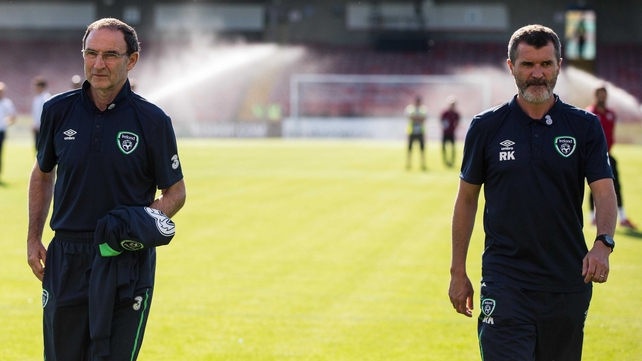 With 15 minutes remaining at Turner's Cross, O'Neill's mind was probably starting to wander to those horrible conversations that he would have to have with the unlucky few who were set to miss out.
And while O'Dowda's fine cameo would have been a welcome distraction, maybe it left an annoying aftertaste that the manager had not introduced him sooner.
The players who failed to perform on Tuesday night will have a lot of hard work ahead on the training ground to get back into Keane's good books, which should lead to some feisty sessions over the next couple of days at Fota Island.
And with so many players not at 100 per cent fitness or sharpness, it would be no surprise to see another hamstring strain or muscle tear lead to an enforced injury replacement.
O'Neill may have missed the opportunity to see what O'Dowda can really offer; perhaps a late withdrawal just might allow that wrong to be righted.