Daryl Murphy has admitted the task of filling Robbie Keane's boots once he decides to hang them up will be daunting.
The 35-year-old Republic of Ireland skipper boasts a remarkable international goalscoring record, having found the back of the net on 67 occasions in his 143 appearances for Ireland.
LA Galaxy frontman Keane is confident there are more goals to come as he prepares for another major tournament finals in France but, sooner or later, his time will be over and his potential replacements know just how big a gap he will leave behind.
Asked about taking over from the former Tottenham and Liverpool hitman, Murphy said: "It should be exciting, but you'd want to be a very good striker to break Robbie's record. I can't really see that happening in the years to come.
"If there's a place there for grabs for any young lad coming through who wants to score goals, then you look up to people like Robbie. He's a legend.
"I have watched him all through his career and he has done brilliantly, so it would be a big ask."
Keane has fallen behind the likes of Murphy, Shane Long and Jonathan Walters in the striking pecking order, but he remains a talismanic figure both on and off the pitch.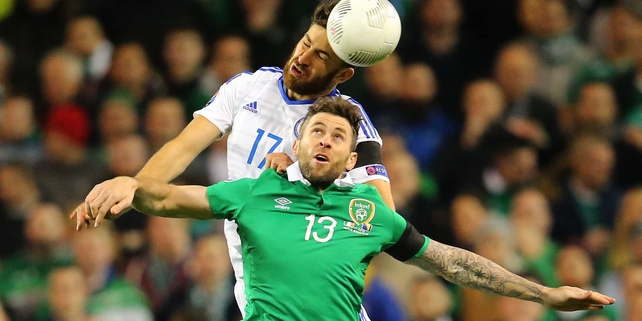 Murphy said: "Still now, he is so sharp in his thinking - he is so sharp in the head that he knows exactly what is around him and what he is going to do before the ball even comes, and you see his finishing is still top-notch.
"You obviously learn from that. You watch him and see little things he does and try to do them yourself.
"He's always been a voice and influence in the changing room - that's just the way he is. He's brilliant with all the lads - anyone who comes into the squad from day one, he will talk to you and make you feel welcome, and that's brilliant for us to have.
"But he still offers us a lot. If you need a goal, there's only one man who can do that for you and he's proven that his whole career."
Ipswich striker Murphy, 33, has found himself the man in possession of a jersey in Ireland's most recent big games, starting the 1-0 Euro 2016 qualifier victory over Germany and both legs of the play-off against Bosnia-Herzegovina.
But with 20 caps to his name, he is still awaiting his first goal, and that clearly rankles.
He said with a smile: "It is frustrating, but it's part and parcel of football. There's obviously a reason I have not scored - I have had some decent chances and the keeper has saved it or I've hit the post or something like that.
"But you always think as a striker that you're going to get a chance and you'll score. You can't dwell on it too much. If I did that, I think my confidence would be shattered.
"But I don't think too much about it. Hopefully if I play, I'll get one."