Just over two years on from winning the BDO's World Masters title, John O'Shea is savouring a different kind of triumph.
The 46-year-old from Cork has been on the amateur darts circuit for the guts of 30 years.
It's not an easy slog and the tough days, when the doubles just won't land, outnumber the glory days by a multitude.
But when the darts go exactly where you want them, there's no better place to be.
And that's how it was last week for 'The Joker'.
Rocking up to the notorious PDC Q School, held in England and Germany, where more than 650 players compete for 32 Pro Tour cards, O'Shea, quietly confident after a few days' practice with new longer points on his arrows, had a feeling this could be it.
We need your consent to load this SoundCloud contentWe use SoundCloud to manage extra content that can set cookies on your device and collect data about your activity. Please review their details and accept them to load the content.Manage Preferences
He wasn't brave enough to mention to his manager, Paul Brown, that he'd been experimenting with his equipment before they flew to England, so it was do or die with the only set of darts he had in his possession.
The format is simple: one player from 128 each day over four days in the final stage wins the knockout tournament and earns an automatic card. All the rest earn a point for each match won in the last 64 and onwards and the 13 players with the highest amount of points get through on the order of merit.
It's a way of rewarding consistency.
O'Shea lost in the first round on Wednesday, but picked up six points over the next two days.
He was well placed and it would take something extraordinary to knock him down the list.
"We kind of knew the night before, we were 96/ 97% sure but I didn't allow myself to get carried away," he tells RTÉ Sport.
One win in the last 64 on the Saturday would have meant a relaxing day at the oche but he blew a 5-2 lead against Shaun Griffiths and had to endure a long wait for confirmation that he'd done enough.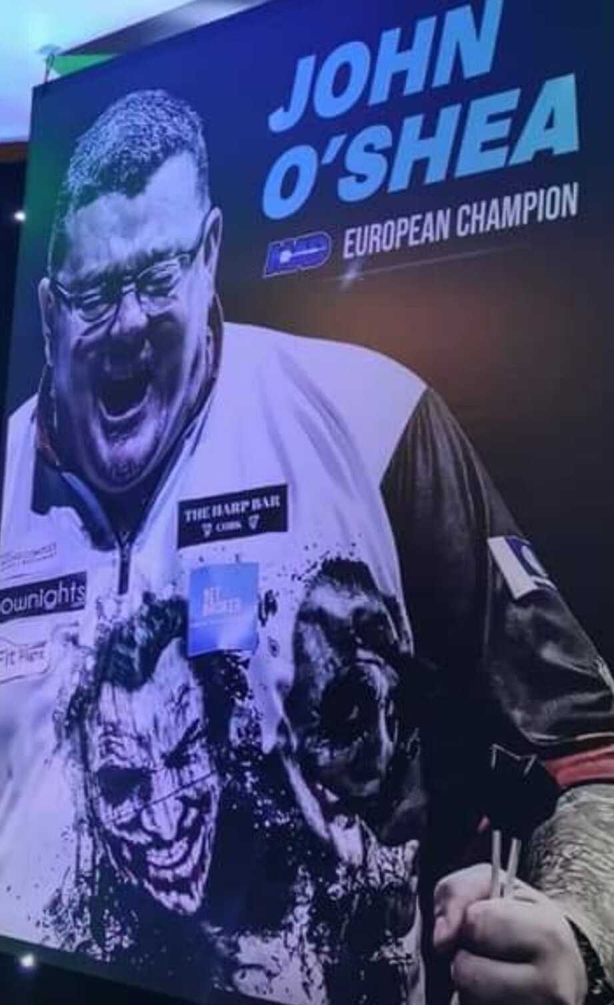 The 'as it stands' table on a darts app displayed the order of merit with players moving up and down like a relegation battle on the final day of the Premier League.
"When I lost on the final day, I went out and I sat down and I brought up the table," he says as he recalls the moment his dream came true.
"When it goes dark green it's confirmed. Then about three quarters of an hour later I refreshed it and just then it went dark green.
"We kind of knew but I'd be one of these fellows that has had disappointment in the past.
"Until someone tells you, 'you are in' [you don't believe it].
"When it went dark green I just sank back in the chair and said to myself 'wow, I'm a professional dart player, 30 years in the making'.
"It's been a crazy week and I'm absolutely shattered."
Speaking from his home in Cork, a delighted O'Shea, a plumber by trade, couldn't thank his wife and family enough.
Their support is the only reason why he's been able to realise his dream.
"Inside in the kitchen a few months back we wrote up a note in black marker above the dart board," he says.
- 'You want this'
- 'You've got this'
- 'You deserve this'
- 'Tour card'
- '2022 - The year of The Joker, Captain Chaos'
"Then it says, 'Card secured? Please tick this box'.
"And the night we secured it [my daughter] Maisie walks up the ladder and ticks the box. It was brilliant."
My Princess. Calls out finishes for me to finish and keeps me company. pic.twitter.com/LMD9wgmcEX

— John Seboy O Shea (@Dartjokergal) January 15, 2022
And now the graft of the pro tour begins and he'll share the journey with four other Irish players who won their cards at the weekend: Nathan Rafferty, Josh Rock, Mickey Mansell and Kevin Burness, as well as Cork-based Radek Szaganski from Poland, who was successful in Germany.
"At the end of the day, you've still got to win. If you don't win you don't make money.
"It will be an interesting year, I'd say."