Former electrician Rob Cross is the only man left standing between Phil Taylor and a 17th world title on what will be his final appearance as a professional darts player.
Taylor - the greatest the sport has seen - is retiring after tonight's William Hill World Darts final at Alexandra Palace.
He arrived at the tournament a mid-range bet to achieve the most successful of farewells, but has looked on as those tipped to topple him have disappeared.
He beat Gary Anderson himself, while Peter Wright and Daryl Gurney did not even make the last eight. The man most expected to keep Taylor at bay, Michael van Gerwen, lost to Cross in a semi-final clash being spoken about as one of the greatest ever.
As a result, Taylor's final match will come against the 27-year-old Cross. A man who a year ago was not even a professional player and cites Taylor as his hero.
"Words can't explain it," Cross told Sky Sports.
"I will come out (in the final) and want to win. He (Taylor) is my favourite player actually. He was dominant and now he's leaving, it's going to be special for him but at the same time I've got to do my own job and do what I need to do to win that game.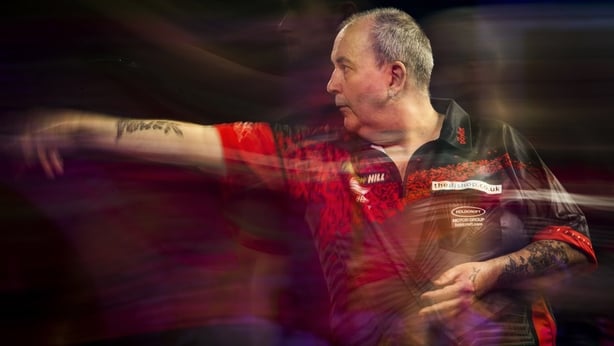 "I never expected this, it's amazing, absolutely amazing. I never expected this rise, I really didn't.
"I'm just a working boy, I come from a normal household and don't get me wrong, I believe in my own ability and that's only why I got here."
Taylor has been on a two-week farewell tour.
He announced in January he would be calling time on the most staggering of careers after this tournament and each day the fanfare has grown.
Whether he wins a 17th title or not, his standing as the greatest ever remains in tact. Winning another crown, five years since his last and with his rivals never able to respond would be typical Taylor.
"I'm over the moon, I really am - it's a struggle," Taylor told Sky Sports Darts after reaching his 21st world final.
"When I got to Gary Anderson (in the quarter-finals) I thought, 'That's you done now', because Gary is younger, fitter, stronger and a lot better than me.
"But he didn't perform, he didn't perform like Gary Anderson so I just took advantage.
"I'm just going to relax, get my rest in and get ready for the final."