The Irish cricketers go in search of another special moment on Sunday as they chase a series win over the West Indies in Jamaica.
Thursday's ODI shock victory was Ireland's sixth over the Windies in all formats, and they have a chance at Sabina Park to add to that, a result that would secure a notable 2-1 series win.
Of the previous victories over the Caribbean side, one stands out more than most – the famous 1969 success at Sion Mills in Tyrone when the visitors were bowled for an astonishing 25 runs.
The West Indies travelled over in the middle of a tour of England and had drawn a Test match in London the day before.
ARCHIVE - FAMOUS WIN REMEMBERED
Their line-up was strong with famed batsman Clyde Walcott, then manager of the side, making a rare appearance alongside six players who had featured at Lords. In Walcott's autobiography, there is a chapter called 'Skirmish at Sion Mills.'
Regarded as a loosener for the tourists ahead of more Test action in England, they were instead humiliated in a result that sent shockwaves around the cricket world.
Legend from the game suggested that Ireland had proved friendly, Guinness offering hosts to the West Indies on the night before the game, but it's a tale without serious foundation given how the visitors spent most of the evening before travelling from England to their hotel in Donegal.
The match was officially arranged as a one-day encounter consisting of two innings per side, but by mutual agreement it was decided that the team with the first innings lead would be declared as the victors.
The Wednesday clash came during the Sion Mills festival and local businesses let their staff have the day off to go see some of the world's best in action – but an extended lunch break would have done given how quickly the West Indies were bowled out.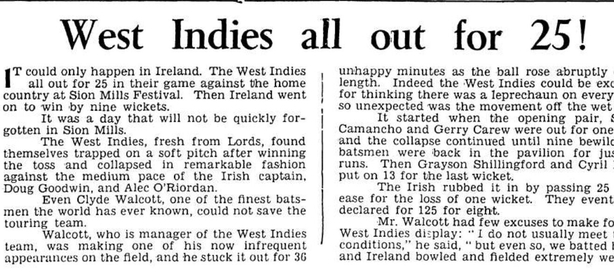 Incredibly, the West Indies were 12-9 on a damp and grassy wicket.
Opening pair Steve Camacho and Joey Carew were back in the pavilion with one run scored between them.
They didn't have long to wait for a few teammates to join them with Maurice Foster out before some of the camera crews had even set up their equipment. West Indies captain Basil Butcher soon followed as they slumped to 6-4.
Clive Lloyd went for a duck before the legendary Walcott tagged on six runs before exiting. After Pascall Roberts struck one up in the air, Grayson Shillingford hit the first boundary for West Indies.
It was a rare chink of light in an amazing 90 minutes of cricket. West Indies all out for 25 with Ireland's declaration of 125 enough for victory given that the first innings was to be decisive foe the result.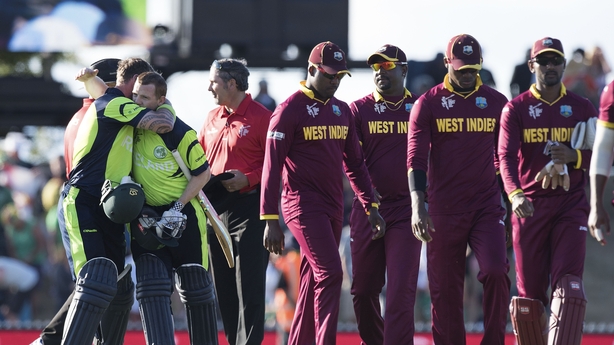 Alec O'Riordan and captain Dougie Goodwin were the heroes as they combined for nine wickets including four ducks in one of Irish cricket's greatest days.
They have enjoyed other great days against the West Indies too.
The first Irish victory came in 1928 when TG McVeagh earned 102 runs and even took four catches as Ireland emerged victorious in the first meeting between the two countries at College Park in Dublin.
There was another great win in 2004 as Ireland chased a West Indies total of 292 with Niall O'Brien starring as they earned a six-wicket victory over Brian Lara and co in Belfast.
Another six-wicket win arrived in 2014 in a T20 international before the famous World Cup giant killing in 2015 as Ireland won by four wickets in New Zealand.
On Thursday, Ireland added to the list with another excellent performance, and on Sunday they have another opportunity to add to their record of great days against the West Indies.