Ireland cricket chief Warren Deutrom is hopeful that the nation's progression to Test status will stop the country's best players defecting to England.
Both Ireland and Afghanistan were awarded full membership to the International Cricket Council (ICC) on Thursday as they met for their annual conference in London.
The two newest nations were voted in unanimously to become the first newcomers since Bangladesh in 2000 and take the number of full ICC members to 12.
Ireland have been playing as associate members since 1993 and have recorded famous victories over Pakistan, England and the West Indies in that time.
Now they will be able to play regular Test cricket against the world's best, with Afghanistan also making the step up, having only achieved associatemembership in 2013.
Deutrom believes the advance will help Ireland to keep hold of their top talent.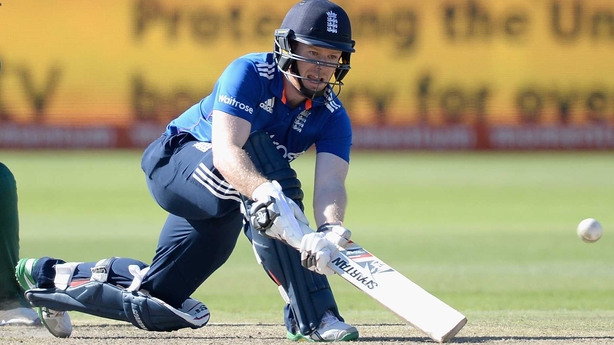 Dublin-born Eoin Morgan (pictured above), England's One-Day and Twenty20 captain, turned out for Ireland in 23 ODIs before switching his allegiance and representing England from 2009, while Ed Joyce spent several years playing for England before returning to the green jersey in 2011.
Now though, Ireland's up and coming stars will have a chance to grace the world stage while wearing the green shirts of their homeland.
"It is no secret that Ireland chased this dream, number one because Test cricket is the best, it is the pinnacle format and that which the best players define their legacy in the game," said Cricket Ireland chief executive Deutrom.
"Because of that, it was the reason that was stated by some of our brightest and best in recent years that they wished to play for England.
"While I can't sit here and say definitively no Irishmen is ever going to play again for England, what I can say is at least the reason given in the past for them to leave no longer exists."
"So therefore, we realised that unless we were sharing the same dream as our best players we always had the risk of losing them.
Both Deutrom and his Afghan counterpart Shafiq Stanikzai said no firm plans were in place to announce their first respective Tests, but neither ruled out the two newcomers meeting in 2018, with Deutrom hopeful of a clash with England the following year.
The step up also means funding for both nations will rise, with the pair currently receiving around €18m over an eight-year period from the ICC.
.@Irelandcricket CEO Warren Deutrom tells RTE that Ireland is now 'one of the senior members of the world game' after achieving Test status pic.twitter.com/WMofOqO0v1

— RTÉ Sport (@RTEsport) June 22, 2017
There are to be further discussions at the conference on Friday now that the full membership has been confirmed but an increase is almost assured and could see the figure rise to €36million.
"It's wonderful news for all of Irish cricket, with all the players already talking about playing in a Test match for the first time," said current Ireland captain William Porterfield.
"We've all played in World Cups and achieved some memorable results along the way, but to play in a Test would be a bit special.
"You dream as a youngster growing up of playing at the highest level and for me the opportunity to lead Ireland in their first Test match would be an incredible experience."
Had to pull the car over. Can't see through the tears. Today the dream has come true. Congrats to everyone involved with @Irelandcricket.

— Kyle McCallan (@KMcOffie) June 22, 2017
Cricket Ireland chairman Ross McCollum said work can now begin in earnest as the country builds to its long-anticipated Test debut.
"We are sincerely grateful to the ICC and its members for giving us this honour," he said.
"It is a recognition of the quality of our teams over the years, male and female, of our talented administration, and of the strength of our domestic and club structures.
"It is also clearly a sign of the faith that the cricket community has in Ireland's ability to help grow the global cricket economy through more people attending, watching or investing in our great sport.
"We can now commence discussions with several parties about staging our first Test while we look forward to the outcome of discussions around international cricket structures which will help us unlock increased commercial funding to assist in the development of the game."