Sean Power has spoken about not wasting energy swimming against the tide. Waterford is a passionate sporting county, insanely so when it comes to Gaelic games and people are desperate for success.
Hype has been blamed for the failure of the county's senior hurlers to get over the line in All-Ireland finals and semi-finals in the past 15 to 20 years. Too many interviews, thronged open nights, the outstanding local media's wall-to-wall coverage seeping through.
But that's Waterford. And the players and management are Waterford. They know the score. The modern game demands a structure and game plans but at their best, they are free-styling within that, off the cuff, producing moments of brilliance that take the breath away. Revelling in the freedom of expression.
And mingling with their own is part of that. It's also imperative for growing camogie in a county that has flourished at all levels in the past decade.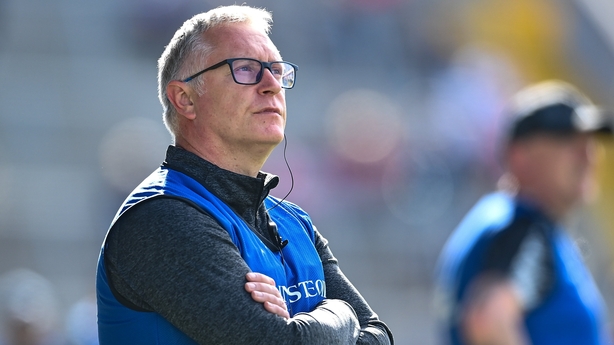 Power has navigated this type of landscape successfully on two occasions previously, as manager of the Déise's All-Ireland-winning U21 and minor teams. He prefers to embrace what should be an enjoyable part of qualifying for a final. And it is clear that the players love that.
Clodagh Carroll recalls being in Croke Park seven years ago with another of her team-mates today, fellow Gailltír woman, Annie Fitzgerald.
"I first heard Waterford were coming when they won the Intermediate in 2015," said Carroll. "I was up there watching it with Annie Fitz, Shauna Fitz and the girls. I think I was only U14 at that stage but even just seeing those girls. The likes of Beth [Carton], [Lorraine] Bray and all the girls like [current selector] Shona Curran, that would spur you on.
"They say you can't achieve it if you are not seeing it and that's so true. We were seeing it there. We wanted to be like them.
"Even having Trish Jackman playing then. She would have been one of our club girls so just seeing her playing in Croke Park, that's a huge thing for a 14, 15-year-old girl."
Anticipation is building as Waterford and Cork prepare to meet in the All-Ireland Camogie final on Sunday #RTEGAA pic.twitter.com/VmbyV9wYjy

— RTÉ GAA (@RTEgaa) August 5, 2023
The open night at the SETU Arena was a bit of an eye-opener.
"I'd say we are not really used to that kind of thing but it's great when you see the crowds coming in, seeing the girls there and asking them what club they are from. Even the amount of different clubs that were there. I think Ballyduff Upper is a new club and there were still loads of girls there. Hopefully that will spur them on and we will have them playing with us in a few years."
And it isn't just girls. This group is catering for very young child's aspirations of wearing the blue and white on the ultimate field of dreams. Iona Heffernan was another who played in 2015 and she has been amazed by the response to the team this year.
"Us as a group, we have nothing won yet," Heffernan cautioned, the experienced pro shining through as she lays down the bottom line before expanding on the theme. "It's going to take something massive for us to get over the line but also, we do have to appreciate the people that brought us along and the people who were supporting us the whole way, believing in us and fundraising for us.
"I think it's really important to engage with the public now because at the end of the day they are coming along on the journey with us. There is a good balance. We had the open training night. That wouldn't take you away from concentration because it's just great to see the kids. They are just so funny, and they love it. My name on their hurley. It's hilarious.
"When I was growing up it was Ken [McGrath], Paul Flynn [now their coach], Dan [Shanahan], all the lads. Now we had young lads and it's mad. You would see all the hurlers' signatures and our names going on alongside them. It just melted my heart when I saw them.
"There is a balance of course. Head down and focused now. We know the task that it as hand in front of us."
Great excitement at Dunhill today as RTE caught up with some of the best Waterford Camogie supporters in the county at the home of Elizabeth Barry, who played with Waterford in the 1960's and proudly wears her Munster Medal today. #OurGameOurPassion@Dimplex_Ireland pic.twitter.com/IKKKqG8PSn

— Waterford Camogie (@deisecamogie) August 2, 2023
Camogie's increasing profile was brought home to Clara Griffin 12 months ago, when the Tramore player found herself in a ruck during the All-Ireland quarter-final victory over Limerick. Unfortunately, she had only the top third of her hurley, having entered into the fray with customary zeal.
Undeterred, she gave herself a solid, wide base, held off the green-clad challengers and somehow, effected a perfect roll lift. With the handle, one must emphasise. Before the day was out, she was viral.
"I guess it was just instinct," Griffin recalled with that infectious smile. "I didn't realise I was doing it. Then we had it up afterwards so it was just incredible even just for the promotion of camogie in Waterford. Everyone was watching it and everyone was seeing it so it was brilliant and so many people started to follow us as well.
"It was all over every framework. I even had the cousins abroad sending it back to me and people on holidays. It's amazing how social media can really get our game and make it seen worldwide. It's really incredible."
This all hasn't just happened of course and Waterford have been winning All-Irelands at various grades underage, as well as at schools and club level. WIT becoming a hub for some of the best talent in the land and winning Ashbournes was a factor too. This year, the minors got all the way to the A final. Cork got the better of them but there's no masking the trajectory.
"The likes of Laoise [Forrest] and Bevin [Bowden] coming into our panel is a great boost," Carroll said. "Myself, Annie, Kate [Lynch] and Leah [Sheridan] and the girls would have been on the Ursuline panel that won the junior and the senior colleges' All-Irelands.
"Just having that launchpad and even the clubs, you can see coming up from underage the amount of girls the clubs are training. Its brilliant. That's exactly what you want to see for Waterford Camogie."
And for the Suirsiders, it will always be about expressing themselves.
"I think we play because we love to play the game," Griffin said. "When you have that freedom and are more inclined to express yourself and trust in your abilities [it's enjoyable]. When you are caught up in systems and different things it can get over-technical and you can't play the game that you are used to playing it and are good at playing it.
"Having that freedom then and to play with the girls you have been training with for years. You know what each one is going to do and what they are capable of. You just trust in everything."
That is what Cork can expect. The Déise way.