By Paul O'Neill
Galway might be still celebrating their latest All-Ireland Camogie success but manager Tony Ward is already eyeing more glory – and thinks they can come back stronger next year.
On Sunday Galway landed the All-Ireland for only the second time when they defeated Kilkenny in the final.
It was a long-awaited triumph for Galway – 17 years since the first time they were crowned champions in 1996.
Ward was also the boss then and he is hoping they can build on their latest win to complete a hat-trick of titles next season. And Ward – who also steered the Galway intermediates to a victory over Limerick in their All-Ireland decider on Sunday – believes that when the new campaign comes around, the Westerners will be even better equipped than they were this year.
He said: "I would like to stay on next year but nothing has been sorted out yet.
"Looking ahead to next season, I am confident that the seniors can come back even stronger." - Tony Ward
"No doubt everything will be looked at before long and really there is no massive rush just at the moment. For now we are just enjoying everything about what we have achieved at the end of what has been a hectic year.
"Looking ahead to next season, I am confident that the seniors can come back even stronger.
"For starters, some of the intermediate squad from this year will probably move up to the seniors and that will be a big help.
"Also the door is open for Aislinn Connolly and Tara Rutledge, who both did not play this year, to return and if one or both were to come back it would be tremendous."
And Ward prays that Galway can learn from the experience of the last time they tried to retain the All-Ireland when they face into the new term as holders of the Liberty Insurance All-Ireland Championship.
When they previously claimed the O'Duffy Cup, they went on to reach the next final but could not come out on top. And he knows it would be a special achievement to put two All-Irelands back-to-back.
Ward, who hopes the long-serving Therese Maher will keep playing next year, added: "Of course it is fantastic to win an All-Ireland but it would be absolutely brilliant to do it twice in as many years.
"When I think back to the first time we won the All-Ireland, you could say it was actually the main cause of us not winning again the following year. I suppose, given the fact it was the county's first, we got a little carried away and it cost us.
"We did well to qualify for the All-Ireland final but Cork proved too strong for us on the day and unfortunately we ended up being beaten by four points.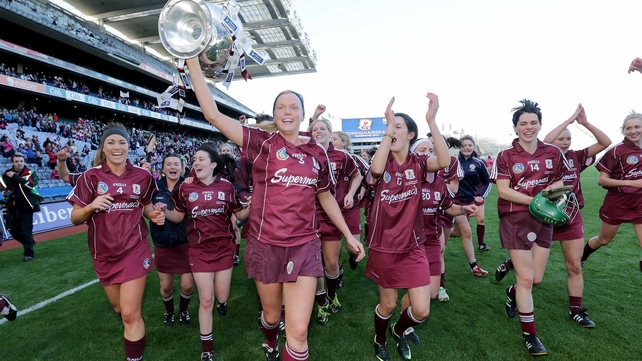 "While everyone will understandably look to make the most of this win, it will be important to get focused again in good time for the start of the new season. For sure there are more All-Irelands in this squad but it is up to the players to go on and fulfil their potential."
Meanwhile, Ward admits he finds it hard to single out which of Galway's two senior wins mean more.
He says both wins are of equal significance for him.
"For me the two All-Irelands are very different but I cannot say one means more than the other," he insisted.
"The first was massive because obviously the county had never won the All-Ireland before and it was a case of making a piece of history. And then the one from this year is just as big as it was so long since Galway had won it and five sides had played in finals since the one before and lost them all."
Ward's dream All-Ireland Double of winning the intermediate and senior finals in the same day matched the achievement of Wexford manager JJ Doyle two years ago.
And while it is a tall order to run two county teams simultaneously – never mind win two finals in one afternoon – Ward had a hunch from three weeks earlier that he was going to pull it off.
Ward concluded: "While there was a lot of work involved, I enjoyed looking after the two sides together.
"But the whole thing was helped by the fact I had excellent selectors and the players were terrific to deal with too. JJ Doyle did great with his Wexford teams and I was fortunate enough to get to do what he did in winning the two finals.
"I remember as I came off the pitch at The Ragg after we had won the intermediate semi-final against Waterford that I felt confident that we could then go on and do the 'double'.
"We had two superbly talented squads and I was happy we would be ready to produce the goods when it mattered most."