Camogie president Aileen Lawlor has said that new playing rules and the addition of quarter-final rounds will significantly enhance the excitement and quality of this year's championship.
Speaking at the launch in association with RTÉ Sport at Croke Park, she highlighted the importance of the new rules: "There are a number of playing rules that come into force including the reward of two points when a player puts the sliothar over the bar direct from a sideline cut," she said.
"This is one of the more difficult skills of the game and the new rule rewards the players who can achieve it.
"It also ensures that coaches and players place an emphasis on perfecting this particular skill, rewarding teams with a bonus point, and adding enormously to the game for players and fans alike.
"We are also focusing on ensuring that discipline remains a key priority for players and management during this year's championship. The rules help to ensure that sporting conduct is to the fore in camogie at all times," added Lawlor.
This year's senior championship throws in on Saturday, 23 June.
Dublin play Kilkenny at O'Toole Park, Crumlin at 1:00pm; Clare face Cork in Newmarket on Fergus at 1:30pm; Offaly take on Galway in Banagher at 2:30pm and Tipperary take on Wexford at The Ragg at 3:15pm.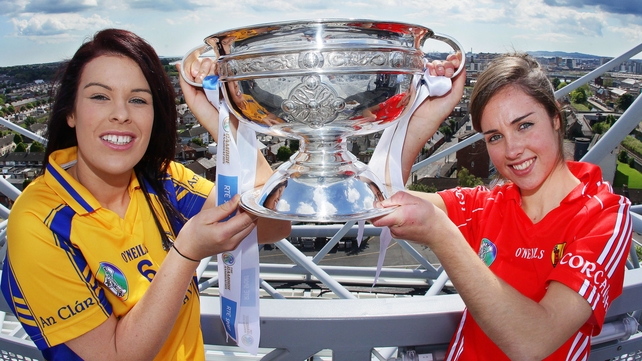 In her first year as president of the Camogie Association, Lawlor highlighted the addition of quarter-finals to this year's senior grade as an excellent development.
She said: "The round-robin format is still in play but we have introduced seeding in the two senior groups, with the top two teams through to the semi-finals and the remaining runners up playing in a series of qualifiers and quarter-finals before drawing to play in the semi-final stages on 18 August."
Paul Byrnes, Executive Editor of The Sunday Game, RTÉ, said: "RTÉ Sport are delighted to continue our association with one of Ireland's leading female sports organisations and we are looking forward to broadcasting our national game across an array of platforms including radio, TV and online.
"This year's championship will feature extensively across RTÉ Sport with live updates from selected venues each Saturday on RTÉ Radio 1 Saturday Sport and highlights coverage each week on RTÉ's The Sunday Game."
The All Ireland Senior & Intermediate Finals will be broadcast live on RTÉ The Sunday Game and on RTÉ Radio 1 while this year's semi-finals will be broadcast live on RTÉ.ie.
Wexford are the current All-Ireland champions and are bidding for three-in-a-row All-Ireland titles.