Katie Taylor steps into the ring on Saturday evening for her 20th professional fight and her sixth undisputed lightweight title defence against a Kazakh fighter who, up until a few weeks ago, wasn't on many people's radar.
Firuza Sharipova has an impressive enough record of 14-1 with eight knockouts but she has never been someone in the conversation as a real threat to Taylor and certainly not at the level of potential Katie conquerors such as Amando Serrano.
If half the job of a modern professional boxer is to sell their fight then Sharipova has already impressed, with her pre-match interviews and soundbites adding an extra dimension to a bout which many viewed as a routine title defence against the WBA's mandatory challenger.
Sharapova is not just confident that she can dethrone Taylor but believes that she has a secret weapon to help her do so.
The Kazakh fighter's sole professional defeat came against Russia's Sofya Ochigava who beat her in her first bout in the paid ranks.
Ochigava has history with Taylor, losing to her in the 2012 Olympic final in London but also getting the better of the Bray boxer in 2010.
Sharapova has enlisted the Russian as a trainer in the build-up to her fight with Taylor, hoping that her experience against the champion can give her an edge.
"Sofya has helped me to prepare for this fight," claimed Sharipova. "No one else knows how to fight Taylor like Sofya Ochigava.
"Therefore, not only I, Firuza Sharipova, will be in the ring against Taylor, but the intelligence of Sofya Ochigava, who has prepared me very well for this fight, will be with me.
"Sofya has been in my camp from the very beginning, has passed on all her knowledge to me and has done her best to help me defeat Katie Taylor."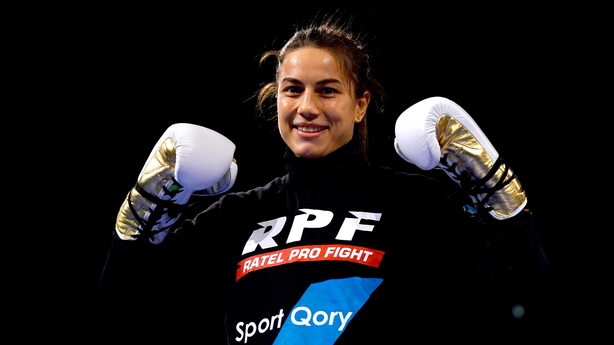 Sharipova does appear to be putting a lot of weight into that defeat for Taylor 11 years ago, perhaps ignoring the fact that the Irish woman would go on to beat Ochigava for World Championship and Olympic gold two years later.
She also seems to be glossing over the point that what knowledge Ochigava gained of Taylor in the ring as an amateur probably doesn't hold in the professional game nearly a decade later.
As far as mind-games go, it's not exactly at the level of Steve Collins having a celebrity hypnotist in his corner and Taylor appears to be unmoved by Sharipova's attempts to unsettle her.
"I heard she was being a bit vocal for the past few weeks, but she seemed quite respectful up there. It is what it is," Taylor said rather dismissively at their pre-bout press conference.
"I don't find it hard at all to motivate myself in fights like these. I am definitely aware of the challenge I face.
"I am just super focused on the job in hand. I know no opponent can be overlooked."
While the champion admits that she has one eye on bigger potential fights down the road, she insists that she won't fall into the trap of taking Sharipova lightly of overlooking her challenge.
"I have to get through Saturday night and then obviously focus on the bigger fights. I am aware that there are several big fights out there for me with the bigger name that could possibly happen next year.
"I learned my lesson the hard way. So, I am 100% prepared and 100% focused on putting in a big performance."
Ochigava, who will not be in Sharipova's corner in Liverpool as she is preparing for a professional bout herself on Christmas Day, is trying to position herself as a future opponent for Taylor and the build-up to Saturday's fight may well have piqued the interest of the public enough to see Eddie Hearn make some phone calls, should the Serrano fight remain stubbornly out of reach.
For the time being, Taylor can only focus on the task at hand and while Sharipova will always carry a puncher's chance, particularly as more than half her professional wins have come by way of knockout, the Bray fighter looks to have far too much class and ability to be really troubled in Liverpool.
Follow Taylor v Sharipova with our live blog on RTÉ.ie/sport and the RTÉ News app.