Three years on from turning professional, Belfast boxer Caoimhin Agyarko Hynes is looking to end the year with a world recognised title.
The former Irish amateur champion takes on Noe Larios Jr for the vacant WBA international middleweight belt in what is only Agyarko's tenth fight in the paid ranks.
And it has been a fast-track to the top for the Holy Trinity fighter who now fights for the renowned Matchroom stable alongside top promoter Eddie Hearn, having first signed professional with Frank Warren.
Nine wins and no defeats thus far as the middleweight prospect looks to announce himself to the top-rated fighters in the division, and Agyarko will appear in front of a worldwide audience on the DAZN platform alongside compatriot Katie Taylor at Liverpool's Echo Arena on Saturday night.
"I'm super excited to fight for Matchroom and DAZN," said Agyarko.
"It's a new platform for me and I feel like I'm starting over again. I can't wait to put on a good performance. It's a dream come true for me to box on the undercard of Katie Taylor.
"I think Katie is not only the greatest female boxer of all time but also one of the greatest athletes of all time. For me to make my Matchroom debut on her undercard means so much to me."
Another of the exciting band of young Irish boxers coming through after the golden generation of Kenny Egan, Paddy Barnes, Darren Sutherland and others, Agyarko also turned his attention to the paid ranks following the debacle of what was the boxing competition at the 2016 Rio Olympics.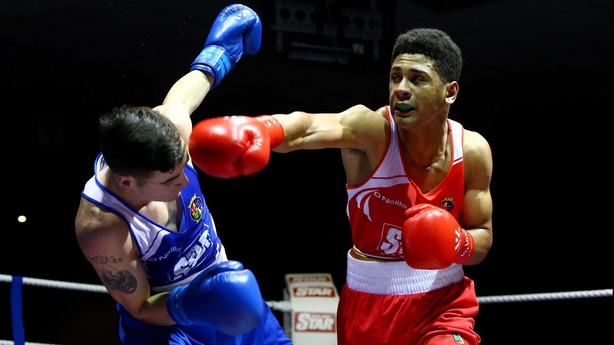 Agyarko was just 18 when Michael Conlan was getting his pocket picked by the judges in Rio, but remained an amateur for two more years, becoming Irish senior champion in 2018.
A remarkable achievement for the young boxer who encountered a near-death experience just nine months earlier when stabbed in the neck following a night out in Belfast.
Mere centimetres from hitting a major artery, Agyarko carries a sizeable scar with him of that dark time, which led the fighter into a battle with depression on his journey back to the ring.
And while Agyarko, fighting under the Black Thunder moniker, no doubt, looked on at the recent Tokyo Games wondering what might have been, it would appear that the devastating middleweight and the professional game are a match made in heaven.
Agyarko has impressed throughout his short, sharp, Covid-interrupted rise through the ranks and will now look to put on a show on Merseyside on Saturday night as he looks to maintain his dream to become the first black Irish world champion.
"I'm on a five-fight knockout run and I want to keep that going. I want to improve from my last fight. I've made major adjustments in the gym. I'm a much happier fighter with his new team I'm with. I think you'll see a different Caoimhin Agyarko on the night. I expect a lot from myself.
"I always have bad intentions when I step through the ropes. When I get in there on the night something just clicks and it's completely different. There's a fire burning inside of me and it's seek and destroy.
"I expect an explosive dominant performance and a very impressive stoppage. I feel like I'm boxing's best kept secret but after Saturday everyone will know who Caoimhin Agyarko is."
His 24-year-old Californian opponent remains unbeaten after 14 bouts, all bar one of which took place in Mexico. This is the first time Larios Jr has hopped across the Atlantic. Agyarko made plain his respect for the opposition.
"I expect him to be a tough opponent. I expect him to come and fight. He's unbeaten, he's never tasted defeat before, so I expect the best version of him on the night.
"He'll come and try and make a statement. He's 14-0, I haven't been thrown in with a journeyman or someone that I'm meant to rollover. It's a step up for me and I'm looking to make a statement."