Boxing purists may be alarmed by Jake Paul's growing influence in the sport, but world champion Katie Taylor has acknowledged the role that the YouTube star can play in cementing blockbuster status for a future fight against Amanda Serrano.
Paul now has a foot on both sides of the ropes, with the undeniable brand expert having launched his Most Valuable Promotions company earlier this year.
Serrano was the first recruit to the new stable, and while mandatory lightweight challenger Firuza Sharipova lies in wait for Taylor in Liverpool next month, the Bray boxer's preferred long-term target remains a fight against the Puerto Rican southpaw.
Speaking from her training camp in Vernon, Connecticut, Taylor said of Paul's rise: "I guess I have mixed feelings about it.
"He's bringing new eyes to the sport. He has a huge fanbase.
"He picks and chooses his opponents very well and he's making a lot of money from it, so you can't really criticise him, I guess."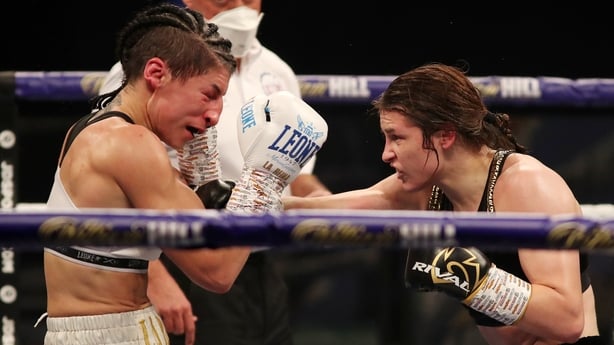 Serrano is also in action next month, and the choice of Miriam Gutierrez as an opponent suggests to Taylor that a face-off is almost inevitable in 2022, with the Spaniard a victim of the 2012 Olympic gold medallist's in London last year.
"I think if it doesn't happen next year, it will be very disappointing for the sport as a whole," the 35-year-old said.
"I will be very surprised if it didn't happen next year, with all the talk that's happened over the past few months.
"Even the fact that she's fighting one of my past opponents in her next fight herself, is going to be a perfect build-up to our fight.
"It's definitely looking very, very likely but we both have to get past our opponents in the next few weeks. Once we do that we can talk seriously about us. Right now it's looking likely."
Turning her attention to the 11 December clash against Sharipova, Taylor insisted that she won't be taking her Kazakh rival lightly.
"I can never, ever get complacent," she said. "I'm so aware of that.
"I never ever find it tough to focus on these fights, even with so much noise around other fights, my focus is completely on the fight ahead and once this one is over we can start speaking about big fights."
It's just over 20 years since the trailblazer easily accounted for Alanna Audley at the National Stadium in Ireland's first fight between female boxers.
There may be plenty of miles on the clock, but many of them have been racked up in cruise control against overmatched challengers, and Taylor is keen to dispel any talk of retirement.
"I feel like I have a few years and plenty of big fights left in me," she added. "I just take it one fight at a time, really.
"But I do feel like so many people over the last year or so have continued to speak about my retirement. I'm not thinking about retirement right now, but I guess everyone else is.
"I don't feel like I'm slowing down and I'm definitely feeling very fresh right now. I definitely feel like I have plenty more years left in me."