Kellie Harrington has been kept busier than most during the Covid-19 pandemic, yet still her mind occasionally wanders.
She has increased her workload as a cleaner at St Vincent's Hospital, clocking in 10 days a fortnight, including seven days in one week.
Training forms another part of the day, occasionally taking a break to rest a tired body when trying to find a balance.
But still, the new routine away from the High Performance Institute has made her ponder life outside of the ring, sort of.
"I've had loads of time to think about it," she says. 
"Sometimes I think this is what retired life is like, but I'm training still.
"I'm going to stay in the boxing circle [when I retire], that is for sure. I want to give back to the boxing club and community and I'd also like to be able to build myself up to be a three-star coach and go away with an Irish team and not just go away with women but go away with men as a female coach for men and women.
"Not every boxer makes a great coach either. I don't know how I will pan out as a coach.
"I'd say I would be good, I just hope my heart wouldn't be too much in it, roaring 'come on'.
"It is something I would like to do."
Such a step would be extremely beneficial to the next generation undoubtedly being inspired by the former world champion or the achievements of Katie Taylor.
In the late 90s Mercedes Taaffe made inroads as a female coach of male boxers – including to the Reynolds brothers.
But for the Dubliner, her sex, or becoming a trailblazer, should not be the defining factor.
"It would be great to have a female coach, but you don't want to employ a coach because she is a female. They have to be fully equipped and have all the right qualifications.
"It is not about saying 'we're for females' and putting someone in there who isn't capable of the job. It is a High Performance team.
"You need someone who is willing to learn, who is very fast with learning and willing to stand up what she needs to fight for and so on. Men need to do that too.
"Men have to fight for what they believe in too, it's not just women. I do think it would be nice to have a female coach. It would be nice to have one equipped for the job and not just because they are female."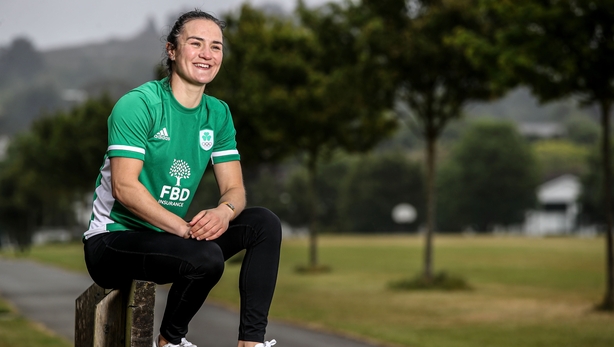 That is a conversation for another day. The current Olympic cycle has been extended by a year and the injury concerns of the last couple of years now move to staying fresh and alert for what it come next year.
Sparring is months away, qualification is not possible until 2021.  
Harrington raised eyebrows by telling Des Cahill last week that she is happy to be away from the High Performance Institute.
"I'm able to get hungry again. I'm coming back now and really hungry to get going."
The reason is experiencing something of an everyday life before all the sacrifices come rushing back.
One problem, however, is day-to-day interactions do not involve an overhand right to the face.
"When you're in full-time training, you're basically in full-time competition mode. It is very hard to sustain that for a long period of time.
"After a fight, people say, 'how did you feel about that?' when you won or lost. There was a sense of relief and it wasn't about winning, it was more 'Thank God it is over'.
"That is a build-up of months of hard graft and training and it is constant, constant, constant.
"It is nice to be able to step away from that for a while and take the foot off the gas a little bit. In doing so, I'm able to recharge the batteries. I'm able to get hungry again. I'm coming back now and really hungry to get going.
"While I am out of the Institute, I am absolutely dying to get back sparring. I can't wait to get punched in the face and punch someone else in the face. It is crazy.
"There is nothing that makes you feel as alive as punching someone. Being out of that environment, it is nice. It is very, very professional even though it is an amateur set-up.
"It is nice to be able to live something of a normal life again and be able to feel normal. By going back to work, I feel useful. As an athlete, you don't do a lot for yourself except train. I feel like I'm giving back."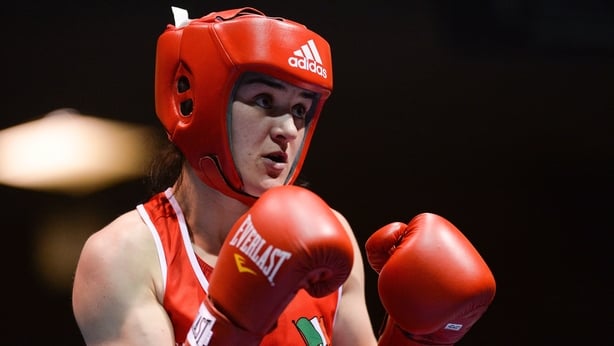 Finding a balance is hard given the 30-year-old can't ratchet up her training – sparring will not be permitted for the foreseeable future – but her positive outlook comes to the fore in such a scenario.
The possibility of the Olympics not taking place remains. So much uncertainty surrounds what can be the defining part of a career in the sport. All of it just isn't coming into the equation.
"I'm a little bit delusional [about the sparring]. I think it'll be a month away and that month goes by and then I say to myself, 'it'll be another month'. That is just me, I just roll with it.
"I really want to get back sparring to try what I've been working on for the last 10 weeks. I want to see if it is going to come into play when I spar. I'm more interested in how it will pan out rather than sparring. I want to see if what I'm doing is going to work.
"Even if I wasn't busy, I wouldn't be thinking about [the Olympics]. I'm not thinking of the Olympics because I haven't qualified. My number one priority is to qualify and be on the plane injury-free."
It might seem out of the ordinary to have such a workload on top of training for an Olympic year ahead, yet it is a tonic to St Mary's boxer.
Working at the hospital provides brings its own difficulties at a troubling time in the world but the fun and camaraderie has counted for a lot in getting through the days, as well as leaning on family.
60 Kg World Champion @Kelly64kg on regaining sharpness, the benefit of wearing a mask for training but not in competition and fine-tuning her power game #rtesport pic.twitter.com/df892v7cYF

— RTÉ Sport (@RTEsport) June 3, 2020
"It has given me routine. On the seven days in a row that I'm working, I'll probably train once a day and take a few days off during the week if I'm feeling really tired.
"On the three-day week I'll do a lot more training and double up. I've been enjoying it and it's the best of both worlds really. I've been going into work and feel useful and needed.
"Like every person, never mind every athlete, you have yours up and downs and highs and lows. When I'm feeling negative I pick up the phone and ring my family. My brother will remind me why I do what I do and why I'm good at what I do. I'm kind of alright then.
"As crazy as it might sound, I'm enjoying it. I'm taking full advantage of it. You have to task the positives out of a negative situation and even on those negative days you have to do your best to be positive
"I have a punch bag out of the back, my partner does pads with me. I have a small gym, my shed has turned into a gym for weights and strength and conditioning sessions. I'm getting out running. I'm still doing what I need to do. I can do outdoor sessions with the coach once we keep our distance. 
"I'm glad to be doing something rather than sitting at home because if I wasn't, I'd be overtraining and burn myself out."
Entertaining the troops 🥊🥊 getting a few supported rounds in before lunch 😉🤪😜 #INNERCITY #D1 #D3 @IABABOXING @EUBCBOXING @AIBA_Boxing #IRELAND
#ShadowBoxingChallenge #ShadowBoxing #PunchChallenge #EUBCevent #EUBCchallenge. https://t.co/yOPfgaDDa7 pic.twitter.com/13duW1RfpO

— Kellie Harrington (@Kelly64kg) May 17, 2020
There is no danger of that fire being extinguished.
While other countries are already back in team training, Harrington has been given the green light to join her colleagues from next Monday. 
That punch in the face in sparring could still be further away and could come just prior to some key competitions, not that the Olympic hopeful sees it is as a disadvantage if it isn't just yet.
"The way I look at it is in a few months, I'll still have the fire in my belly to be getting in and sparring.
"They [other countries] will have been doing it the entire time. They might not have the same fire if it is a longer break for us."
Such a mindset could go a long way in 2021. 
FBD is supporting Team Ireland's Olympic hopefuls to enable them to focus on personal bests and breakthrough performances at the Summer Olympic Games in Tokyo which will now take place in 2021.