It did not take world champion boxer Kellie Harrington too long to get over the disappointment of the Olympic Games getting moved back a year as a result of the coronavirus virus pandemic. 
The Dublin native, who secured the gold medal in the lightweight division at the 2018 World Championships in India, has actually being enjoying a modicum of normality since the start of the Covid crisis, away from the hectic life as an athlete in the high-performance unit at the Sport Ireland Institute. 
However, despite being the world champion, Harrington still has to qualify for the Tokyo Games and that is one thing that she would like to have secured ahead of the complete closure of global sport. 
Harrington was a guest on RTÉ Radio 1's Des's Island Discs, where she spoke of her boxing career to date, while revealing an eclectic mix of musical influences from Whigfield's pop classic Saturday Night to Sinead O'Connor and the Chieftains' spine-tingling version of the Foggy Dew. 
We need your consent to load this rte-player contentWe use rte-player to manage extra content that can set cookies on your device and collect data about your activity. Please review their details and accept them to load the content.Manage Preferences
"It's been grand as I just accepted it," said Harrington, regarding the postponement of the Olympic Games, which will now be held in July and August of 2021.
"It was just disappointing not to get the first qualifiers out of the way, I feel like I have a debt hanging over my head. 
"We had a Zoom team meeting with Bernard [Dunne] and January will possibly when we are back, so that is still a long way away," she added, giving an insight into life inside the high-performance unit under the direction of former world champion Dunne. 
"We'll be able to get back training in August and go out to the Institute but I don't know if we will be able to spar. 
"[Normally], we are out there Tuesday to Friday and do two sessions a day. So it could be strength and conditioning in the morning and a boxing session in the afternoon, bags and pads, and the next day it could be running in the morning then with some sparing or technical work. 
"Everything is there from high-performance coaches, physios and nutritionists, you have everything out there."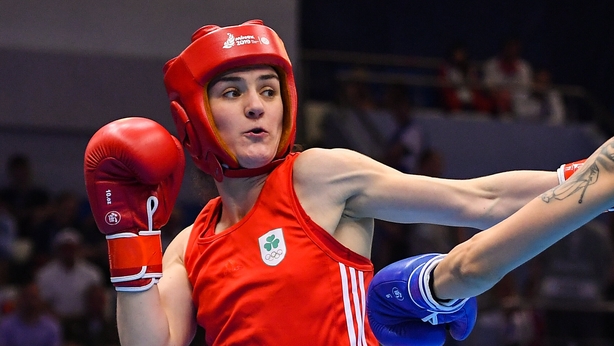 A dream world for an elite sportsperson, perhaps, however, Harrington revealed that she is enjoying the time away from the high-octane lifestyle inside the Institute. 
"I'm loving it not being out there. It probably sounds terrible but it's nice not to be around the team all the time.
"I'm enjoying having a bit of normality back in my life and going back to work and then doing my own bit of training at home. 
"I feel like I have a more normal life now during the Covid and I feel like I am gaining a bit of normality by not being out at the Institute, so it is like a reverse-effect for me. 
"You are a different person out there, you are on edge, always in competition mode, looking after your diet, making weight and close enough to your [boxing] weight all the time. 
"I'm training just as hard at home, although you do miss the competitive edge, but overall, I do feel like I will come back fresher from it. 
"I have the bag out the back and I do plenty of shadow boxing, while my partner, Mandy, watches and corrects me if I am dropping my hands or not moving my feet, so I kind of still have a coach in Mandy – but it is hard for her to coach me and then live with me."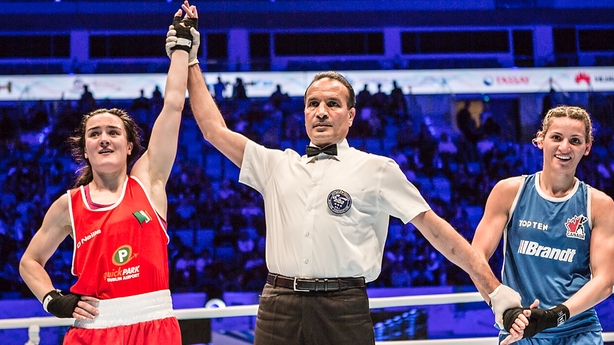 Harrington also spoke about the significant influence that the sport and culture of boxing has played in her life, as by her own admission, she said that she was travelling along the wrong road as a 14-year-old in Dublin's north inner city. 
And she credits getting involved in the sport as the best decision she has ever made, which has allowed her to create the life that she has created, while bringing true pride to her family and her neighbourhood.
"When I was around 14 I was heading down the wrong road, getting in trouble and stuff, and that was when I got involved in boxing, and that was what put me on the straight and narrow," she explained. 
"I'm not going to say what I was doing but I was going down the wrong road and anyone from the inner city that knows me, they all know. 
"It's been a massive change and a turn in the road and so if I could do it, then anybody can do it, if you want to do it. 
"I turned it around and I am proud of myself and I'm glad that my ma and da can look at me now and say 'all that she has accomplished in life and all that she will possibly accomplish, [compared] to the road that she was going down'." 
And despite the fact that Harrington has already secured that aforementioned World Championships gold medal, a silver in the 2016 edition and a host of other silverware and national titles, she admits that all she wanted from boxing was a sense of belonging when she joined as a troubled teenager. 
"It's the best thing that I have ever done. I had no real aspirations in boxing other than to have something different in my life and to have a different purpose and different friends.
"A boxing club is like a family, and while people want to win All-Irelands or something different, I just wanted to be a part of something."