Katie Taylor had learned her lesson from the narrow, controversial victory over Delfine Persoon that made her the undisputed lightweight champion.
Christina Linardatou also came to brawl in Manchester on Saturday night but this time the Bray woman showed all her skill and composure in keeping the the Greek at a remove and picking her off clinically.
Though Linardatou raged against the unanimous decision, calling Taylor a 'fake' champion, there wasn't much sympathy for her claims of victory, unlike Persoon, who came out the wrong side of a very tight, majority decision contest in the summer.
Taylor is now a two-weight champ, just the third Irish fighter to achieve that distinction after Steve Collins and Carl Frampton, and it only took her 15 professional bouts to get there.
She is a phenomenon who is raising the profile of women's boxing on both sides of the Atlantic but, trailblazing aside, is also simply an impressive and entertaining athlete.
"Katie Taylor is opening doors for all women in sport and in boxing to come through and box at this level," said her promoter Eddie Hearn at the weekend.
"It is not women's boxing, it is not men's boxing. It is boxing. It is entertainment."
The 33-year-old superstar is expected to fight up to three times next year but who will she be taking on?
Amanda Serrano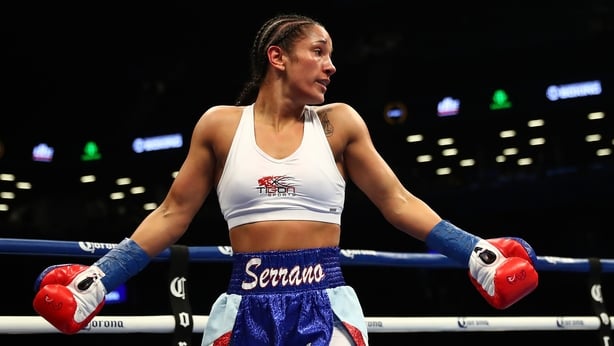 The 31-year-old from Brooklyn via Puerto Rico has won a staggering nine world titles across seven weight divisions, just one behind Manny Pacquiao's record.
Disillusioned by the financial rewards on offer in comparison to her talent, Serrano briefly retired from boxing to try her hands at mixed martial arts but was tempted back by a three-fight deal with online broadcaster DAZN, which includes a stipulation she fights Taylor.
Serrano is believed to be unhappy with the amount that contract - signed before Taylor's meetings with Linardatou, Persoon and Rose Volante - proposes for her bout with the Irishwoman but that is a detail her promoter, Lou di Bella, and Hearn will expect to work out.
Hearn suggested the two could meet in a headline show in New York in February or March.
Serrano has lost only once as a pro, to Swede Frida Wallberg in 2012, and has won at both super-flyweight (115lbs/52 kg) and super lightweight (140lbs/63.5kgs) this year.
Last weekend was the first time Taylor had fought heavier than at lightweight and she would be expected to return to 135 lbs to take on Serrano.
"No matter where it's at, what weight, I'm gonna win," proclaimed Serrano after beating former champion Heather Hardy to take two featherweight belts in September.
Whether that proves to be true or not, Serrano will certainly be expected to pose a far stiffer test to Taylor than her sister Cindy, who was comfortably dispatched just over a year ago.
Over to you, @KatieTaylor... 👀

🗣"No matter where it's at, what weight, I'm gonna win." @Serranosisters is VERY confident that she can beat Katie Taylor

Who wants to see these to fight? 👇 pic.twitter.com/6CJBF438vw

— Sky Sports Boxing (@SkySportsBoxing) September 14, 2019
Delfine Persoon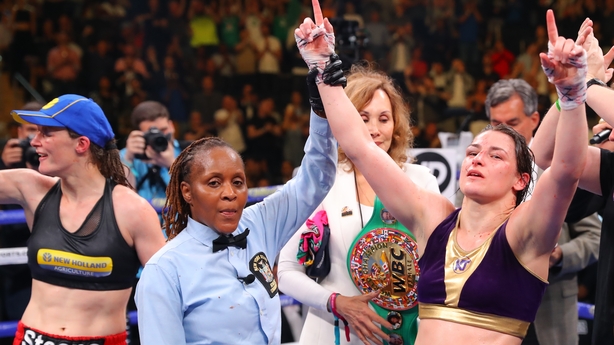 It's often the grudge matches that define a professional boxer's career and this match-up is now in that category, though mostly from the Belgian police officer's point of view.
Taylor captured the last remaining lightweight belt at Madison Square Garden in June but it was the toughest battle of her career to date.
Taylor was tiring in the latter rounds after being drawn into a battle and the judges' scores of 95-95, 96-94 and 96-94 in her favour drew the ire of some observers, who felt Persoon had done enough to win. Not least Persoon herself.
"I have seen the fight 30 times. You feel on the spot that you have been robbed, but you still want to be sure that it is true. It was clear of course. We have been robbed. I have certainly won six out of 10 rounds. Katie Taylor has won three. A round is undecided," said the Belgian afterwards.
Taylor responded by saying to call the decision robbery was "a disgrace in itself" and promising a rematch to "shut everyone up".
"I am well aware it was a very close fight and that is why it is a fight that deserves a rematch as well."
That meeting could take place in June, possibly in London, a delay Persoon is also unhappy with.
Hearn hinted that a Dublin show could also be a possibility but we have heard that suggestion before and he admitted recently that he expected Taylor to fight more and more in the more lucrative market of America.
The Englishman expects Taylor to become the first female fighter to earn a million-dollar purse next year and believes that Sky Sports, who have shown all of her pro bouts, would be interested in making a Persoon rematch pay-per-view.
Persoon (42-2-0) will fight Nigerian Helen Joseph next week for the WBA super-featherweight title but has also suggested she could opt to qualify for the Olympics if the Taylor rematch does not materialise.
Cecilia Brækhus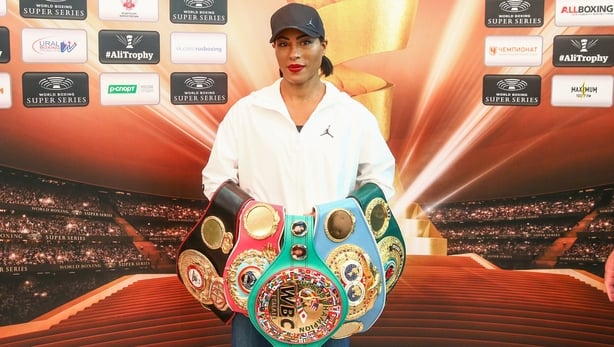 Norwegian Braekhus is the equivalent to Taylor in the welterweight division, having held all four major belts since 2014.
She has never lost in 35 professional fights and recently signed with Hearn, making a meeting with Taylor more likely.
147lbs (welter) would be almost a stone heavier than Taylor's preferred lightweight so there would likely be the compromise of a catchweight, with potentially only Braekhus' titles on the line.
Braekhus (38) will fight for the first time in almost a year at the end of this month when she takes on Argentina's Victoria Noelia Bustos, who possessed the IBF lightweight belt for five years until Taylor took it from her last year.
Gratulations @KatieTaylor !! See you soon😉💥👊 https://t.co/URnsHxFJD7

— Cecilia Brækhus (@1LadyCecilia) November 2, 2019
If a match-up with Braekhus didn't happen then a rematch with Jessica McCaskill, who trash-talked her way into a title shot against Taylor two years ago, might also be an option.
McCaskill gave a reasonable account of herself in London that night and has since gone on to win two titles at super-lightweight, making her and Taylor the only reigning champions at that weight.
Given that a bout with the Irishwoman is guaranteed to generate a record pay-day for her opponent, Taylor can expect to be called out plenty over the coming months. But she intends to keep doing her talking with her fists.
"I never really respond to any of that," said the now five-belt champion. "I am always very quiet on social media but once I get them in the ring, that is when I can shut them up."