To become an undisputed world champion would rank alongside Katie Taylor's Olympic gold medal, according to the fighter herself.
The 2012 Olympic champion dominated Rose Volante in her unification bout in Philadelphia, paving the way for a winner-takes-all fight with Delfine Persoon in June to become the undisputed queen of the lightweight division.
"That's exactly what I wanted ever since I turned pro," she said."I was sitting with Eddie Hearn a couple of years ago with Brian (Peters, her manager) and the first thing I said was I wanted to become the undisputed champion.
"That's always been my goal since I have turned pro, and that would be absolutely historical. That would equal to winning the Olympic gold medal for me, I think."
Taylor now has three of the four belts in her division, taking Volante's WBO title to add to the WBA and IBF ones already in her collection. All that remains is to take the WBC belt from Persoon, and that showdown is scheduled to take place in New York on 1 June.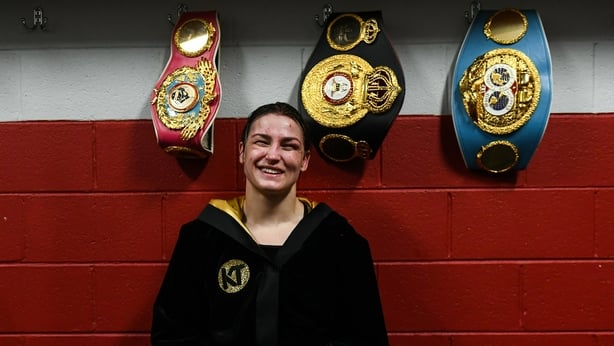 Taylor's promoter Eddie Hearn revealed the fight is agreed in principle; and said the Belgian's team will get a contract offer on Monday, and that they hope to formally announce the fight within two weeks.
At present only Oleksandr Usyk and Cecilia Braekhus – another potential Taylor opponent – enjoy undisputed champion status within the sport. In unifying three belts Taylor has already created some Irish boxing history, surpassing Carl Frampton and Ryan Burnett who each managed to unify two titles.
After knocking Volante to the canvas with a right hand in the first round, Taylor out fought and out-boxed her opponent for the remainder of the fight, before the referee stepped in to stop the contest in the ninth round.
The Bray native was content with her night's work: "I feel great, I thought it was a great performance, a solid performance, against an undefeated fighter. To get the stoppage was definitely the icing on the cake tonight, so yeah a great weekend for me, a great night, and there's bigger and better things ahead now."
"I think I landed a good right hand before (as well), so yeah it was definitely a sweet punch, but I think I just have to learn to be a bit more composed when I do have those girls hurt. I get a bit too excited sometimes and actually (spoil) my work, but yeah it was a great performance."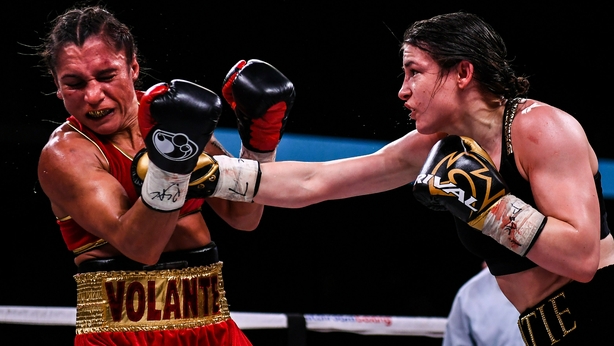 Although Taylor outclassed her Brazilian opponent on the night, the marks on the Irish woman's face afterwards indicated she didn't have it all her own way.
"She was a very, very proud champion, a tough opponent…we were expecting it tonight and she was very, very tough."
"It was exactly what I was expecting really. I knew she was going to come out aggressive like that. She has a big right hand, and I knew she was going to try and put the pressure on me right from the start. But I think a lot of these girls actually underestimate my own strength in close as well.
"I can mix it with anyone in there. I love actually fighting in close. She definitely couldn't handle the body shots when I started going down to the body, and that's what got her out in the end."
To celebrate Taylor is making a trip back to Ireland to meet her new born niece, before returning to her American training base to begin preparation for a career defining night.
"I'm actually going home tomorrow for a week and then after the week I'll go back to Connecticut again, so I just have the one week off and then I'll go back to work again for the Delfine Persoon fight, I hope.
"That's obviously going to be the toughest fight of my career - It's a big, big fight; it means we'll have to have a good long camp for that fight."