Katie Taylor added a third world title to her growing collection with a technical knock-out win over Rose Volante in their lightweight unification fight on Friday night.
The Bray woman is now just one belt away from becoming the undisputed champion of her division – an accolade held by only two other fights in the sport, male or female.
Taylor thrilled a sizeable Irish crowd in attendance at Philadelphia's Liacouras Center with an aggressive performance, first knocking her opponent to the canvas in the opening round, and then wearing her down to the point that the referee called the fight off in the ninth round.
In the process Taylor collected the Brazilians WBO title, to add to her own WBA and IBF belts.
The win sets her up for a showdown with WBC champion Delfine Persoon in New York in June, on the undercard of men's heavyweight champion Anthony Joshua's US debut.
Volante actually began the first round as the aggressor, trying to force Taylor backwards. That didn't last much more than a minute though, as a short right hand from the Irishwoman left her on her back, and having to face the referee's count.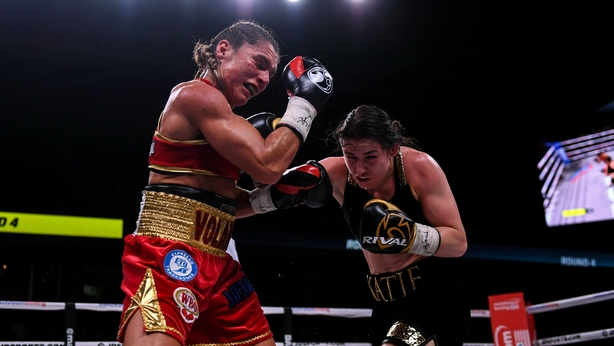 Taylor landed the better of the shots in the second round as well, with Volante's right jaw bone already bleeding.
From there the 2012 Olympic gold medallist showcased her superior footwork and hand speed in managing to stay out of the Brazilians range, while still firing off some combinations herself.
Throughout the middle rounds Taylor exerted her dominance over Volante, the Bray boxer was quicker to the punch, and more accurate with it. She did provide the Brazilian with some opportunities to land though, again showing a willingness to entertain by standing and exchanging.
By the sixth round the crowd were confident enough of her dominance to begin the obligatory Olé Olé Olé chants, and then in the eighth Taylor landed a flurry of punches - her opponent showing impressive resilience to stand her ground as Taylor's fists rained down on her.
If she thought she'd weathered that storm she was mistaken as Taylor again landed repeatedly as the round drew to a close.
Volante was looking beleaguered through the ninth, and after yet another flurry of shots from Taylor the valiant 36-year-old put her head to the referee's shoulder in the centre of the ring, and he duly ended her misery by waving the contest off.