TJ Doheny made a successful defence of his IBF World Super Bantamweight title with an 11th-round stoppage of Japan's Ryohei Takahashi at Madison Square Garden, and immediately reiterated his desire for a unification fight.
Having secured the world title last August, the Portlaoise man now has set his sights on WBA super-bantamweight champion Danny Roman after seeing off the Japanese challenger to improve his unbeaten record to 21 fights.
The Sydney-based Irishman was always favoured to come through his first title defence, and in truth was in control from the first bell.
"Let's Fight!" ??@TjDoheny and Daniel Roman are READY to unify their Super Bantamweight World Titles. ???? pic.twitter.com/U3HlUZNu7u

— DAZN USA (@DAZN_USA) January 19, 2019
Takashi was full of endeavour, but lacked the class to cause any real damage and landed just 14% of 583 punches thrown in the contest, just under half of Doheny's total.
Doheny dropped Takashi in the third round, but the Japanese fighter stuck manfully to the task, epitomising the "busy" description afforded to him by his opponent in the lead-up to the fight.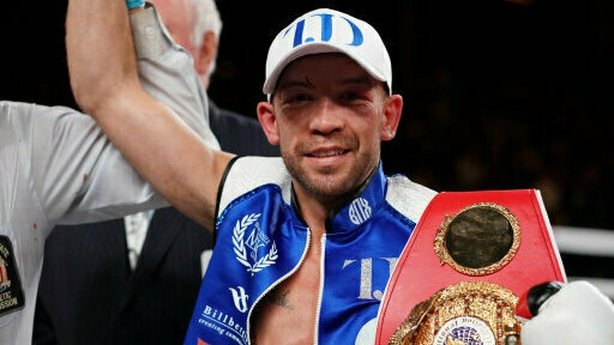 A patient Doheny, however, never let up and kept the pressure firmly on Takashi. Aside from a taking a couple of powerful body shots in the seventh round, it was the title holder who dictated terms and the fight was brought to a conclusion in the 11th round.
A flurry of shots from the champion resulted in referee Michael Ortega stepping in to call a halt to the contest.
Immediately after the contest, the Irishman insisted that a unification fight against Roman, holder of the WBA belt, was next on the agenda.
"That's the fight I want next. That's what we're all in it for. Danny Roman is a great fighter," he said.
AND STILL! Unification up next!
Just want to thank you all for your messages of support. Shout out to my team @hectorbtruth @TonyDelVecchio4 @MTKGlobal @mjaltamura @MatchroomBoxing @EddieHearn for working tirelessly to keep this show on the road.
21-0 15kos ???? pic.twitter.com/nNDwnboMq1

— TJ Doheny (@TjDoheny) January 19, 2019
Roman, who has 26 wins and just one defeat in his professional career, spoke in the ring of his ambition to take on his rival in a mouth-watering clash.
"Now that that is over, let's make it happen," he said. "Champion to champion. Let's give the best fight and let the best man win."