Pete Taylor believes his daughter Katie would never had turned pro if he had remained as her coach.
He stepped away from her corner in the autumn of 2015 having been at the Bray fighter's side for over a decade, overseeing a period of domination that has delivered Olympic gold, five World Championship golds, and 12 European, European Union and European Games golds.
Katie Taylor subsequently suffered a heartbreaking defeat to Finland's Mira Potkonen in her opening bout of the lightweight competition in Rio, and afterwards made the decision to enter the paid ranks.
Last July, Pete Taylor was injured in a fatal shooting at Bray Boxing Club. In the aftermath of that incident,  Katie said: "I'm very thankful and relieved he made it through this horrific attack and is recovering well.
"As many of you know, I have been somewhat estranged from my dad for a number of years now.
"I've had little contact with him in the last three years and no contact or association whatsoever with Bray Boxing Club since 2015."
The pair are back on speaking terms, though her father has had watch from the wings as her pro career has gone from strength to strength. She's notched 12 wins from 12 to date.
Speaking to Paddy Holohan's No Shame podcast, Pete Taylor showered her with praise, admitting he's yet to encounter a fighter with a better attitude. He also said Katie "risked her career" by making the decision to split their partnership, but did so due to "good morals".
"I don't think she'd have gone pro if I'd have been still there. She wouldn't have gone pro," he said.
"I don't know if she'd have won another gold medal in Rio if I was there. The last major title she won was when I was there.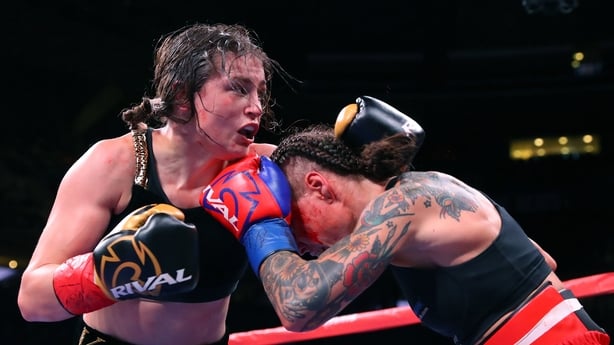 "She has good morals. She said, 'if you've split up with my mother then I don't want you in my corner'.
"She knew what the outcome would be. She knew that she'd be missing me in the corner but she still had the morals to go ahead and do that. You've got to respect that. She was reared good.
"There's not many people who'd risk losing a European, Worlds and Olympic title by not having your father as a coach.
"She backed her ma. You risk your career, which she did do, but she still did it. But you've got to admire that as well - although it's hurtful for me - but I've still got to take my hat off to her."
Pete Taylor said Katie's phenomenal discipline and work rate is what continues to separate her from the rest. And he revealed that while they are on speaking terms, the discussion never turns to boxing. 
"Even my pros I have now, I've never seen anybody with the same attitude. It's unbelievable.
"She's gone over to Connecticut, training in the States - left everything here - living on her own.
"She's still out there running the roads, training as if she was 14 years of age, as if it was her first day in the club, she still has the same attitude.
"Obviously, I don't see Katie training now. We still talk to each other but I don't talk about boxing. I don't talk about my own boxers. If I start talking about boxing then I start getting critical."
Pete Taylor also aired his fear that Katie does not become over-exposed, warning that one of the pitfalls of paid ranks is failing to get out before a decline sets in.
"In the professional game with promoters, managers, you're a cash cow aren't you?
"I think as a fighter you never know when your finished, you never know when time's up. You always think your best is yet to come, your best is yet to come.
"You can't be surrounded by 'yes men'. Sometimes somebody's got to say, 'You've got to finish now'. I think the person outside always knows.
"If a coach has been with you a long time, he knows, he can see the development, he can see the decline as well."