Katie Taylor's plans for 2019 involve unifying the lightweight division's four world title belts and then stepping up to take on undisputed welterweight champion Cecilia Braekhus.
Taylor successfully defended her WBA and IBF titles against Eva Wahlstrom at New York City's iconic Madison Square Garden on Saturday night.
That rounds out a successful 2018 for the Bray fighter, but already she has her sights set on even bigger things next year according to her manager Brian Peters.
"When you're dealing with an athlete of such talent, such dedication, such conviction, fortitude, the consistency to keep doing it, we know that anything is possible," he said, speaking on RTÉ 2FM's Game On. "It hasn't even started.
"In March we're hoping for Rose Valente, she's the WBO champ, 14-0 undefeated, we still have Delfine Persoon, the WBC champ and she's champ since 2012, she's 41-1. Even after the weekend she's still considered the number one in the division so we need to get that undisputed title, we need all the belts.
"We have Amanda Serrano, she's a six division champion, 35-1, 26 KOs, so those are the three on our radar next year and to become the undisputed world champion is what Katie has always stated.
"The first lady of boxing, as they call her, Cecilia Braekhus is undisputed welterweight champion, she's 35-0 and is 147lbs, Katie is 135lbs so hopefully we can have an undisputed lightweight champion against an undisputed welterweight champion and have that in the middle, 140lbs."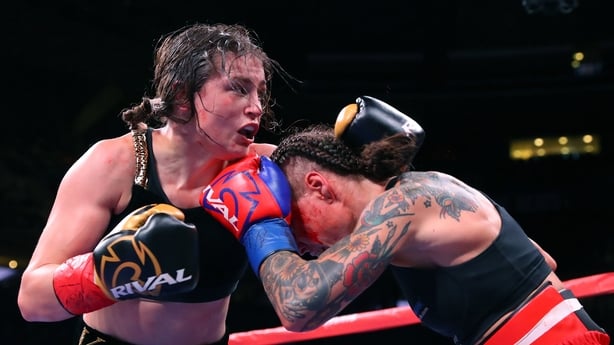 Taylor became the first Irish boxer to defend a world title at MSG, the legendary home of boxing in the Big Apple.
According to Peters it was an amazing occasion for the 2012 Olympic gold medallist – and one she is keen to repeat.
"You walk into the Mecca, this is the arena that Muhammad Ali made famous fighting Joe Frazier. You have Marco Antonio Barrera, Julio Cesar Chavez, Oscar De La Hoya, Sugar Ray Leonard, Anthony Joshua ringside, and to put on a show and display like that was quite phenomenal.
"Eva was a proud champion and a lot of the fighters we have fought mightn't have come to win, but Eva came to win and believing she could win. When you get in there and you feel the power and the speed, the game plan goes out the window."