Amy Broadhurst has revealed her heartbreak at her controversial World Championship defeat in India and suggested favouritism towards the home fighter was at play in the decision.
The Dundalk fighter lost a 64kg quarter-final she looked to have dominated to Indian fighter Simranjit Kaur on Tuesday, and with it the chance of a bronze medal.
We need your consent to load this SoundCloud contentWe use SoundCloud to manage extra content that can set cookies on your device and collect data about your activity. Please review their details and accept them to load the content.Manage Preferences
"I'm devastated," she told 2fm's Game On. "I was so close to getting the medal. I trained all year so hard, and then for something like that to happen.
"Yesterday I was upset but I woke up this morning and I was just angry.
"Everything looked like it was set up for the Indian to win. Before the competition, they had mentioned they wanted four medals. The girl who beat me yesterday, that was their fourth medal.
"It looked like there was nothing I could do that was going to win me that fight."
Contentious decisions are nothing new in amateur boxing; Michael Conlan's shock defeat at Rio 2016 was just one from the competition that led to 36 officials being suspended by the AIBA.
This week, Bulgarian coach Petar Lesov throw a water bottle into the ring when his fighter, former World champion Stanimira Petrova, was beaten 3-2 by India's Sonia Chahal. Petrova added: "It's just corruption by the judges. It is not a fair result."
Broadhurst referenced that controversy when revealing that even some of her opponent's corner told her she should have won.
"Some of the decisions have been absolutely terrible. It's not really fair, not just on me but other boxers who came over here with a dream of becoming world champion and because there's  politics outside of the ring...
"Everyone around me was telling me that I should have won and I felt I had won. One of the Indian coaches actually went up to one of our coaches and said he thought I won the fight.
"For something so important like a world medal, that I've always dreamed of, to be taken away from me like that is heartbreaking and hard to come back from."
Can somebody please tell me how this was a public warning? 🤬 pic.twitter.com/tSH1oVBwSm

— Baby Canelo🥊💯 (@amybroadhurst12) November 20, 2018
Broadhurst landed a body shot in the third round that seemed to floor her opponent and was then given a warning for 'slapping' that cost her a point.
The final scorecard read 27-29, 28-28, 29-27, 30-26, 29-27 in Kaur's favour.
"I thought myself I won the first and the third round," reflected Broadhurst.
"Twenty seconds before I took the warning, I hit her a body shot and she went down but the ref ruled it as a slip.
"I don't think he [the referee] was ever going to do anything against her"
"At the time it didn't really click with me. I thought 'ok, maybe it was a slip' because I couldn't actually see, I just knew that I threw the shot and it landed. 
"Then last night when I watched it back, and I saw that I landed clearly, I thought it should have been ruled as a knockdown. But I don't think he was ever going to do anything against her.
"Twenty seconds later I caught her with a left hand, and it was a clear left hand, and they gave me a public warning, which pretty much cost me the fight. It landed perfectly. I don't what he was watching.
"I've never slapped with my back hand. It's either a swing and a miss or I land it. If I was going to slap, it would be by accident with my right hand. I knew I connected. He warned me in the first round when I stepped back, threw a one-two and connected. He stopped that and said 'stop slapping'.
"He warned me again one more time after that and he then took the point off me. But none of them were really slaps, I was connecting. I felt I was connecting anyway and he thought differently I suppose."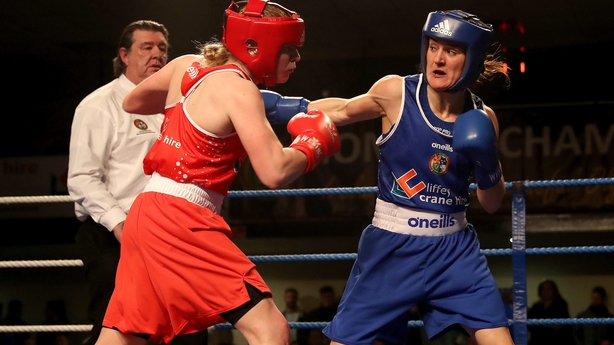 Broadhurst (21) insists that despite the disappointment, she isn't giving her dream of making it to the Olympics, whether that's in Tokyo or Paris.
"I don't anything will ever take away the love I have for the sport, but when things like this happen it makes me angry," she said.
"I put my whole life into this sport. I train full-time with no funding and if I had medalled yesterday that could have pushed me towards a bit of funding but it was just taken away from me.
"I still want to make the Olympics. From (being) a little girl, all I've thought about is the Olympics.
"I don't know if it's going to be in 2020 but I'm still going to continue to chase that Olympic dream."