The countdown continues...
We undertook the arduous task of attempting to rank Ireland's boxing prospects from 20 to 11, and now it is time for the real big-hitters, looking to dominate their respective division in 2018. 
10. James Tennyson (super featherweight) Another of the band of boxing brothers hailing from Belfast, Tennyson has stepped up through the levels over the past 12 months and now finds himself as the number-seven ranked super featherweight with the World Boxing Authority (WBA).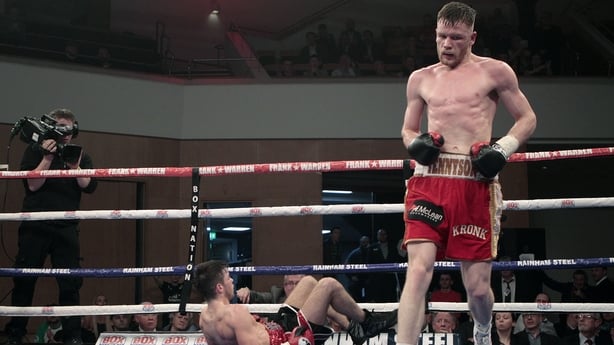 Tennyson's upward trajectory took a bit of a hit back in April of 2016 when he was stopped by Ryan Walsh in a British title bout, but the big-hitting 'Assassin' bounced back a weight heavier in style, going on to stop Declan Gerraghty in the sixth round, before beating Ryan Doyle for the vacant WBA International Super Featherweight title.
Tennyson's last bout in Belfast against the very decent Darren Traynor showcased the undeniable entertainment factor built into his armoury, however, it also exposed some defensive frailties that really need attention stepping up to world-level bouts.
9. Michael Conlan (featherweight) Still very much in the embryonic stage of his professional career, it is impossible not to get ultra excited about Conlan's prospects over the coming years.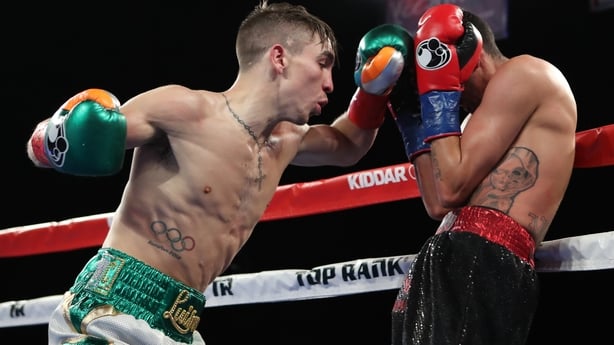 While most professional careers start in small halls and well under the radar, Conlan kicked off in style, starting as he means to go on, by headlining his maiden fight at the iconic Madison Square Garden.
Conlan coasted through his opening four fights but is facing a better level of boxer in every encounter. Conlan went the full six rounds in his most recent fight, which is needed when acclimatising to the longer form of the game.
The former Olympic bronze medallist was blatantly robbed of a medal at the Rio Games, however, the performance and the aftermath proved that he is every professional promoter's dream. Potentially Ireland's greatest ever fighter, sit back and enjoy the ride.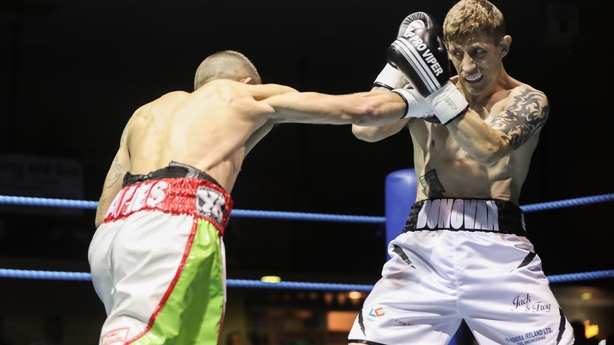 The Irish featherweight scene is booming at the moment with Carl Frampton at the top of the division, while Marco McCullough, Eric Donovan (pictured above) and Tyrone McCullagh can also make a name for themselves in 2018.
8. Jason Quigley (middleweight) Having gone about his business quietly away from the home hype for the past few years, Quigley is set to explode into title contention over the next 12 months.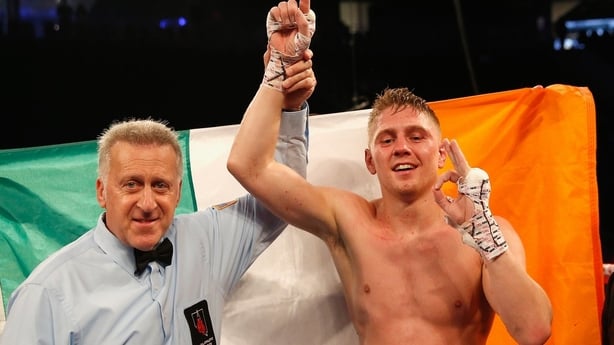 The former World silver medallist left the amateur ranks, perhaps prematurely, to pursue a professional career, and found a great place to start at Golden Boy Promotions under the watchful eye of former world champion Oscar De La Hoya.
Quigley became an instant hit on the Stateside boxing scene and picked up the apt 'El Animal' moniker with some devastating performances early on. Quigley hurt his hand earlier this year and the reigning NABF middleweight champion will be raring to go in the New Year, looking to improve on his 13-0 record.
A surprising, yet exciting, move to Sheffield has just occurred as the Donegal man hooks up with the world-renowned Ingle Gym. Quigley wants to get back to fine-tuning his boxing skills to complement his knock-out potential and where better than at the home of Prince Naseem Hamed under the watchful eye of Dominic Ingle, who just guided fellow middleweight Billy Joe Saunders to a near flawless world title defence against David Lemieux
7. Jamie Conlan (super flyweight) The elder brother of Olympic bronze medallist, Michael, has spent the last few years making his name all the way up to world level and in the process, becoming one of the most exciting fighters in Irish boxing.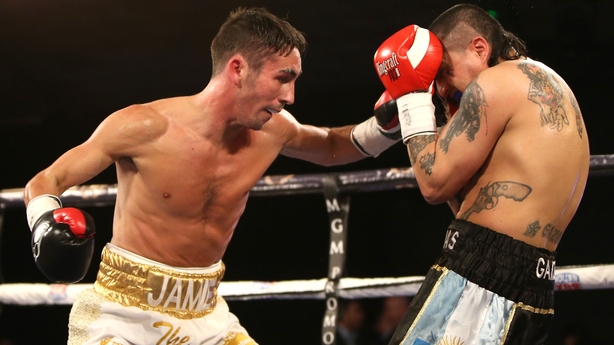 Based in Marbella, Conlan enjoyed a flawless, yet well-earned 19-0 record, before getting his first chance to land the world title as he challenged Jerwin Ancajas for the IBF Super Flyweight title. Conlan was beaten by the better man on the night and there will be some big decisions taken in the next few months regarding his next steps and whether to pursue another route to landing a world belt.
Perennial Fight of the Year contender, Conlan is still rated third with the IBO and may fancy a bout with unbeaten champion Naoya Inoue in 2018. The Belfast native has recently been appointed the Professional Development Coordinator at the ever-expanding MTK Global outfit, which might hint that he has one eye on life after boxing.
Every boxing fan in Ireland will be hoping that this is not the case, for the time being, at least. 
6. Spike O'Sullivan (middleweight) In terms of entertaining fighters, you would be hard pressed to find any better than this proud son of Cork. Lying in wait beneath that friendly facade with comicbook-villain moustache and pure Twitter divilment, sits a very accomplished fighter, who has finally gained the recognition he deserves.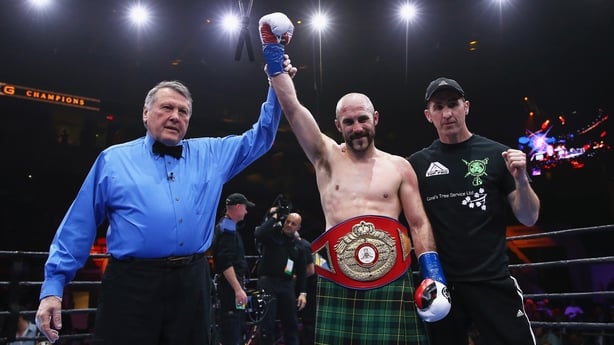 The boxing industry loves an entertainer and it is no surprise that O'Sullivan has become quite the fan favourite, also gaining plaudits on Stateside television shows. Memorably demolishing Anthony Fitzgerald on the undercard of a Matthew Macklin fight at the venue formerly known at the Point Depot, O'Sullivan then goaded Chris Eubank Jr into a high-profile fight. Spike lost that one, due to a burst eardrum, however, he has come back stronger with a run of five straight wins.
The most recent of which, the spectacular knockout of the upcoming Antoine Douglas earlier in December, has put O'Sullivan right at the top of the division for a shot at one of the belts, or at least for a world title eliminator. Don't bet against the Paschal Collins-trained fighter to go all the way.
5. TJ Doheny (super bantamweight) The Portlaoise native jumped up more than a few spots in our end-of-year ranking over the past couple of weeks and deservedly sits inside the top five going into 2018.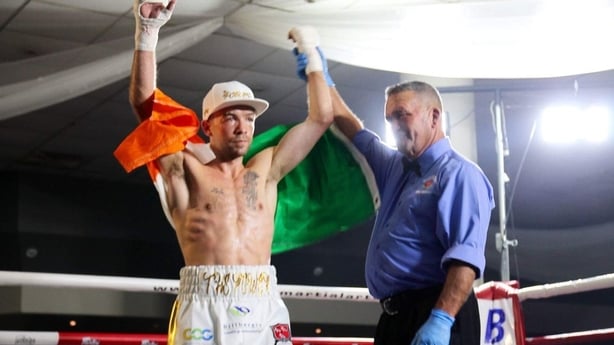 Doheny has been working his way up through the super-bantamweight rankings and after 17 wins and no defeats, a world title eliminator was offered and duly accepted against Thailand's Pipat Chaiporn. Doheny travelled into the Bangkok back garden of his opponent and while the fight went the distance, the Irish man was always in control and put in a dominating display to seal the result on a split decision - remarkably, one judge awarding the contest to his opponent.
Doheny spent time building his fledgling professional career in Australia but has recently moved to the east coast of America to become part of the Murphy's Boxing stable. A world title bout awaits in the New Year.
4. Andy Lee (middleweight) The elder statesman of the current crop of Irish professional boxers, Lee has been on an extended sabbatical for the past nine months since beating KeAndrae Leatherwood in New York.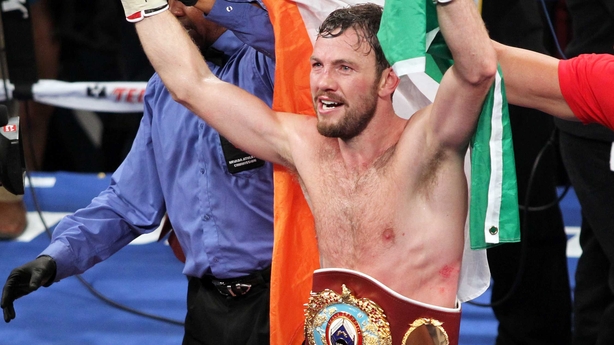 Before that, the 33-year-old went over a year without a fight since his world title defeat to Billy Joe Saunders, which has led to speculation about the Limerick man's future in the game. Lee, of course, has done it all in the ring at this stage, with the culmination of a career's work coming in December 2014 when he landed the world title, defeating Matt Korobov for the vacant WBO strap.
Lee has been upping his media duties in recent times but also admitted that he would be willing to fight at the right level and for the right purse. Big fights will surely be offered to Lee in 2018, whether a world title shot, a world eliminator, or a tricky test for an up and coming fighter looking to get to world level. Whether or not we see Lee's ferocious knock-out skills again remains to be seen, but here's hoping.
3. Katie Taylor (lightweight) It took Katie Taylor just seven professional fights to become world champion, as the Bray native defeated Anahi Sanchez from Argentina in Cardiff. Fighting on the undercard of Anthony Joshua's heavyweight world title fight, Taylor impressed in her first attempt to land the belt, securing a unanimous decision victory in October.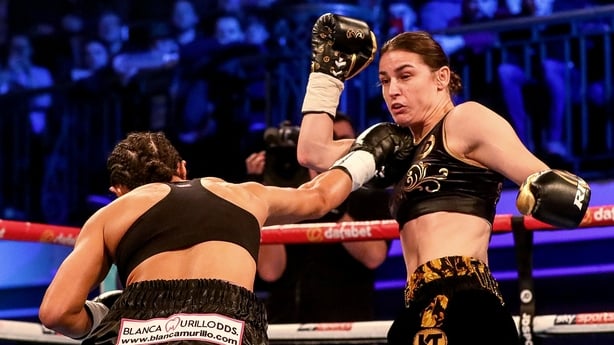 The Olympic gold medallist was certainly fast-tracked to success under the guidance of the big-hitting and highly influential promoter Eddie Hearn, and there is a real sense that there is a lot more to come from Taylor in the paid ranks.
Taylor's pro-career is set to mirror her amateur one, where she became a pioneer for the sport, raising its profile and standards, while often struggling to find worthy opponents. However, thanks to that near-flawless amateur career, where Taylor secured five world titles to sit alongside the London 2012 gold, a new generation of female fighters are starting to emerge in the professional ranks.
Competition will be tougher for Taylor in the coming years as the lightweight division hots up with Barry McGuigan's protégé Chantelle Cameron recently landing the IBO world title, while a unification bout with Belgium's WBC champion Delfine Persoon will also test Taylor.
Taylor received a certain amount of criticism following her first defence in December, perhaps getting hit more times than needed against Jessica McCaskill, however, the victory was still comprehensive and the lesson will, no doubt, have been learnt. 
2. Carl Frampton (featherweight) The Jackal has been the leading light for Irish boxing over the past five years, gaining huge support, first in Belfast, and then throughout the island as he worked his way to world glory, finally taking the IBF Super Bantamweight title from Kiko Martinez at the Titanic Quarter in Belfast back in September 2014.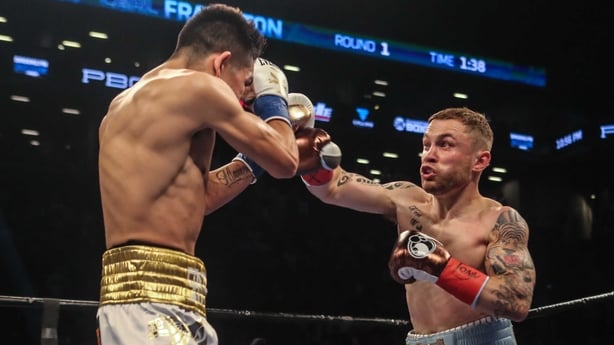 Three successful defences of that belt followed before Frampton moved up to featherweight to challenge Leo Santa Cruz for his WBA featherweight strap. The Tigers Bay native put in one of the all-time great Irish performances to snatch the title from the champion in New York to become a two-weight world champion.
The re-match, however, did not go according to plan for Frampton, as Santa Cruz completely changed his style just for that particular bout and inflicted the first defeat on the former Shane McGuigan-trained fighter. But Frampton is back with a new trainer, Jamie Moore, and again on the scent for another world title shout.
Frampton's upcoming bout with former champ Nonito Donaire will surely prove that Belfast's favourite son has plenty more to give to this game.
1. Ryan Burnett (bantamweight) The Belfast man burst onto the world boxing scene in 2017, securing the world title before unifying the division with his first defence. Promoter Eddie Hearn made a brave and bold statement a few year's back by proclaiming that Burnett was the next big thing coming out of Belfast.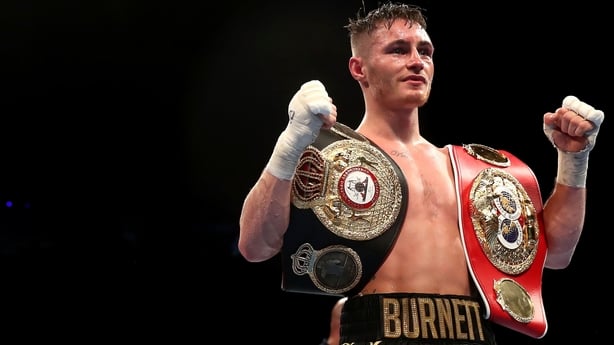 A master in hyperbole, perhaps, yet on this occasion, Hearn was proved more than correct as Burnett began to fulfil the prophecy by snatching the IBF title away from Lee Haskins with a masterclass points victory in Belfast back in June.
The Adam Booth-trained bantamweight then decided to put it all on the line with a defence and unification bout in his very next fight, as WBA champion Zhanat Zhakiyanov was enticed to Belfast in October. Burnett encountered his toughest test thus far as the Ricky Hatton-trained Kazakh went to war in the opening rounds, looking to shock the home crowd.
Burnett stood firm and then outclassed his opponent in the closing rounds to move himself into contention for the world boxer of the year. The explosive Zolani Tete - the current WBO champion - is another on the Burnett hit-list, yet there might be a couple of more manageable mandatory defences to swat away in the mean time.
Let's not forget, Burnett is only 25 years old. His legacy is already assured, yet you get the feeling that Burnett is only getting warmed up.