Motivation in boxing can come from many different avenues.
Pride, financial reward and proving doubters wrong are usually at the top of the list and Gary 'Spike' O'Sullivan speaks openly about what all of those mean to him.
From the moment he was born, it seems as if he was destined to be a "superhero".
The nickname that has travelled with his career started long before he ever donned a glove.
"A friend of my father's popped into the maternity unit and randomly called me Spike," he told RTÉ Sport.
"I was christened Gary. But everyone calls me Spike. My mother, my father, my partner, everybody. If someone called me Gary at this stage, I wouldn't react. I felt it gave me an advantage growing up. It seemed like a superhero's name."
Following that up has been his goal ever since but there is also the aim of making a life and legacy for his family. It's not easily done.
Two setbacks have come so far. After a promising start, and five years of trying to earn a world title shot that saw him claim some low-level belts along the way, Billy Joe Saunders defeated the Cork man in 2013 in a pivotal fight.
Saunders went on to claim Andy Lee's world title belt and has held it since, despite his limited activity.
It was a rebuilding process to land another high-profile opportunity, and O'Sullivan repeatedly called out the rising Chris Eubank junior as he took care of several opponents in the US. It led to a WBA eliminator for a shot at the belt.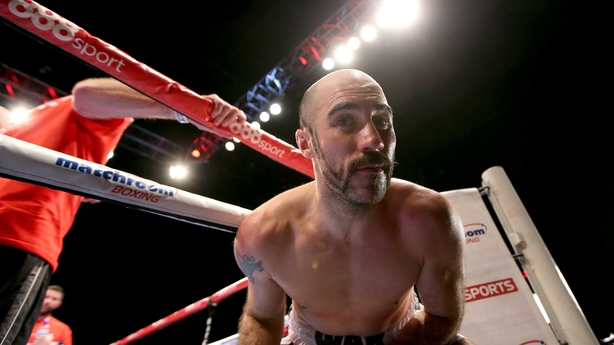 It was a brutal defeat for the Irishman against the hugely-impressive Eubank, who has now catapulted into bigger stages with a clash with George Groves to come. 
As always, O'Sullivan didn't hit the ground once despite the onslaught from Eubank. His corner withdrew him after the seventh with Paschal Collins making the correct call. There was no way back against the Englishman.
It only gets harder in boxing to get another chance.  
"When I fought Chris Eubank junior, he refused to call me Spike. He kept on calling me Gary. He said 'He is not a superhero. His name is Gary'.
"I've had a lot of injuries in my career. I've broken ribs twice, my hand twice and bursted my ear drum three times. In both fights where I've been beaten, my ear drum burst in both fights.
"It's very disorientating and worrying. I went to see two good consultants and my ear is fully healed. I would have retired if it wasn't. I have to put my family first because if I'm physically unable then I'm no good to them. But I'm fine. It's a very dangerous sport for sure."
Another chance at a lucrative title shot for the determined and driven @spike_osullivan will come in the early hours of Sunday morning. @darrenfrehill caught up with the Cork boxer. pic.twitter.com/izkjUJ9A7l

— RTÉ Sport (@RTEsport) December 15, 2017
To come back once again, at 33 no less, is not easy but here we are once more with O'Sullivan on the big stage as chief support of Saunders' world title defence against David Lemieux in Canada. It will be broadcast on Sunday at 2am on BT Sport and HBO in America. 
Four wins after that tough night against Eubank, including being broadcast on ESPN in a strong performance against Nick Quigley, have put 'Spike' back on the scene. It could be the last chance. He knows exactly why he's doing it.
"I'm fighting for my kids, for their futures. I'm very close to a world-title fight and I'm at the top level of professional fighting. I'm on the verge of possibly making a lot of money.
"That's the reason I fight now. It's to get that money to secure a good future and living for my children.
"I want my children to say my Dad was champion of the world. That's a big motivation for me.
"I've been watching boxing my entire life. I used to get up in the early hours and watch boxing on ESPN. I remember watching a lot of great fighters of ESPN and it was a dream come true to headline a show on that channel (in my last fight).
"A lot of young kids dream of playing in Croke Park or Old Trafford. For me, it was to fight for world titles and big events. My favourite part is the ring walk, soaking up the atmosphere. I love it."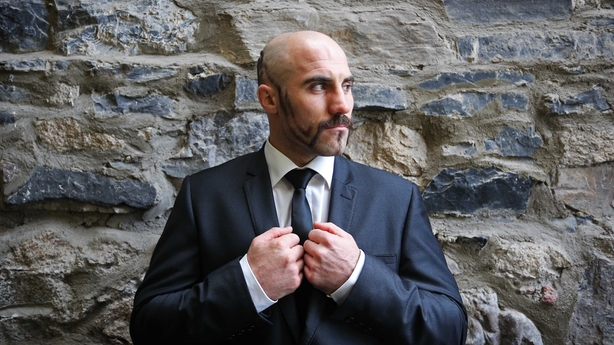 Just how many times more he does that walk remains to be seen. His opponent this weekend, Antoine Douglas, has just one defeat in 24 fights and will be favourite to win, but a victory could open up the door once more on a middleweight scene where a host of big names are looking for action. 
The prize could be that golden ticket for a windfall and a belt around the waist in the WBO Inter-Continental Middleweight title. The world shot would likely follow. 
"I've always had a lot of power and I've been able to knock guys out.  At times I've been guilty of neglecting my skills and depend on my power," said Spike.
"I tried to take guys' heads off but the fans love it. I think that's why I get big event fights. If I was back in the amateurs I wouldn't get that because my style wouldn't suit.
"Ultimately, I would like to fight Gennady Golovkin. Most guys are afraid of him. I always call it the Mike Tyson factor. People are beat before they get in the ring with him. They are expecting this beast. He suits me. He is a come-forward fighter and he gets hit.
"I have the power to knock anyone out and I've never been knocked down. I would like to fight him because the likes of Billy Joe didn't suit me, his movement was too much. I want to have a fight. So Golovkin is the fight for me and I believe I'm the man for him."
If he can overcome Douglas, Spike may get his wish, and the opportunity to become that superhero he has always craved.