Gary 'Spike' O'Sullivan's corner opted to retire him at the end of round seven during his middleweight bout against Chris Eubank Jr at London's O2 Arena on Saturday night.
Cork native O'Sullivan had produced a gutsy display, but was on the receiving end of numerous punches from his opponent, who dominated most of the fight.
The 31-year-old Mahon middleweight suffered a suspected perforated eardrum, according to the fighter and his backroom team, and referee Terry O'Connor called a halt at the end of round seven following instructions from O'Sullivan's trainer Paschal Collins.
"I'm not really happy being pulled out, I've never been beaten inside the distance in my life – amateur or professional – and it's upsetting and disappointing," said O'Sullivan in his dressing-room afterwards, although he admitted that he understood why his trainer opted to call a halt.
"I think so, I don't think I was going to win. Paschal was thinking of my best interests, he always does and it was the right decision."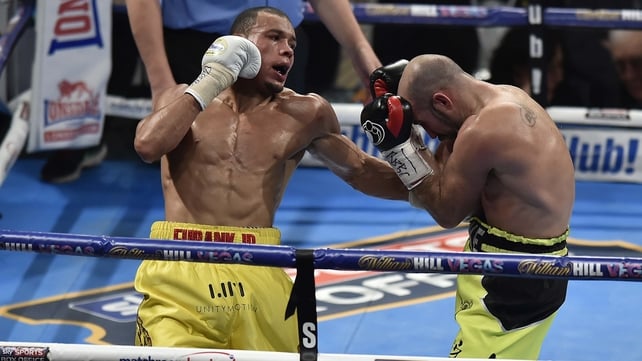 The Mahon man looked confident and enthusiastic upon entering the ring, gesturing to Eubank as the latter stood on the entrance ramp while the Cork man paced around impatiently in his corner prior to Michael Buffer's introductions.
O'Sullivan had attracted attention in the build-up, kissing Eubank at the weigh-in and the visitor started the opener in similarly colourful fashion as he held his hands low.
After being caught with a short right hand from Eubank early on, 'Spike' brought his guard up before again dropping his hands and later catching a right hook.
A heavy left hand from the Cork man served as a reminder for the posturing Eubank before both fighters finished the round with showboating shuffles.
'Spike' looked in real trouble in the second round after shipping numerous flush uppercuts from Eubank but O'Sullivan kept coming forward and survived the round. The Irishman then landed a lovely left to the body before seemingly hurting Eubank with a hook to the head as the visitor had a much better third round, punishing his opponent's brief moments of cockiness.
. @packycollins tells me he pulled @spike_osullivan out as 'balance had gone' from suspected perforated eardrum (possibly as early as Rd2/3)

— Ciarán Gallagher (@Ciaran_Gally) December 12, 2015
By the fourth, O'Sullivan had seemingly abandoned any attempts at defence other than keeping his guard up when moving forward and while Eubank landed a couple of eye-catching combinations they were each greeted with a smile by the Irishman.
Eubank turned on the style in the fifth, landing a series of head-body combinations with O'Sullivan showing signs of fatigue and real damage for the first time as he grimaced midway through the round.
Eubank started the sixth landing more big shots but his work-rate dropped slightly as O'Sullivan made him work.
However, by the seventh it was evidently a one-sided fight as O'Sullivan failed to trouble Eubank, leading to the Irishman's corner opting to call a halt.
"I won't say it was one-sided, but in the corner I knew that Spike's ear was gone and his balance was gone. It's hard enough to fight someone like Chris in full health," said Collins on reflection in his fighter's dressing-room after the fight.
"I asked him, 'your balance looks off?' and you could see it, so I said we'd take it a round at a time because Chris was getting strong.
"Around rounds five, six and seven, he [Eubank] was landing heavy shots and one of those shots could have hurt him [O'Sullivan]. He was behind on the scorecards, probably three rounds down and as the fight went on Eubank knew this and he knew Spike's balance was off.
"I could see all this from the outside and I made the right call," added Collins.
O'Sullivan's loss sees his record drop to 22-2, while Eubank's improves to 21-1 as the latter moves on to a shot at a small portion of the world middleweight title.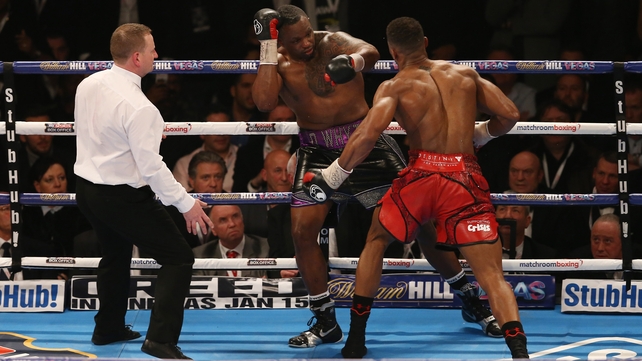 In the main event, heavyweights Anthony Joshua and Dillian Whyte produced a toe-to-toe slugfest before the latter was stopped in devastating fashion in the seventh round.
While the pair traded blows throughout, Joshua landed the punch that mattered – a thunderous right uppercut – to halt Whyte and claim the vacant British title.
On the undercard, Olympic champion Luke Campbell, who defeated Ireland's John Joe Nevin in the London 2012 bantamweight final, suffered a shock points loss to French champion Yvan Mendy after being floored in the fifth round.
The previously undefeated Campbell (now 12-1) was caught by a left hook that left him on the canvas and though he managed to beat the count, the Hull native struggled to assert himself throughout the remaining rounds .
Mendy, who previously defeated Galway-born Londoner Peter McDonagh in 2010, took the win,
115-112 and 115-113 on two cards, with one judge going for Campbell 115-113.
Earlier in the night, former two-weight world champion Paulie Malignaggi (35-7) claimed the vacant EU welterweight title as the Italian-American recorded a 12-round unanimous points win over Italian Antonio Moscatiello (20-2-1).