(Warning: Some strong language in video above)
Conor McGregor said he felt like he lost "a football match" and not a fight after his Las Vegas bout with Floyd Maywether, and refused to rule out another foray into boxing.
The Dubliner was stopped in 10 rounds by Floyd Mayweather in Las Vegas.
Following a fast-paced start in which he landed few punches of significance, he could do little to resist the effects of both fatigue in his professional boxing debut and Mayweather's unusually aggressive approach at the T-Mobile Arena.
The fantasy fight between the highest-profile figures from boxing and the UFC swiftly proved a mismatch in which McGregor repeatedly avoided punishment from referee Robert Byrd for punching behind the head.
By its conclusion he was an exhausted fighter, impressing only through his resilience and determination to remain on his feet amid Mayweather's hurtful right hands, and until Byrd's intervention in what the American insists will be his final fight.
We need your consent to load this rte-player contentWe use rte-player to manage extra content that can set cookies on your device and collect data about your activity. Please review their details and accept them to load the content.Manage Preferences

But McGregor was he pleased he'd held his own, and afterwards praised his opponent.
"I don't feel like I lost a fight. I feel like I lost a football match or something," he told RTÉ Sport's Clare McNamara.
"He's a smooth operator, very composed. He'd so much composure in there.
"I hit him big shots early on, then he started parrying them nicely, he started catching them on the gloves nicely. I started to waste energy. It was a very enjoyable experience and a great learning experience.
"I'm very happy with it in all honesty. Of course I'd have loved the win. I don't feel I was put away. He hit me with one. The final three before the ref stepped in were glancing blows. My head was clear, I was just in a fatigued state. it is what it is. I'll be back.
"I certainly brought the fight out in him. He came forward Mexican style; hands up above the eyebrows, dipped his head in low towards the chest and started letting shots fly. We made it a fight.
"I think he deserves more respect than he gets, throughout his career, the same way I believe I deserve more respect."
McGregor's mother Margaret was by his side post-fight, and said: "I'm just so proud of him," before joking: "I can't wait to spend some of his money!"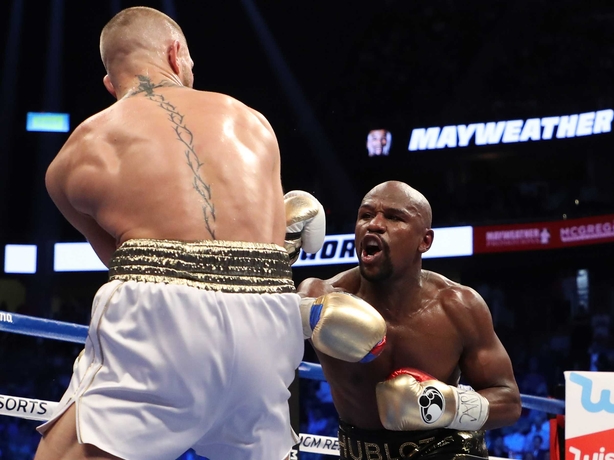 The 29-year-old had walked into the post-fight press conference drinking whisky, and following the often foul-mouthed exchanges between the two, spoke of his respect for his conqueror.
"You're a composed individual," he said. "You didn't get rattled; you made three game changes during the fight and that's what a true champion does. I would have liked to see the end of the 10th and where it brought us, but he's one hell of a competitor.
"I thought I put him out there and hit him a few times but then he started reading it and he began parrying a lot. I enjoyed the fight; it was a great contest and I'll take a lot of stuff with me into my training."
Mayweather remained adamant that this will be the final fight of his decorated career. He has previously insisted he is retiring before being lured back, most recently by McGregor, but with this latest victory improved his record to 50-0 and, in doing so, ensured he surpasses the great Rocky Marciano.
Though dominant, his performance was not to the polished level he demonstrated at his very peak, and he claimed afterwards the recurring problem with his "brittle" hands prevented him from sparring for a month.
"I had a great career, a tremendous career."
"You won't see me in the ring no more, so any guy that's calling me out, forget it, I'm okay," said the 40-year-old, who also revealed he plans to become a trainer, following his uncle Roger and father Floyd Snr into their professions. "I had a great career, a tremendous career.
"I just want to help these fighters. I look forward to becoming a boxing trainer. My dad's a hell of a trainer, he taught me the sport, and I want to help other trainers and help make fighters better, teach fighters to become a superstar not just in the ring but on the outside.
"McGregor was solid. I'd been off for a couple of years.
"For the last month, I didn't do any sparring. Not an injury, but I wanted my hands to be 100% for the fight. My hands are brittle, everybody knows that: I wanted my hands to be solid. If I got a serious hand injury I wouldn't be able to punch as hard.
"I knew he was going to be awkward from the beginning. He lasted a little longer than we expected, but I stuck to the game-plan.
"After 21 years in the sport of boxing, I had some great fights, I had some boring fights, but I will always be remembered as a winner.
"I know how to dissect an opponent, go out there, and stick to the game-plan."