Barry McGuigan believes Conor McGregor lacks the speed, subtlety and skills required to shock the world and defeat Floyd Mayweather in Las Vegas in the early hours of Sunday morning.
The hugely hyped fight between the MMA superstar and the 40-year-old American has provoked plenty of debate, but Monaghan man McGuigan can't see anything other than a comfortable Mayweather victory at the T-Mobile Arena.
"I am excited to an extent but it's a little bit far-fetched for McGregor to win this fight," McGuiugan told RTÉ Radio 1's The Mooney Show.
"Mayweather is too good. Although he's 40 years old, and although he's been out of the ring for a couple of years, he's one of the best of all time and the best of his era.
"Conor is a terrific athlete, a tremendous personality, a very magnetic sort of guy, but I just don't see how he can beat Mayweather. He's not quick enough, he's not skillful enough, he doesn't have the levels of skills it would take to beat Mayweather. Mayweather is exceptional."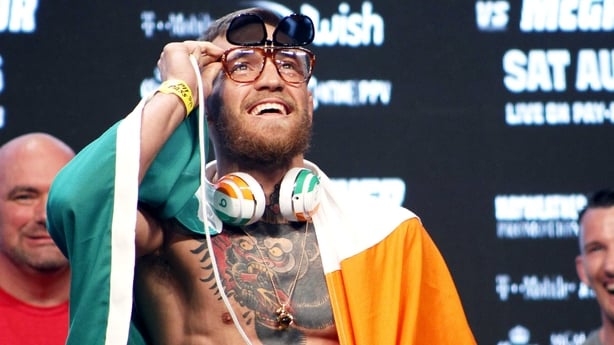 McGuigan did suggest that if McGregor is to pull off an astonishing win he should follow the blueprint of Marcos Maidana.
Four years ago, the Argentinian rattled Mayweather with an attacking, go-forward approach that asked serious questions. It's a tactic McGuigan feels could serve the Dubliner well.
"McGregor will be aggressive and he'll come forward and the only way to win this fight is to put pressure on Mayweather," he added.
"The guy that was most successful against him was a guy called Marcos Maidana, an Argentinian guy who just swarmed all over him and gave him lots of trouble.
"If McGregor is to win, which is highly unlikely, the only way he can do it is to walk forward and throw lots of punches.
"The problem with that its, he's not sophisticated, he's not subtle enough in his movement. I just think it's a lost cause."
The 25 questions the clueless fan wants answering on Mayweather-McGregor
Despite not holding out much hope for The Notorious, McGuigan is an admirer of his showmanship and brash confidence.
It's an occasion, McGuigan feels, to enjoy, but one which will end with Mayweather's arm raised in the victory.
"Anything goes in Vegas, it's a crazy town, but it is a pantomime. The press conferences were incredibly funny and little bit coarse.
"That's McGregor's style and he trumped Mayweather in every one of the press conferences, he was far more entertaining. But that's where his dominance stops.
"When the bell rings it will be all Mayweather."