Carl Frampton could be offered a November fight date in Belfast as promoter Frank Warren and former European middleweight champion Matthew Macklin have both expressed an interest in working with the two-weight world champion.
Belfast native Frampton took to Twitter yesterday, issuing a statement to say he has "parted company" with Barry McGuigan and Cyclone Promotions. However, that claim may be a contentious one as it is understood that Cyclone and McGuigan still maintain that the 30-year-old fighter is contracted to them.
With the BBC last week reporting that a split was imminent, Frampton's statement did not come as a shock following weeks of rumours surrounding the Belfast man's plans after the cancellation of his scheduled bout against Mexican Andres Guttierez.
While Frampton's promotional future appears uncertain at present, a number of boxing figures have expressed an interest in working with 'The Jackal' in the future.
"I don't know what's happened with him and Barry McGuigan, but if he's available for a fight… I'd like to be involved with him"
Eddie Hearn last week indicated his eagerness to revive his working partnership with the Irish fighter, while the Mathchroom chief's promotional rival Warren yesterday insisted he would also be keen to work with the 30-year-old if possible.
"Yeah, of course I would be [interested]," said Warren. "I would certainly love to do something with Carl. He's an excellent fighter, a real nice guy.
"I don't know what's happened with him and Barry McGuigan, but if he's available for a fight… I'd like to be involved with him," added the promoter, who stated that he would like Frampton to feature on a November bill in Belfast if possible. The Jackal's close friend, Paddy Barnes, and world-title contender Jamie Conlan could also feature on that fight card.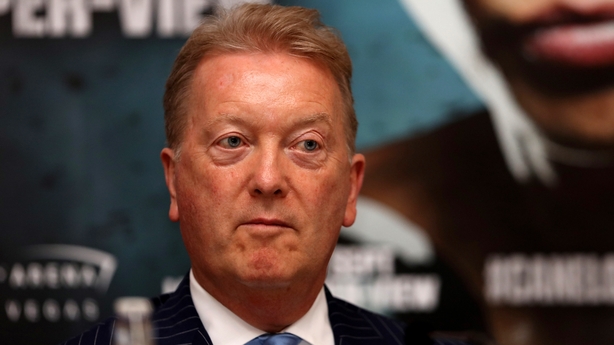 "We're working on a couple of dates at the moment," said Warren on the planned Belfast bill. "We're looking to do one in November and we'll announce that in due course. It would be great if Carl could fight on that bill. It would be really good for us and certainly good for him.
"With him and then Jamie Conlan [possibly] fighting for a world title on the bill – we're working on that – it would be a cracking show. It would be a great show and a great night for the Irish boys."
Both Conlan – the elder brother of world amateur champion and undefeated pro prospect Michael – and Barnes are managed by Macklin's MTK company and the former world middleweight contender is another fight figure who would like to work with Frampton in the future.
"We're definitely interested in working with him," said Macklin.
"He's a top fighter, they don't get much bigger than Frampton and we're in the business of managing fighters, so if that's something that would work for him, we'd love to be involved in his career," added the MTK manager.