Katie Taylor was disappointed she could not force a stoppage to claim her fourth professional win last night, but the Bray woman believes she bagged some vital rounds with her points victory.
Boxing over an eight-round distance for the first time, the former Olympic champion cruised to a comfortable 80-72 decision over Bulgarian Milena Koleva at the Manchester Arena with the bout featuring on the undercard of Jorge Linares' successful world lightweight title defence against Anthony Crolla.
Taylor (now 4-0 as a pro) dominated all eight two-minute rounds of the 135lb lightweight contest, putting Koleva down in the seventh but the rugged Bulgarian managed to see out the round and last the distance.
The 28-year-old former world-title challenger (now 9-8-1) proved to be a stubborn if limited opponent and the ex-MMA fighter stood up to a number of spiteful shots from Taylor even after hitting the canvas from a right hook.
Bray native Taylor was keen to notch up her third stoppage win in four outings, but trainer Ross Enamait and manager Brian Peters offered post-fight encouragement to the 30-year-old following the comprehensive points call as she builds towards a world-title shot later this year.
"Obviously I would have loved to get the stoppage, but speaking to Ross and Brian, I was delighted to get the eight rounds," said Taylor. "It was a great experience for me and it will do me a world of good later on this year.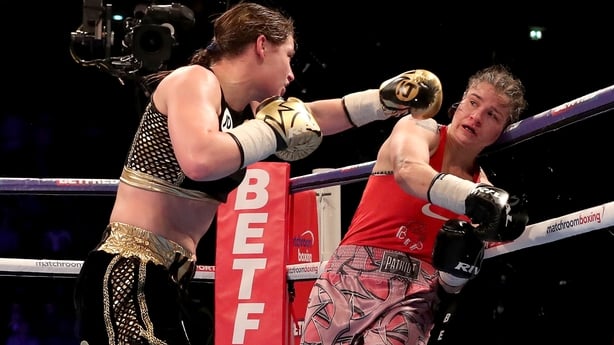 "She [Koleva] was obviously a durable girl and it was a good step up for me as well.
"Obviously when you are in there you are always looking for the stoppage, but you can't really buy that experience," added the five-time world amateur champion.
Taylor had boxed in six-rounders in her three previous professional contents, although all but one of those – December's points victory over Brazilian Viviane Obenauf – finished early.
The decision to compete over eight rounds was a clear indication of Team Taylor's intention to build towards the 12-round championship distance as promoter Eddie Hearn has stated that a September world-title shot in Dublin is their main aim for 2017.
"The eight rounds will do me the world of good. If I'm looking for world titles later this year I'm going to be a few tough battles," said the Bray woman, who notably paced herself at times over the eight rounds in between landing fast flurries on the tough Koleva.
"I probably still have a few bad habits from the amateur game as well that I have to work on"
That was a promising sign as she adapts to the paid game, although her failure to find a finishing shot may once again raise questions about her power.
"Obviously when I felt I had her in trouble I jumped in a bit," continued Taylor. "This is all an experience and I'm learning every time.
"I probably still have a few bad habits from the amateur game as well that I have to work on. I have to obviously plant my feet a bit more and look for that big power shot rather than go for six or five punch combinations.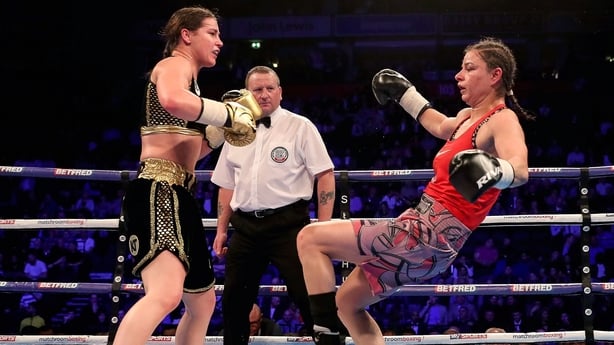 "But it is a big learning curve and I feel like I am learning in every fight," added Taylor, who prepared at trainer Enamait's Connecticut base following her stoppage win over Italian Monica Gentili just three weeks ago in London.
"I definitely felt in great shape going into the fight, I was getting great sparring over in the States," explained the 30-year-old.
"I think I nearly punched myself out at one stage when I was trying to stop her"
"I was doing eight round three-minute rounds with 30 seconds breaks sometimes during those spars as well, so I'm always well prepared going into these fights," said the 30-year-old, who joked that she nearly gassed in an effort to overwhelm her 28-year-old opponent.
"I think I nearly punched myself out at one stage when I was trying to stop her," laughed Taylor before admitting, on a more serious note, that she is delighted with her busy schedule.
Last night's fight was Taylor's fourth in a little over four months, while she is due out again at Wembley on the April 29 undercard of Anthony Joshua's world heavyweight title defence against Wladimir Klitschko before a likely US fight date in summer.
"It's great that I'm staying busy, I love the fact that I'm staying busy. I feel like one of the old-time boxers, boxing nearly every week," said Taylor, whose trainer Enamait gave a positive review of the dominant win.
"She got eight rounds in and a legitimate knockdown. She hurt her [Koleva] pretty good, so it was a solid win," said the Vernon-based trainer.