Katie Taylor passed the stiffest test of her fledgling professional career with flying colours as she won a convincing points victory over Bulgarian Milena Koleva in Manchester.
The 2012 Olympic gold medallist was going in search of her fourth victory in her first bout over eight rounds, and easily outpointed Koleva by an 80-72 score.
Taylor wasted little time in establishing control over her 28-year-old opponent, herself a former world title challenger and a real step up in class for the former amateur superstar.
Taylor's speed and accuracy were evident from the opening stanza, and that pattern continued as Koleva struggled to fend off the incessant barrage of combinations coming her way.
A huge right hand rocked Koleva in the third, but despite Taylor's obvious determination to end the fight early, the redoubtable Bulgarian took everything the Bray boxer threw her way and even managed to land a few counter punches of her own.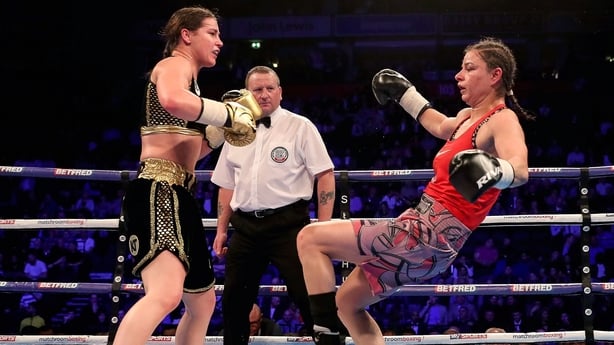 Taylor began working the body as the fight entered its second half, and the unrelenting pace of Taylor's assault finally saw Koleva hit the canvas in the seventh, but she bravely hung on to hear the final bell.
"I definitely needed the eight rounds," said Taylor, who could fight again on the undercard of the Anthony Joshua-Vladimir Klitschko heavyweight title fight on 29 April.
"That was a great contest against a very strong opponent. She gave it everything she had."