Top Rank promoter Bob Arum has insisted that he wants to book a showdown between Olympians Michael Conlan and Shakur Stevenson.
Belfast native Conlan made his professional debut on Friday night at Madison Square Garden's Theater, stopping American Tim Ibarra in three rounds.
A sell-out crowd of 5,102 were present at the Garden's secondary arena as Conlan made his move into the professional ranks in elaborate fashion.
The 25-year-old walked to the ring as a raucous Irish crowd cheered him on before Conlan easily dispatched Ibarra as expected.
Following Conlan's debut, an excitable American fight media soon turned their attention to the prospect of a future fight between the Irishman and Stevenson - the 19-year-old American who claimed Olympic silver after Conlan's contentious exit from last summer's Games.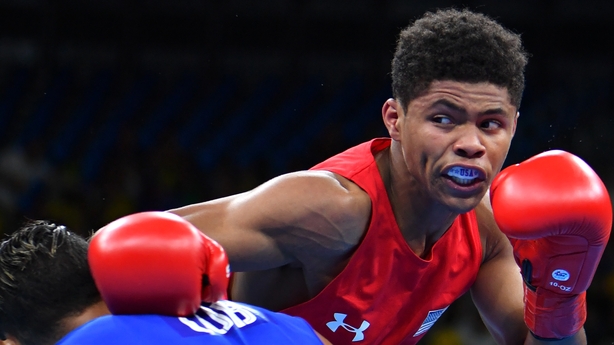 "Is Conlan and Shakur Stevenson going to fight? Yes. It'll be a big fight and a major fight because I'm too f****ing old to wait around 15 years," said boxing hall of fame promoter Arum, who gave a relatively balanced analysis of Conlan's debut.
"It was a very good performance," continued Arum. "When you turn pro he was very tight, he was overly aggressive, he made mistakes but that is normal for a first fight."
Conor McGregor walked Conlan into the ring and Arum admitted that the UFC star added some extra glamour to the event, although the Top Rank promoter clearly does not anticipate that a bout will take place between the Dubliner and Floyd Mayweather Jr.
"I'm grateful that Conor came over here, it certainly helped with the promotion," said Arum. "But Conor McGregor should not think about fighting a world-class [boxing] fight. Let him fight the guy that Conlan just fought and see how he does," added Arum, who predicts that Conlan will fight up to six times per year.
"It was a great atmosphere," said Conlan on the enthusiastic reception of the crowd.
"Now this will stand me in good stead for what's to come," continued the Falls Road fighter.
"If I ever fight for a world title and the atmosphere is half as good as that, it's going to be great.
"I hope I have this atmosphere at every fight… but it's not to be expected," said Conlan.
"It's not St Patrick's Day in New York every day so I'm just looking forward to the next one."