Michael Conlan wowed his fans in Madison Square Garden with a third-round stoppage of Tim Ibarra in his professional debut.
The Belfast fighter outclassed his American opponent in front of a raucous crowd in New York, forcing the referee to step in a stop the fight less than a minute into round three as Ibarra wilted under a barrage of Conlan punches.
With Conor McGregor carrying the Irish flag to the ring, Conlan, resembling an Irish version of Apollo Creed from the Rocky movies, looked the picture of confidence on his entrance to the arena, but made sure to feel his way into professional boxing over a slightly cagey opening two rounds.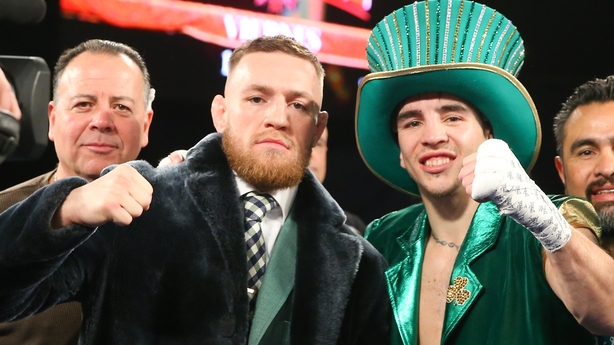 The 25-year-old Olympic bronze medallist from 2012 saw little resistance from Colorado native Ibarra, who entered the fight with a record of four wins and four losses, but Conlan struggled to hit the target with some big swings himself as he attempted to find his range.
While his attempted knockout punches were just missing their mark, Conlan had plenty of success to the body as he switched from orthodox stance to southpaw and back, and those energy-sapping blows helped bring about the American's rapid demise in round three.
With McGregor vocally urging him on from his corner, Conlan was quickly on top, landing a big left uppercut and then forcing Ibarra into the corner, where he began to tee off on the 26-year-old.
Ibarra escaped but his reprieve was only brief, as Conlan continued to smother him before the referee intervened after 59 seconds of the round.
Despite the win, Conlan was clearly dissatisfied with his nervy start, grading the performance as an 'F'.
"I don't think I performed too well, but I still got the stoppage," Conlan said in his post-fight interview.
"I had a lot of nerves, it was only my professional debut, but I think I handled the pressure well enough for a debut fight.
"I said before the fight I would do him in the third round. I knew the first two rounds I wasn't going to go for anything, I was going to take my time and that's what I did. I would have liked a more clean knockout but it is what it is."
Catch the Conlan fight in full along with full reaction from the RTÉ boxing panel on RTÉ 2 on Saturday night at 8pm