Andy Lee will contest his 39th professional bout tonight and the Limerick native admits it is likely to be one of his last as he hopes to tee up another world-title shot.
The former WBO world champion takes on Alabama middleweight KeAndrae Leatherwood at Madison Square Garden this evening in the venue's main arena, less than 24 hours after Michael Conlan's paid debut around the corner at the MSG Theater.
Limerick native Lee was originally installed on tonight's fight bill as a potential back-up opponent for Gennady Golovkin ahead of the world middleweight champion's headline title defence against Danny Jacobs.
And fighting the winner of that bout is clearly Lee's main ambition if he can overcome Leatherwood, who carries a 19-3-1 record into the eight-round middleweight bout.
"At 32 now, I know I'm not going to have too many more fights," said Lee. "I know in terms of boxing I've had more yesterdays than I've had tomorrows.
"I'm only going to be doing this [fighting] maybe one or two more times after this, so I'm going to enjoy every single day and that's the way I've been approaching it – just going in the gym, enjoying it."
The fight is Lee's first competitive outing since a December 2015 loss to England's Billy Joe Saunders when he lost his WBO world title.
"It was a fight I was hugely motivated for as a challenge but by the time I got to the end of the three training camps because of the three reschedules, I was burnt out," says Lee, recalling that bout. "I'd over-trained and I'd peaked a few weeks before it.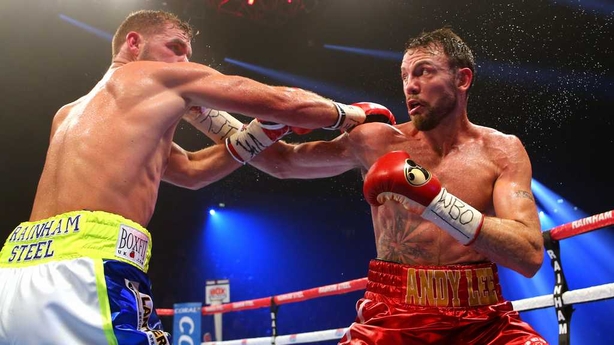 "Looking back in hindsight, I can see that. You never admit to yourself when you're training but in hindsight I can see I done too much and peaked too soon and I was burnt out.
"Being in a boxing ring and a gym was the last place I wanted to be… It just never clicked for me until I got knocked down and after that it was weird.
 "It was just a poor performance and I just felt flat. I peaked too soon and over-trained and once you go past that there's no coming back," added the Limerick man.
The comeback starts this evening, New York time, early Saturday morning Irish time.
And Lee expects a fairly tough fight against his unheralded opponent.
"He's going to raise his game because this will be his biggest fight," said Lee on his opponent. "For him this will be his biggest fight and biggest scalp and biggest opponent so he'll be bringing his best and probably better than he's ever fought before.
"People probably look at this on paper and say that's an easy win, but they're never easy wins.
"He's got a 19-3 record, you don't go into a ring and win 19 fights without having some ability so I have to be really careful and not be too eager to impress and force things, just box and use my experience and hopefully the opening will come," said the former WBO champion.