Jamie Conlan claims he delivered an "under-par" performance in Belfast on Friday night, but insisted he had to "show a bit of balls" against Yader Cardoza as he boosted his chances of booking a world-title shot later this year.
The elder brother of amateur world champion Michael - who makes his professional debut in New Yokr next weekend - Conlan picked up the WBC international silver super-flyweight title with a split-decision points victory over Nicaraguan Cardoza at Belfast's Waterfront Hall.
However, the undefeated 30-year-old (19-0) was made to work for his victory as 28-year-old Cardoza – a former world light-flyweight title challenger – put the home fighter down in the eighth round of their bout.
Conlan - who has earned his nickname, 'The Mexican', after winning a series of wars - was in real trouble during Friday night's fight, but the badly-bruised Belfast native managed to scrape the win on two judges' scorecards after coming out the right side of yet another gruesome battle.
"So I had to kind of pretend he didn't hurt me, but I was on the ground so he did hurt me"
"I knew when the going got tough that I was able to do it," said Conlan, who believes his ability to stay fresh in the gym helps him come through such wars.
"Maybe why I'm able to take these kind of fights… if you come and watch me, I don't take this s**t in sparring," continued the 30-year-old. "No one hits me at all in sparring. It's ridiculous [because then] I come into a fight and I get hit.
"When he hit me I knew I had to show a bit of balls because these [aggressive style of fighters], if you go back then they're going to try to catch you – it's a machismo kind of thing.
"So I had to kind of pretend he didn't hurt me, but I was on the ground so he did hurt me.
"It was a good fight. I was silly at times, good at times, but below par I thought," added Conlan.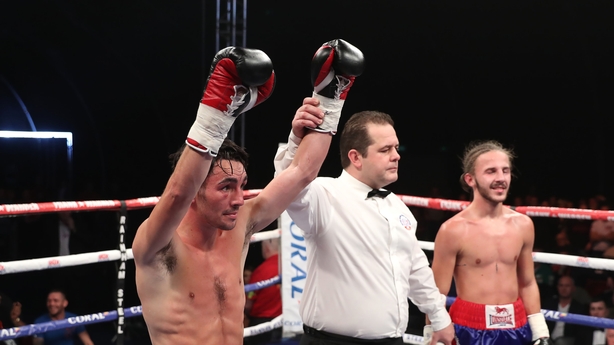 The stepping-stone international title will help the undefeated super-flyweight climb the WBC rankings as he looks to keep his options open for a major title fight later this year.
Already ranked No.2 in the world by the WBO, Conlan admitted he will have to up his game if he gets the chance to fight for world honours.
"I'm not happy with myself, I thought I could have won it a lot more decisively. The lads [in the gym] are pushing me in directions where I should be performing a lot better if I'm honest," said the Belfast man, whose brother Michael makes his paid debut at Madison Square Garden next weekend.
Paddy Barnes was also victorious at the Belfast Waterfront, with the three-time Olympian recording his second professional win.
Barnes claimed a comprehensive six-round points decision over Argentine journeyman Adrian Dimas Garzon and, while the 28-year-old failed to finish off his opponent, the Danny Vaughan-trained flyweight welcomed the opportunity to get some rounds in the bank.
"Every boxer wants to see blood, but I just had to do what my coach told me and it's all a learning curve," said Barnes.