Andy Lee has set his sights on winning another world title after announcing his comeback fight in New York next month.
The Limerick man will face KeAndrae Leatherwood on the undercard of Gennady 'Triple G' Golovkin's defence of his multiple middlewight world titles at Madison Square Garden on 18 March.
There was speculation that Lee might retire after losing his WBO middleweight belt to Billy Joe Saunders in December 2015 but the 32-year-old former champion insists it was always his plan to fight again, despite the lengthy break from action.
"I've always anticpated returning to the ring," he told RTÉ 2FM's Game On.
"I took the year off last year. I've had a long career, but especially the last three or four years, in the build-up to winning the world title, were intense, with really no break.
"I needed a rest but now I'm back in the gym and I'm training, refreshed and hungry.
"I'm looking at making another run at the title again.
"It's my goal to box myself into contention to fight for the title again and hopefully I will win it again."
Lee, who had previously arranged to fight the unbeaten king of the division Golovkin, only for arrangements to fall through, is counting on his contest against Leatherwood (19-3-1) putting him back in the spotlight.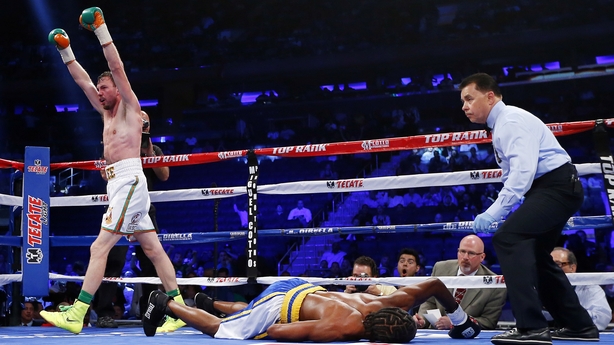 One of Leatherwood's three career defeats came against fellow American John Jackson, who Lee knocked out in 2014, and though the Irishman warned the contest would be far from a 'gimme', he already has one eye on facing Golovkin or Daniel Jacobs next.
"It's a huge card, and fighting on the same card as these two guys puts me in view," said Lee.
"People can compare us and I'll have an eye on the winner and hopefully fight one of them later in the year.
"Not a whole lot," he said when asked about his knowledge on his upcoming opponent. "I saw a little clip of him on YouTube. He's got a good record and he can certainly fight.
"You don't win 19 professional fights and not know how to fight.
"It's not a gimme by any means but I know if I'm sharp and box the way I can, I can mix it with the best in the world.
"I'll be very confident going into the fight and just looking to get back in action on a huge stage and showcase my talents."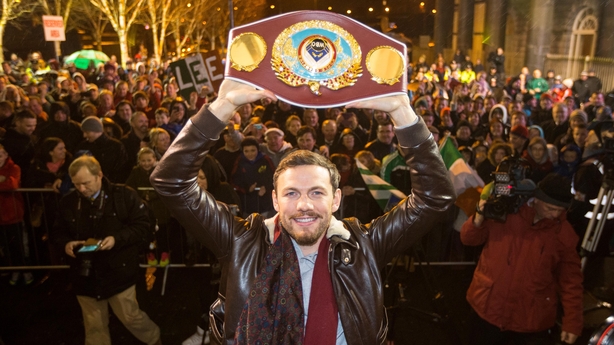 Lee, who held the WBO belt for just over a year, says that having already realised his world title dream allows him the luxury of getting back in between the ropes purely as a challenge.
"At this stage, I've achieved everything I wanted to do in the ring.
"I'm not doing it for money. I'm just doing it because I love the game. I love boxing, competing and training.
"I'm fighting without any pressure on myself and whatever comes my way, comes my way."