Fresh arrivals into Sin City were greeted with a peculiar scene on Wednesday morning as snow covered the peaks of Red Rock Canyon, unseasonably cold weather drawing in on the desert.
Given the make-up of swells of those coming through immigration at the city's airport, Las Vegas might be about to turn green as well as white.
Carl Frampton was toasted to the rafters of the MGM Grand as he made his official arrival in the fighting capital ahead of his mouth-watering world title rematch with Leo Santa Cruz here on Saturday night.
The Belfast fighter - only the second Irishman to become a two-weight world champion when he stripped the WBA featherweight title from the Mexican last summer in Brooklyn with the performance of his life - begins 2017 as arguably boxing's hottest property.
Coupled with his unification of the super bantamweight division earlier in 2016, that title triumph was more than enough to see him crowded an almost unanimous fighter of the year. Frampton's steady, patient rise to the very top has won him scores of fans at every stop.
This week, the Jackal's army are decamping to the desert.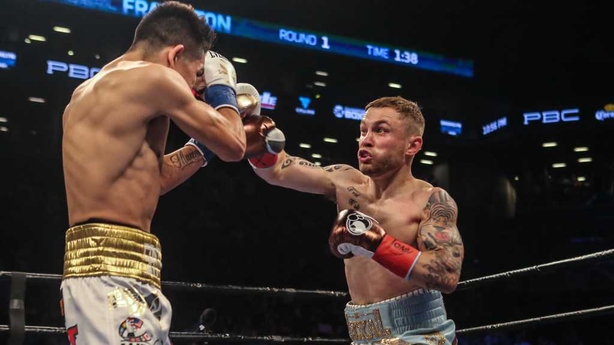 If projections hold near true, upwards of 5000 Frampton fans are expected to land in the coming hours and days.
On Wednesday, as he went through a light workout with trainer Shane McGuigan, it was already clear that this is a trans-Atlantic influx that hasn't been seen for some time.
"That's the motivation," said Frampton as he pointed out at the crowd, swelled with Irish fans north and south.
"I've a few things I use as motivation. My family is one of them but the travelling support and the people back home, this is incredible. I promise I'm going to put everything I have into ensuring that we all go home happy."
Vegas hasn't seen an influx on those levels since Britain's Ricky Hatton headlined huge cards on the Strip. The Jackal insisted this first headline card in the city will bring out the very best in him.
"I've got huge support and I'm picking up fans in the States"
"I love it, I love being on the big stage," said Frampton.
"We've spoken about it before, if I'm sparring behind closed doors and no one is watching, sometimes I'm not so good but if five or six people come into the gym, I turn it on, so what's it going to be like when the travelling support hits Vegas.
"You know there's a good support already, we're expecting plenty more.
"It's going to be an unreal atmosphere, almost reminiscent of...I'm not sure if anyone will ever do what Ricky Hatton done but if I keep doing what I'm doing, who knows.
"I've got huge support and I'm picking up fans in the States. If I keep doing what I'm doing, and keep putting in the performances against big fighters, the fan base is only going to get bigger."
Frampton was loathed to look beyond Saturday night's renewal with Santa Cruz, a razor-sharp fighter who had never been defeated as a pro until he came up against the Jackal at the Barclays Centre in July.
He did admit that whatever happens in the rematch, he wants his next fight to be back home in Belfast, with Windsor Park understood to be very much his preferred option.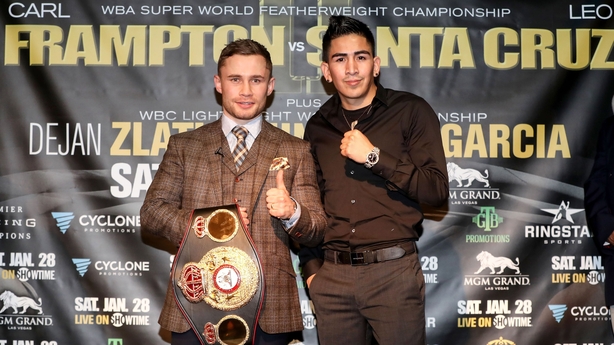 For his part, Santa Cruz said he's itching for the chance to reclaim the belt lost over 12 pulsating rounds in New York.
"It's the rematch I wanted since I got that loss, [as soon as] I got out of the ring. The only thing that came into my mind was the rematch, I'm very excited, happy," said the former three-weight world champion.
"It's going to be a hard fight but that's what we want, we want to give the fans wars. This fight is going to be another war. It's going to be a great fight and I'm going to go out there and get our belt back."
Two fighters who have shown nothing but respect for one another since they first crossed paths last summer, Frampton and Santa Cruz are expected to serve up another fight of the year candidate here.
The challenger again insisted the bond between them is strong, but nothing will stop him once it comes time for battle.
"I look at Carl Frampton and I see him in me," he said. "He has two kids, a girl and a boy like me.
"I look at him and see myself. He's doing this for his family. I try to provide for my family, to give our family a good future. It's what we do.
"But once we get up in the ring, it's all business."
Follow Carl Frampton v Leo Santa Cruz with our live blog on RTÉ.ie from 2am on Sunday January 29