Carl Frampton is confident he has Leo Santa Cruz figured out ahead of their WBA Super featherweight title rematch this weekend. 
The Mexican threw over 1,000 punches in their first bout last July but Frampton's greater accuracy (36% to 25%) helped him earn a majority decision and become just Ireland's second multiple weight world champion.
Santa Cruz will be keen to avenge the first defeat of his career when they meet again in Las Vegas on Saturday night (early Sunday Irish time) but the Belfast man believes his opponent is unable to make the tactical adjustment necessary to change the outcome.
"If you look through his career, he's fought the same way the whole time," Frampton told Sky Sports.
"He tries to overwhelm his opponents. He tries to bully them. I've been the only one that's been able to hit him back, push him back and not allow that to happen.
"That's the difference. He just can't bully me. I don't think he knows what he's going to do. I've made a few adjustments in training and if I carry them out on the night, I'll win this fight more convincingly."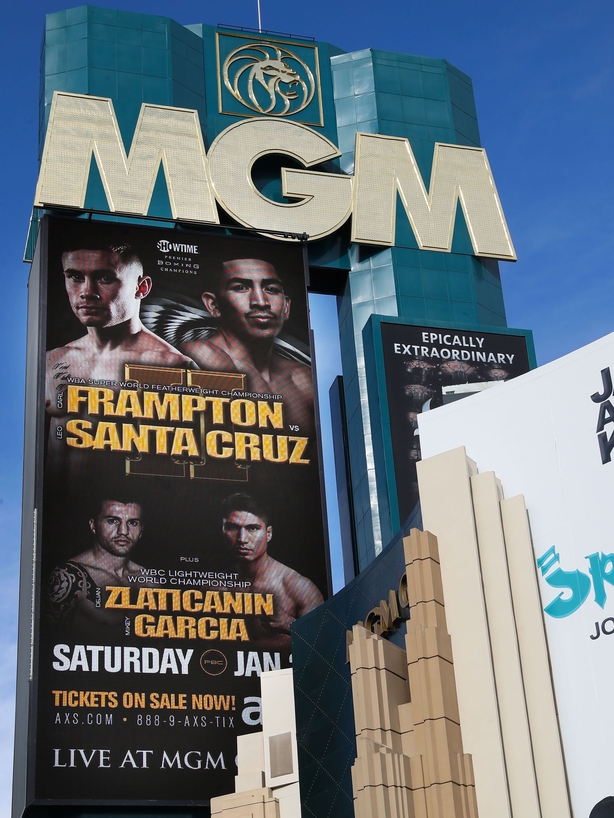 Frampton's face adorns billboards across the Las Vegas skyline but he isn't getting carried away with topping the bill in his first appearance in Sin City.
"I don't know if it makes me strange or what but I just take it in my stride," he said. "I don't get too carried away with it.
"I think probably when the time comes to call it a day and I look back at my career, I'll remember it fondly obviously. At the minute, the lads seem more interested in it than I am. I'm just looking forward to the fight."
Before defeating Santa Cruz last summer, Frampton had unified the WBA and IBF Super Bantamweight titles with victory over Scott Quigg in February.
A stellar 2016 earned him the Fighter of the Year accolade from The Ring magazine and ESPN, which will only have increased expectations among his sizeable travelling support.
"Obviously there's a lot of people coming here," he said. "A lot of people are expecting me to do well.
"I've obviously won a few awards as well this year which adds a bit more pressure too, so I don't know. I just take it in my stride, again.
"I feel like when the pressure's on I put in my best performances, from the amateurs right through to professional. I think it's going to be more of the same.
"There's a little bit more pressure on me this time than there was with the first fight but I'm expecting to do a proper job on this guy."
Follow Carl Frampton v Leo Santa Cruz with our live blog on RTÉ.ie from 2am on Sunday January 29